Associated Portland Cement was the largest manufacturer of cement in the world throughout much of the twentieth century. It became best known for its Blue Circle brand.
Foundations
Faced with increased competition from Continental and American producers, 24 British cement manufacturers, mostly based in the Thames area, merged to form Associated Portland Cement (APC) in 1900.
The merger was organised by Henry Osborne O'Hagan (1853 – 1930) who became vice chairman of the company. APC was the largest cement company in the world.
APC held a 45 percent share of the British cement market and employed 6,147 people in 1903. It had the eighth highest capitalisation of any publicly quoted company in Britain in 1905, ahead of Guinness, Dunlop and Lever Brothers.
APC made its first overseas investment when it acquired the Tolceta works in Mexico in 1909. Before the First World War works were also acquired in South Africa and British Colombia.
APC acquired a further 33 British competitors in 1911, giving it control of 80 percent of the productive capacity of the British cement industry. The company was a cartel, with the intention to maintain prices in the domestic market at just below those of foreign imports.
During the First World War APC received large orders for the construction of trenches.
O'Hagan stepped down in the post-war period, after he opposed the proposed further expansion of the company.
Alfred Cecil Critchley (1890 – 1963), a board member in the post-war period, suggested that the company use a single brand name, Blue Circle, for its cement products.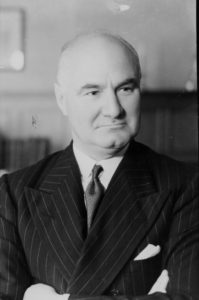 APC controlled 75 percent of British cement production in 1922.
APC established the largest cement works in Europe at Bevans, Northfleet in 1926.
APC was the 15th most valuable public British company in 1930, with an estimated market value of £13.9 million. It employed 6,720 people in 1935. The company had 16 managing directors, and no central chairman. Instead, each managing director was allocated responsibility for a committee within the company, i.e. sales or finance. Because APC was comprised of numerous component companies, there were an additional 40 ordinary directors .
P. L. Payne argued that the company failed to turn its monopoly power to its advantage. It has been suggested that the APC acquisitions destroyed, rather than added, value. The economist George Stigler (1911 – 1991) calculated that between 1900 and 1960, APC acquired 125 percent of British cement production capacity, yet its market share had declined to just 70 percent by 1960.
Post Second World War period
Cement works in Australia and New Zealand were acquired after the Second World War. A new cement plant in Malaysia was established in 1954. APC operated 26 cement works in Britain alone by 1955.
APC employed 11,000 people in 1955. It was the largest cement group in the world in 1960. It was the 15th largest public company in Britain in 1965, with a market capitalization of £138.3 million.
APC built plants overseas, and became known for its expertise in low-cost cement manufacturing. A notable APC contract was the Aswan Dam in Egypt, which used 150,000 tons of cement.
APC established a new cement works at Northfleet, Kent, in 1968. The plant cost £35 million and had an output of 3.5 million tons a year.
APC employed a capital of £246 million in 1974, and had a British workforce of 18,325.
Difficulties, diversification and sale
APC struggled when the 1970s oil crisis led to increased fuel prices, due to the highly energy intensive nature of cement production. It was also overdependent on a shrinking domestic market which accounted for 52 percent of profits in 1975.
John Milne (born 1924) was appointed managing director from 1975. Faced with a declining domestic cement market, Milne hired McKinsey & Co, management consultants, in 1975.
APC changed its name to Blue Circle from 1978.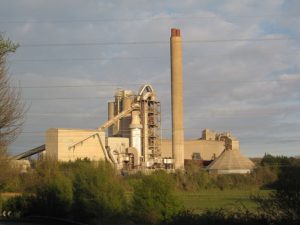 The UK workforce was reduced by more than half to 6,500 between 1974 and 1982. It was announced that 1,198 more jobs would be lost in 1983, including 400 office jobs.
Blue Circle was the 74th most highly valued public company in Europe in 1982.
Milne relocated company headquarters from London to Berkshire, on the basis that it was closer to his own home. The site chosen, at Aldermaston, also housed the Ministry of Defence's nuclear weapons research facility. The company staff association protested such a risky move during the Cold War. Milne stood up at the annual general meeting and declared that if nuclear war was announced, he wanted to be under the first bomb, and the relocation went ahead.
A declining UK cement market saw Blue Circle consolidate; it acquired Aberthaw Cement Works, the fourth largest cement manufacturer in Britain, for £26.3 million in 1983.
Following advice from McKinsey, Blue Circle also began to diversify. It acquired Armitage Shanks of Staffordshire, the largest manufacturer of ceramic baths, sinks and toilet bowls in Britain, for £35 million in 1980. It also acquired Bermid Qualcast, a cooker and lawnmower manufacturer, in a hostile takeover which valued the company at £217 million, in 1987.
Diversification aided profits in the short term, but disguised the fact that cement sales were declining. Blue Circle was forced to pay £58 million to reduce its cement production capacity by 15 percent in 1992.
Blue Circle had declined to become the third largest cement manufacturer in the world by 1991. That year the bathrooms business was sold to American Standard for £253 million, and the heating business was sold to Baxi for £480 million.
Blue Circle employed 19,690 people in 1992.
Blue Circle was forced to leave its Aldermaston headquarters in 1993, following a nuclear leak from the MOD facility.
Blue Circle was the sixth largest cement manufacturer in the world when it was acquired by its French rival, Lafarge, for £3.4 billion in 2001. The merger created the largest cement manufacturer in the world.
The Northfleet Cement Works was closed with the loss of 240 jobs in 2005. The site had exhausted its raw materials. All workers were offered jobs at other Lafarge sites.