Brand's Essence of Chicken sells 400 million bottles a year in Asia. Brand's A1 is the highest selling brown sauce in the United States.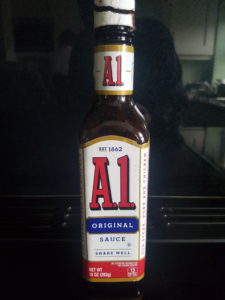 Henderson William Brand (1805 – 1893) was born in Durham in the North East of England.
Brand worked in the kitchen of King George IV (1762 – 1830) before being appointed head chef to Thomas Coke, 1st Earl of Leicester (1754 – 1842).
From 1833 Brand was a writer of popular cookbooks.
Brand established a factory/shop on 11 Little Stanhope Street in Mayfair, London in 1835. His first product was Essence of Chicken. It was produced by heating chopped meat inside a pot until it separated into fat, fibre and "liquid essence", a clear amber liquid. It was recommended as a substitute for brandy in relieving exhaustion and nervous ailments. Brand had allegedly developed the product for the convalescent king.
Shortly afterwards, Brand introduced Essence of Beef at the request of a Dr Druitt.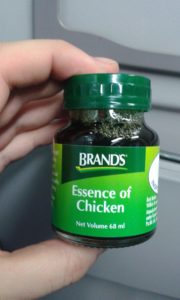 Evidently a better chef than a businessman, Brand was declared bankrupt in 1843 and the company was acquired by a Mr Withall.
Henderson Brand re-emerged on his own, trading as "H.W. Brand" from 1858. He was appointed Cook and Co-Manager of the Cuisine at the 1862 International Exhibition. It was at the Exhibition that he first introduced "Brand's International Sauce". At the Exhibition it was ranked "A1", and thus became known by this name. By 1868 A1 sauce was in use by the Royal household, and by 1879 it was in use at the House of Lords and the House of Commons. By 1886 the business had been acquired by Brand & Co.
Withall sold Brand & Co to Thomas Dence (1840 – 1918) for £5,000 in 1873. Dence was born in London to a Kentish grocer. Dence was joined in partnership by John James Mason (1833 – 1896), who managed the business.
The Mayfair factory proved too small for the expanding company, and a new factory was opened in South Lambeth in Vauxhall in 1887.
Brand & Co products received royal warrants from Edward VII, George VI, the Tsarina of Russia and the Empress of Germany.
Gilbert Heublein (1849 – 1937), a German-born spirits distributor based in Connecticut, visited England and encountered A1 sauce. Impressed, he acquired the exclusive US distribution rights from 1906.
By 1906 Brand & Co had 200 employees, about 80 of which were women. Facilities for the staff were excellent, with a canteen, a smoking room and a club room. The company processed about six tons of meat every day.
Brand & Co Ltd was formed to acquire the business from the partnership in 1907. The company continued to be run by the children, and later grandchildren, of Mason and Dence.
When Thomas Dence died in 1918, his estate was valued at over £916,000.
Brand's Essence remained the best known product in 1923. Brand & Co used no artificial preservatives. A1 sauce contained vinegar, Eastern spices, and dried fruits including raisins, sultanas, dates, oranges and tomatoes.
Brand & Co went public in 1949. By this time Brand & Co had 650 employees, and the site in Vauxhall occupied 2.5 acres and 123,000 square feet of factory and office space. Net assets, excluding goodwill, amounted to £452,000. Brand's Essence and A1 Sauce remained the principal products. 26 percent of production was exported.
Brand was acquired by Cerebos for £4.1 million in 1959. Cerebos owned well-known consumer goods brands such as Bisto, Paxo, Scott's Porage Oats and Saxa salt.
Sales of Brand's Essence of Chicken had been successfully established in Asia by 1961.
Manufacture of A1 sauce began in South Africa from 1963, and was already underway in Canada. The Vauxhall factory was closed in 1967 and production was relocated to Greatham in County Durham.
Cerebos was acquired by Rank Hovis McDougall for £61 million in 1968. That same year, Brand & Co won a Queen's Award for Industry for export achievement.
Sometime between the late 1970s and the early 1980s, availability of A1 Sauce was discontinued in Britain. The sauce had been displaced by later rivals such as HP, Daddies and OK sauce.
A1 Sauce is still highly popular in the US and Canada, and Brand's Essence of Chicken sells in the region of 400 million bottles a year in Asia, where it is valued for its restorative properties.