Callard & Bowser produced the highest-selling butterscotch in the British Empire.
Establishment
Daniel James Callard (1824 – 1903) was born to a family of prosperous non-conformist London bakers. Members of the Callard family had been bakers in the metropolis since the seventeenth century.
Callard became a master baker himself, and had entered into partnership with his brother-in-law, John Carrick Bowser (1828 – 1912) by 1855.
The two men established a wholesale grocery business at St John's Wood. The firm initially manufactured infant formula, before concentrating on confectionery from 1861.
Callard bought out Bowser in 1872, but continued to trade under the by now established brand name of "Callard & Bowser". The firm grew through strong branding and a dedication to product quality and purity, at a time when standards were often inconsistent.
Daniel Callard received the 80th trademark issued in Britain in 1876.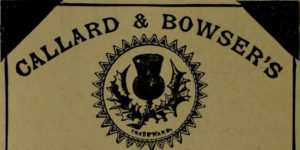 Daniel Callard employed five men, one boy and 35 girls by 1881. He had passed control of the business to his son, James Percival Callard (1859 – 1940), by 1891.
Growing sales saw the business relocated to Duke's Road, Euston by 1894.
Daniel James Callard died with an estate valued at £99,570 (around £11 million in 2015) in 1903.
Callard & Bowser butterscotch consisted of 11.7 percent butter fat and 79.3 percent sugar, according to an analysis conducted for the British Medical Journal in 1907.
Callard & Bowser produced the highest-selling butterscotch in the British Empire by 1920.
Manufacturing was relocated to Western Avenue at Park Royal, adjacent to the London branch of the Guinness brewery, in the 1930s. The high-selling "Cream Line" toffee was introduced from 1937.
Callard & Bowser acquired William Nuttall of Doncaster, best known for the Mintoes boiled sweet, in 1948. The Nuttall factory was large and modern and the business had a strong export trade.
Acquisition by Guinness
Callard & Bowser was one of the largest toffee manufacturers in Britain when it was acquired by Guinness, who wanted to build a confectionery subsidiary, in 1951. As sweet rationing remained in force in Britain, Guinness was able to acquire Callard & Bowser at a depressed price. The sweet ration was lifted in 1953, and this was to prove a major boon for the confectionery industry.
Confectionery profits amounted to £850,000 between 1951 and 1956. These profits were reinvested into the business. Rileys of Halifax, best known for Toffee Rolls, and Lavells, a confectionery store chain, were acquired. Guinness invested heavily to install new factory equipment.
A factory on Silverdale Road at Hayes, Middlesex was acquired in 1956. Rolls Confectionery of Greenford, Middlesex was purchased from J Lyons & Co in 1961.
Callard & Bowser was not an extensive advertiser, and instead concentrated on developing strong relationships with wholesalers and retailers. Edward Sharp & Sons, J A & P Holland, Callard & Bowser and Mackintosh controlled over half of the British toffee market by the early 1960s.
Callard & Bowser was the largest manufacturer of nougat in Britain by 1974.
The Park Royal factory was divested in 1974.
The Nuttall factory in Doncaster was closed down in 1981 and production was transferred to Halifax.
Callard & Bowser employed 1,186 people and had annual sales of £17 million in 1981.
Takeover by Beatrice Foods
Guinness decided to focus on its core brewing operation, and sold Callard & Bowser to Beatrice Foods of Chicago for £4 million in 1982. Beatrice Foods already owned the Smith Kendon confectionery group of Bridgend in Wales, manufacturer of Altoids Curiously Strong Mints, and it became a subsidiary of Callard & Bowser.
High business rates and an ageing factory saw the Hayes site closed down with the loss of 500 jobs in 1983. The South Wales site had opened in 1974, but it was thoroughly modernised in 1984, and re-opened by Princess Diana.
Callard & Bowser claimed 25 percent of the UK toffee market by 1985. Combined sales totalled just under £24 million in 1987. Around half of all production was exported to 65 different countries.
Sale to United Biscuits
Beatrice Foods sold Callard & Bowser to United Biscuits for £21.5 million in cash in 1988, in an attempt to reduce debt. The Halifax and Bridgend sites employed 240 white collar staff and just over 400 hourly-paid employees. The Times reported that United Biscuits had acquired "one of the best-known and most traditional names in confectionery, famed for its butterscotch".
United Biscuits integrated Callard & Bowser with their own Terry's confectionery company to form the Terrys Group, with three percent of the British sugar confectionery market. Callard & Bowser claimed 33 percent of the UK toffee market in 1991.
Confectionery production was discontinued at Halifax in 1992.
Takeover by Kraft
United Biscuits sold the Terrys Group to Kraft of Chicago in 1993.
Beginning in Seattle, Altoids Curiously Strong Mints enjoyed considerable success in America from the late 1980s. Packaged in distinctive metal boxes, it was the highest selling peppermint in the USA by 1997, with annual sales of 40 million tins.
Riley's Toffee Rolls were discontinued in the mid-1990s in order to accommodate increased Altoids production. Cream Line toffees were discontinued in 2001, and all production of toffee appears to have ended by 2003.
Sale to Wrigley
Kraft sold Callard & Bowser, along with its Lifesavers mint brand, to Wrigley of Chicago for $1.48 billion in 2004. The Bridgend factory exported 8,000 tonnes of Altoids to America every year.
Wrigley closed down the Bridgend plant with the loss of 173 jobs in 2005. 90 percent of production was exported to America, so it made economic sense to transfer manufacturing to the United States. The Callard & Bowser and Nuttall's brands were discontinued, with the exception of Altoids.
American-manufactured Callard & Bowser Altoids are still available in Britain.