Yorkshire Relish was the highest selling bottled sauce in the Victorian era. It was advertised as "the most delicious sauce in the world".
Robert Goodall (1831-1870) was born in Market Weighton, Yorkshire. He served an apprenticeship to a chemist, and then established a small chemist's shop on Wade Lane, Leeds from 1853.
Many chemists of the era branched out into consumer goods products, and Goodall began to manufacture Yorkshire Relish from a family recipe. It was thin like Worcestershire sauce, but was fruitier and did not contain anchovies. The success of Yorkshire Relish was driven by its high quality and low price.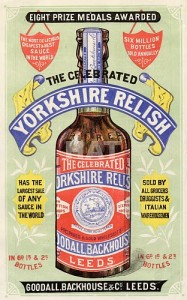 Goodall entered into a partnership with two chemists, Henry Backhouse (1829 – 1876), and William Powell (1836-1900), his brother-in-law and former apprentice, to acquire the business of Bell & Brooke, Leeds wholesale chemists, from Thomas Bell (1801 – 1878), who was retiring, in 1858.
The firm, now known as Goodall, Backhouse & Co, moved to Bell & Brooke's larger premises at 46 Boar Lane. Goodall held 50 percent of the equity in the firm, and Backhouse and Powell held 25 percent each.
Robert Goodall died in 1870, and his stake in the business was inherited by William Powell. The firm relocated from Boar Lane to White Horse Street in 1873, and retail activities were discontinued. The firm developed as pharmaceutical wholesalers and sauce manufacturers. Henry Backhouse died in 1876, leaving William Powell as sole proprietor.
The sauce was popular enough for others to attempt to pass off their own sauce as "Yorkshire Relish" by 1865. Every bottle of Yorkshire Relish was embossed with a willow tree logo to confer authenticity, a process that was established by 1870.
Over 670,000 bottles of Yorkshire Relish were sold in August 1872. Yorkshire Relish holds trademark no. 3,101; it was among the earliest to be registered when trademarks were introduced in 1876.
Goodall, Backhouse & Co operated the largest sauce factory in the world by 1874. The six-floor building was largely mechanised, and powered by steam.
Aided by heavy advertising, eight million bottles of Yorkshire Relish were sold in 1885. Yorkshire Relish even received a recommendation from Charles Perrins (1864 – 1958) of Lea & Perrins.
Goodall Backhouse & Co was involved in a landmark House of Lords legal case against the Birmingham Vinegar Brewery, who had begun to manufacture an imitation product which they branded as "Yorkshire Relish", in the 1890s. The case ruled that only Goodall, Backhouse & Co could use the name. Powell spent £25,000 in legal fees to defend his trademark rights against other businesses between 1892 and 1900.
Under the astute leadership of William Powell the business became one of the largest sauce manufacturers in the world. There were around 500 employees at the firm by 1900.
Powell died a lifelong bachelor in 1900, and left the firm to two nephews. William Powell Bowman (1862 – 1955) gained a two thirds stake, and Frank Boyce received one third. Bowman had worked at the business since 1877.
The factories occupied some ten acres of floor space by 1907, and the wage bill ran to over £80,000 (£8.5 million in 2015). Thirteen million bottles of Yorkshire Relish were sold each year. It remained the highest selling sauce in the world as late as 1911.
Bowman bought the remaining third of the company from Boyce for £36,000 (around £2.7 million in 2015) in 1916. Bowman was joined by his eldest son, George Edward Bowman (1901 – 1979), from 1921.
The base of Yorkshire Relish consisted of shallots, soy sauce, garlic and malt vinegar. It was flavoured with 27 "Eastern spices" including black pepper. The sauce was matured in wooden vats for at least 14 months and up to three years.
Following the introduction of import tariffs in Ireland in 1933, Charles Ernest Hogg established Goodall's of Ireland, which produced the sauce for that market under licence.
Goodall, Backhouse & Co became a limited company from 1934, with capital of £125,000 (£8 million in 2015).
A thick version of Yorkshire Relish was introduced from 1935, under the initiative of George Edward Bowman. It was made from apples, tomatoes, dates, tamarinds and spices.
The company was awarded a royal warrant from George V.
The company's drugs business and properties on White Horse Street in Leeds were spun off as a separate company called "Goodalls (Leeds), Ltd" in 1937. George Edward Bowman remained as a director of the drugs business. The remnant foods business, mostly employed in the manufacture of Yorkshire Relish, had a staff of over 300 people and a works located on Sovereign Street.
George Edward Bowman had taken over as managing director of Goodall, Backhouse & Co by 1947, with William Powell Bowman serving as governing chairman.
William Powell Bowman died in 1955. A reserved man, he never suffered a day of illness in his life until his death.
Goodall Backhouse struggled in the wake of the death of W P Bowman. His successor, George Edward Bowman, was an excellent salesman, but not a natural business manager. Additionally, as W P Bowman had been the sole proprietor of Goodall Backhouse, his death duties were consequently very high.
Goodall, Backhouse & Co was sold to Hammonds Sauce Co of Shipley, Yorkshire in 1959. Hammonds (then, as now) was a largely regional brand, whereas Yorkshire Relish had a national presence and a large export market.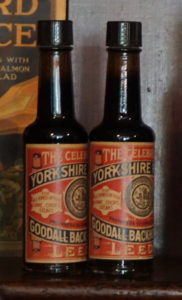 Hammonds was acquired by Pillsbury in 1982, who closed the Leeds factory in 1985 and relocated all Hammonds production to a new £1 million factory in Bradford. Pillsbury was acquired by Grand Metropolitan in 1988 who sold Pillsbury UK to Dalgety in 1991. Later that year Hammonds was acquired by Albert Fisher for £12 million. Goodall, Backhouse & Co was liquidated in 1990. Hammonds had an annual turnover of £11 million in 1990.
Yorkshire Relish was available in thin, thick, spicy and fruity varieties by 1994.
Hammonds relaunched Yorkshire Relish in 1996, however by this time only the thick version was available. Due to low sales, production had been discontinued by 2001.
Hammonds was acquired by Unigate in 1999. The Bradford factory was closed in 2002 and production of Hammonds sauces was relocated to a former vinegar brewery in Lancashire.
When the Bradford factory was being demolished, a collection of papers relating to Goodall, Backhouse & Co were found hidden in the roof wall. Included was a handwritten recipe for Yorkshire Relish and the will of William Powell. The archive was sold at auction and purchased by a member of the Bowman family.
Hammonds is currently owned by McCormick, the American seasoning giant. McCormick also own the rights to the Yorkshire Relish trademark.
Yorkshire Relish is still produced by Robert Roberts in Ireland. The product has a base of vinegar, sugar and soy sauce.