Cerebos became the largest producer of salt in the world. Cerebos salt remains a leading brand in France, South Africa and Australia.
Cerebos branched out into branded consumer foods, including Bisto, Sharwood's, Saxa salt, Paxo stuffing, Scott's Porage Oats and Atora suet.
George Weddell introduces Cerebos
George Weddell (1855 – 1916) was born at Kelso in the Scottish borders. He relocated to Newcastle upon Tyne from 1879 and established a reputation as a well-respected chemist.
Weddell was appointed managing director of the pharmacy subsidiary of Mawson & Swan. The firm was controlled by Joseph Swan (1828 – 1914), who had invented the incandescent light bulb in 1880.
Weddell developed a new pourable table salt in the late nineteenth century. By increasing the phosphate content to three percent the salt was less prone to absorb atmospheric moisture. A partnership was formed, Mawson, Swan & Weddell, in order to manufacture the new product. Branded as "Cerebos", the salt was marketed for its healthful properties and quickly gained sales, particularly at the premium end of the market.
The business was registered as a company, Cerebos Ltd, in 1894. The company had a share capital of £250,000 (£24 million in 2014).
A factory was established in France in 1901 in order to supply the Continental market.
Cerebos acquired the Greatham Salt and Brine Works near Hartlepool from Furness Withy for £33,500 (£3.2m in 2014) in 1904. Company headquarters were relocated from Newcastle to the newly-acquired site.
Saxa was launched as a lower-cost sister brand to Cerebos salt from 1909.
Bisto gravy powder was introduced in 1910, and quickly became the company's second highest-selling product.
500 to 600 workers were employed at Greatham by 1916.
The Middlewich Salt Company was acquired for £30,000 in 1920.
The Greatham factory was one of the best-equipped food factories in the world by 1930. By this time Bisto outsold Cerebos salt, but both brands were household names, and Saxa continued to grow in popularity.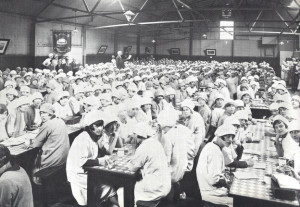 Cerebos acquires branded food companies
John Crampton of Wythenshawe in Manchester was acquired in 1939. Established in 1849, it originally specialised in pepper and spices, but by this time also produced Paxo, the leading brand of stuffing in Britain. Cerebos improved the distribution of Crampton products.
The Greatham factory employed nearly 1,000 people by 1944.
A subsidiary was established in South Africa in 1945.
Cerebos was the largest producer of domestic salt in the world by 1953.
A large new factory was established in Melbourne, Australia to produce Bisto and salt from 1953. Klembro, the manufacturer of Gravox gravy powder, was also acquired.
A&R Scott of Fife was acquired in a deal which valued the company at £600,000 in 1953. Best known for the Porage Oats brand, it was the largest producer of porridge in Britain, and employed 500 people.
Cerebos acquired Brand & Co, the Vauxhall-based producer of A1 sauce, for over £4 million (£83.1 million in 2014) in 1959.
Cerebos was valued at £40 million by 1961. By this time the company controlled the majority of the British salt-processing industry. Greatham was the largest domestic salt producing works in Britain. The company operated twelve factories in Britain, as well as plants in Ireland, Australia, France and Africa.
A Canadian subsidiary was established in 1961.
A factory for producing Cerebos and Saxa salt was established in Kuala Lumpur, Malaysia, in 1962.
Brand's Chicken Essence had established strong sales in Asia by the early 1960s.
Cerebos was the largest salt producer in the world by 1962.
Sharwood of Sittingbourne in Kent, best known for Green Label chutney, was acquired for £1 million (£18.7 million in 2014) in 1962.
Hugon & Co of Manchester was acquired for £8.5 million (£159 million in 2014) in 1963. Hugon produced Atora, the leading suet brand in Britain.
A G Linfield, best known for canning Chesswood mushrooms, was acquired in 1963. Production was relocated to Vauxhall.
Diversification away from the core lines of salt, Bisto and Paxo had a negative impact on profit margins. Economies were found by rationalising production. Salt manufacturing was centralised at Middlewich in Cheshire. The Sittingbourne factory was closed in 1966, and the Vauxhall factory was closed in 1967, with all production relocated to Greatham. Cerebos gained £900,000 from the sale of the Vauxhall site.
Overseas operations contributed to 15 percent of profits by 1968.
Cerebos enjoyed a strong reputation with retailers, and employed an efficient computer-controlled distribution network, with 16 depots. However its profits were stagnating. Salt suffered from low growth, and many of its other product lines, such as porridge, were declining.
Acquisition by Rank Hovis McDougall
Rank Hovis McDougall (RHM), one of the largest food producers in Britain, acquired Cerebos for £61 million (£944.8 million in 2014) in 1968. The merger created a group with a market capitalization of over £180 million (£2.8 billion in 2014). It was a gentlemanly merger, completed after two months of negotiations.
An article in The Sunday Times argued that RHM had paid "£10 million too much" for "brand leaders in virtually stagnant or declining markets; plus a lot of also-rans". Scott's had lost its market leadership in porridge to Quaker Oats and Ready Brek. Brand's meat and fish paste sales were dwarfed by Shippam's and Sutherland, and Crosse & Blackwell, Epicure and Marela led Sharwood in pickle sales.
RHM invested heavily at the Greatham plant, and it was their largest food factory. Its principal products were, in order, canned soups, Brand's Essence of Chicken and Beef, Brand's pastes and spreads and Sharwood's. 30 million cans of soup were produced every year.
Production of Atora suet and Chesswood mushrooms were transferred to Greatham in 1974. The increase in production saw 1,000 people employed at the site.
Saxa displaced Cerebos as the highest-selling salt in Britain from the 1970s onwards.
Bisto instant gravy granules, the first of its kind in the world, were launched in 1976.
RHM sold A&R Scott to Quaker Oats in 1982.
RHM established a separate subsidiary, Cerebos Pacific, to handle its growing Asian sales in 1982. Brand's Chicken Essence contributed to 84 percent of Asian sales.
RHM sold a 30 percent stake in Cerebos Pacific in 1984.
RMH divested Cerebos South Africa in the 1980s.
Cerebos Pacific acquired the trademark rights to the Brand and Cerebos names in 1986.
RHM sold its 70 percent stake in Cerebos Pacific to Suntory of Japan for £186 million in 1990.
460 people were employed at the Middlewich site in 1991.
The 18-acre Greatham site was closed with the loss of 180 jobs in 2001.
RHM was acquired by Premier Foods for £1.2 billion in 2007.
Saxa, Bisto, Sharwood, Paxo and Atora all lead their respective categories in Britain. Cerebos salt remains popular in France, Australia and South Africa, and is still sold in Britain.