Robertson's Golden Shred is the leading marmalade brand in Britain, with around a quarter of the market.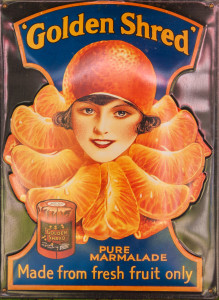 James Robertson (1832 – 1914) was a grocer in Paisley, Scotland. He was a keen Presbyterian. One day his wife made jelly from a surplus barrel of apples, and the couple noted that preserves had a greater profit margin than fresh produce. The Robertsons developed the tangy Golden Shred marmalade in 1866, and its was quick to grow in popularity.
The grocery business was divested in order to concentrate on marmalade production. Rapid expansion of the business saw a freehold site acquired at Paisley in 1873 where a large factory was erected.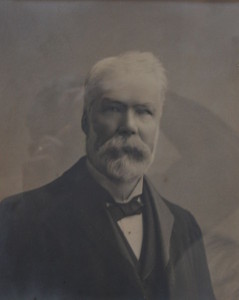 Expanding sales in England saw a factory acquired at Droylsden, Manchester in 1891.
A large factory was erected at Catford, Kent in 1900. Its location was convenient for both the fruit gardens of Kent and the large London market.
The business was incorporated as a limited company, James Robertson & Sons, in 1902.
A factory had been established at Boston in the United States by 1910.
Robertson's introduced the golliwog character to the label of its products from 1910 onwards.
A new factory was opened at Brislington, Bristol in 1914. The site was chosen for its strong railway links. Output at the site was estimated at 150 tons a week.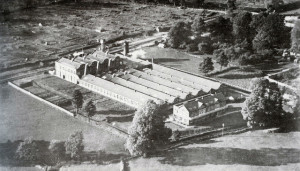 James Robertson died in 1914, and he was succeeded as chairman by his son, John Robertson (born 1859).
Robertson's described themselves as the "largest manufacturers of marmalade" in 1919.
Robertson's introduced its own brand of thick-cut marmalade from 1929.
The Boston factory had closed by 1931, as American consumers deemed the marmalade produced in the United States to be inferior to the Paisley product.
1,400 people were employed by 1931. The Paisley site exported one third of production to markets such as North America, Australia, China, Africa and the West Indies.
John Robertson retired as chairman in 1937, and he was succeeded by his son, David Robertson (born 1893).
Robertson's marmalade was withdrawn from sale during the Second World War due to a shortage of oranges.
David Robertson retired in 1960, and he was succeeded as chairman by Charles James Robertson (1909 – 1983), a grandson of the founder.
James Robertson & Sons produced more jam and marmalade than anyone else in Britain by 1964. Success was largely confined to the home market, as only an estimated four percent of production was exported.
The company bought 45 percent of the annual crop of Seville oranges by 1965. The company was spending over £1 million a year on glass jars and bottles by 1966.
Unionisation was introduced to Robertson's from 1966, beginning with 320 workers, out of 600 employees, at the Catford factory.
James Robertson & Sons held 60 percent of the British jam and marmalade market by 1967.
The Catford factory was closed in 1970, with the loss of 350 jobs. 207 employees were retained for distribution and administrative functions.
The Paisley factory was closed in 1974.
Robertson's announced that it would close the Bristol factory, with the loss of 500 jobs, in 1979. Production would be concentrated at Droylsden.
James Robertson & Sons had struggled throughout the 1970s with rising costs, a stagnant jam market and the growth of supermarket own-label products. The company was acquired by Avana, an own-label supplier of foods to Marks & Spencer and Sainsbury's, in 1981.
The Droylsden factory employed 764 workers, and produced 86 million jars of jam a year by 1986.
Avana was acquired by Rank Hovis McDougall in 1987.
Rank Hovis McDougall were acquired by Premier Foods in 2007.
The Droylsden site was closed in 2008, with the loss of 253 jobs. Production was relocated to Histon in Cambridgeshire.
In 2009 it was announced that the Robertson brand would be discontinued in jam, except for within the catering industry. Premier Foods announced that it would instead concentrate on the more successful Hartley's brand.
Premier Foods sold its sweet spreads division to Hain Celestial in 2012.