Hammonds Sauce Co was the largest privately-owned sauce manufacturer in Britain.
Hammonds is best known for its Chop Sauce, a light and spicy brown sauce that is available across the United Kingdom.
Background
Herbert Bowdin Hawley (1880 – 1952) was born in Grassington, Yorkshire, the son of a farmer of 95 acres.
Hawley left home at the age of 21 with just £10. He worked in a Halifax grocer's warehouse, and later as a salesman. He had established himself as director of a soap manufacturing company in Shipley, near Bradford by 1911.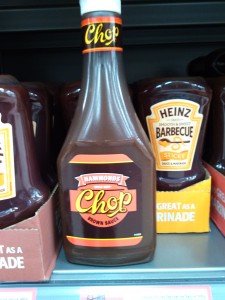 He entered into partnership with his brother Richard to form H B and R Hawley Ltd, cake flour manufacturers, in 1914. H B Hawley acted as chairman of the company, which in 1920 had a nominal capital of £50,000.
Hammonds Sauce Co
H B Hawley founded a sauce manufacturing company, at Wellcroft Mills, Shipley, in 1924.
Expanding sales saw production relocate to a new factory at Dockfield Road, Shipley, from 1930.
Hammonds Chop Sauce was introduced in 1930, and soon became the principal product.
The company took on the name of Hammonds Sauce Co from 1933.
H B Hawley was a keen bandmaster and composer, and he formed the Hammonds Sauce Works Band in 1946.
H B Hawley died in 1952, and left £27,000 in his will. He was hailed as one of the leading bandmasters in Yorkshire. His son, Horace Routledge Hawley (1910 – 1983), took over the company.
Hammonds Sauce Co employed a staff of around 100 by 1954.
Goodall, Backhouse & Co of Leeds was acquired in 1959. Goodall's were sauce manufacturers best known for Yorkshire Relish.
Hammonds Sauce Co was the largest privately-owned sauce manufacturer in Britain by 1974, with a range of 70 products. 34 million bottles of sauce were sold that year, with a significant proportion exported, largely to the United States. The American market was particularly fond of Hammonds Steak Sauce and Yorkshire Relish.
Horace Hawley retired as managing director in 1975, but continued as chairman.
Loss of independence
Hammonds was acquired by US food conglomerate Pillsbury, best known in Britain for Green Giant sweetcorn, for £2.4 million in 1982.
Pillsbury built a new £1 million factory on Harrogate Road, Bradford in 1985, and centralised all production there. The Goodall Backhouse factory in Leeds and the Hammonds factory in Shipley were closed.
Pillsbury was acquired by Grand Metropolitan in 1988 who sold the UK business to Dalgety in 1990. Hammonds had an annual turnover of £11 million in 1990.
Hammonds was acquired by Albert Fisher for £12 million in 1991. Albert Fisher ended sponsorship of the Hammonds Sauce Works band after 47 years in 1993.
Hammonds was acquired by Unigate in 1999. The Bradford factory was closed in 2002 and production was relocated to a former vinegar brewery on Whitelees Road, Littleborough, Lancashire.
McCormick, the American seasonings company, acquired Hammonds for £12.2 million in 2003.
Today, Hammonds Sauce largely serves the catering industry. Hammonds Chop Sauce is available in British supermarkets, and derives its flavour from apple puree, tomato paste and spices.