Samuel Wallace Smedley pioneered the British canning industry in the 1920s. Canned food was important before the widespread domestic use of refrigerators and freezers.
Samuel Wallace Smedley (1877 – 1958) was born to a poor Quaker coal dealer in Aston, Warwickshire. Raised in Evesham, Worcestershire, he left school at the age of eleven and found employment as a door-to-door salesman selling primroses. At the age of 18 he found work as a salesman at an Evesham fruit firm. Within a year he was promoted to manager of the Wisbech branch where he demonstrated considerable flair as a buyer.
With savings of £250, Smedley entered into business for himself as a fruit and potato merchant from 1905. He established operations in London, Wisbech, Evesham, Maidstone and Worcester. It grew to become one of the largest fruit and vegetable firms in Britain.
Smedley, by now a wealthy man, pleaded guilty to tax evasion in 1921, and was fined £500 plus court costs. Upon hearing the outcome he promptly fainted in the courtroom.
Smedley determined to establish a canning operation along the lines of the California fruit pickers. He went to America for three months to study their methods before he opened a factory at Wisbech, Cambridgeshire in 1924. Called National Canning Company, his was the first large-scale canning business in Britain.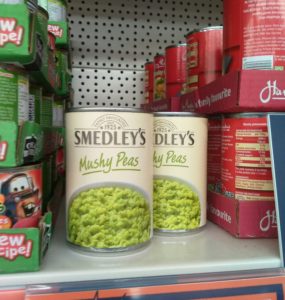 Fortunately for Smedley, the canning industry in Britain boomed, with National Canning Co at the forefront. It was the largest canning operation in Britain by 1931, with an annual output of over 20 million cans from five sites, and around 20 percent of the canned goods market. By this time the company had an authorized capital of £350,000.
At peak periods the Wisbech site alone produced 500,000 cans of fruit and vegetables every day, with around half of production dedicated to peas. The plant was open 24 hours a day and employed nearly 800 people. Peak operations lasted for seven months. During the off-season, the likes of pork & beans were produced.
The Paddock Wood site was expanded in 1931 from a female staff of 120 to 1,000 women and 100 men; the site focused on vegetable and apple canning. A large factory in Dundee was acquired in 1931. In 1932 a factory in Spalding, Lincolnshire was erected. In 1932 a former jam factory in Ely was acquired to tin fruit.
In 1932 the Norseland Canning Company of Leeds was acquired with 400 to 500 employees. This introduced the company to fish canning. In 1933 a large fish canning factory was opened in Dundee.
In 1933 Smedley acquired peas from 3,000 acres of farmland, mostly situated in East Anglia.
In 1933 Smedley gifted his potato and fruit merchants business to his brother Alfred. He gifted the goodwill of the business (valued at over £25,000) to the company's management team. By divesting of his original business, Smedley was able to concentrate on his canning interests.
In 1935 British Fruit Ltd, with a factory at Faversham, was acquired.
By 1935 National Canning Company employed over 4,000 people across nine factories.
From 1937 National Canning Company began to sell frozen vegetables. These were the first quick-frozen vegetables to be mass-produced in Britain.
In 1938 Baird Wolton & May Ltd, with a cannery at Barming, Kent was acquired.
Norseland Canning Company was divested in 1938.
By 1938 National Canning Company had twelve sites across Britain, and held over 25 percent of the canned fruits and peas market.
By 1940 National Canning Company directly employed over 2,500 people. Thousands more were employed indirectly.
In 1946 S W Smedley donated Wallace House as a social club for the people of Evesham.
By 1947 the Kingsway, Dundee site employed nearly 700 people.
In 1947 a former potato flour factory at Monikie was acquired to can fruit and vegetables.
In 1951 a shortage of tinplate for cans saw the six National Canning Company factories temporarily closed.
1952 saw trading profits of over £1 million for the first time.
In 1953 S W Smedley retired from business due to his failing health and old age. He was succeeded in the role of chairman by his eldest son,  Wallace Venables Smedley (1907 – 1981). His brother, Graham Powell Smedley (1909 – 1983), joined him as joint managing director. That year, authorised capital was increased to £950,000.
S W Smedley died in 1958. He left £170,000 gross.
In 1958 £750,000 was spent in expanding and modernising the Spalding, Lincolnshire site. It left Smedley's with one of the largest cold storage units in Britain.
Wallace Smedley sold the business to Imperial Tobacco in 1968 for £9.5 million in cash. Imperial provided the company with capital and management expertise. Members of the Smedley family remained in key managerial positions.
Imperial was keen to diversify from its core tobacco business, and had acquired HP Foods (including Lea & Perrins) a year earlier, and also owned the Golden Wonder crisps brand.
In 1969 Imperial acquired Ross, the frozen foods group, whose operations it merged with Smedley's. Both groups had each previously held around 5 percent of the British frozen food market.
Smedley's began to struggle as public taste switched from tinned to fresh and frozen vegetables.
The Evesham factory was closed in 1973. Three more unprofitable factories, including Blairgowrie with 340 employees, were closed in 1978. As a result, Michael Smedley, the grandson of the founder, resigned from the board of directors in protest.
In 1980 Smedley's suffered a loss of £1.5 million.
In 1981 Imperial Tobacco merged Smedley's with Lockwoods, a loss-making canning operation jointly-owned by Tozer Kemsley & Millbourn, to form a 50:50 venture. The merger proved to be a disaster.
By 1983 Smedley's was heavily loss-making, and it was sold to Hillsdown Holdings for a nominal sum of £1. Net assets of Smedley's totalled £6.6 million, but losses for the previous year totalled £7.4 million.
Hillsdown's managing director was confident that he could turn around the Smedley's business within a year.
In 1986 Smedley-Lockwood was the largest food canning operation in Britain.
Hillsdown Holdings eventually morphed into Premier Foods. In 2011 Premier Foods sold its canning operations, including Smedley's, to Prince's of Liverpool.
The Wisbech factory continues to operate. Smedley's beans and peas are available at LIDL. Smedley's tomato soup can be found at Co-op.