Maconochie Brothers was the largest tinned food manufacturer in the world, and probably the largest supplier of food to the British armed forces during the First World War.
James Maconochie (1850 – 1895) established a fishmongers business in 1870. He was soon joined by his brother, Archibald White Maconochie (1855 – 1926). The firm relocated from Aberystwyth to Lowestoft from 1873 where they bought fresh herring for the London fish market.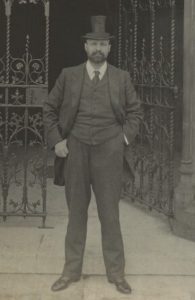 The brothers established the largest fish and meat canning factory in Britain at Lowestoft in 1877.
A W Maconochie, a colourful figure, soon took the lead in the firm, and combined a shrewd business mind with high energy (he confessed to never feeling tired). An inventive man, he also developed many of the firm's patents himself.
A second factory, for herring canning, was established at Fraserburgh near Aberdeen, in 1883.
Maconochie Brothers was the leading fish canning business in Britain by 1886, and sold millions of herrings every year. The fish canning factory at Fraserburgh was the largest in Britain, and possibly the world, and employed over 350 workers at peak times.
A W Maconochie was a strong-willed and uncompromising man. In 1888 a tinsmith approached him to discuss an issue regarding tools. Maconochie punched the man in the mouth in a blow that knocked him to the ground, and then proceeded to strangle, repeatedly punch, and threaten to kill the man. As a result of the incident Maconochie was fined £2 and forced to pay court costs.
Whilst an overreaction, Maconochie's anger stemmed from the powerful position of the tinsmiths, to whom many production days were lost due to strikes. Maconochie invested heavily in canning technology in an attempt to negate their influence.
Maconochie Brothers processed 97 million fish in 1889. Over 1,000 people were employed at Lowestoft by this time.
A new site at Millwall, London, including a large factory and an office, was acquired in 1897. Headquarters were relocated to London.
Maconochie Brothers was incorporated as a limited company in 1900 with capital of £100,000. The company had a production capacity of 100,000 tins of food per day, and was the largest tinned foods producer in the world.
Five million herrings were canned every year by 1903. The Pan Yan Pickle trademark was registered in 1903.
Maconochie Brothers was the largest single food supplier to the British Army between 1900 and 1905, with contracts worth a total of £1 million. At one point the company engaged 1,500 people in British military contract production. Maconochie Brothers supplied around 45 percent of British army rations during the Second Boer War (1899 – 1902).
The company went private from 1908.
The Fraserburgh factory employed 300 to 400 people by 1914.
The army food supply contract remained in place throughout the First World War. Best known at this time for its tinned stew, "Maconochie" became shorthand for a meat ration. Maconochie Brothers was probably the largest supplier of food to the British armed forces during the war.
Pan Yan was easily the highest-selling pickle in the world by 1924. It contained mangoes and vegetables in a sweet-sour sauce.
A W Maconochie died in 1926, and left an estate of over £390,000. His will contained an unusual codicil stipulating that if any of his children married a Roman Catholic they would be disinherited.
The company suffered following the loss of Maconochie's strong leadership. The Lowestoft fish canning facility was sold to the Co-operative Wholesale Society in 1930.
The Millwall factory was destroyed by German bombs in 1940, and a new site was acquired at Hadfield, Derbyshire.
The Fraserburgh factory employed 500 people in 1947. The Hadfield factory employed about 550 people in 1948.
Maconochie Brothers was converted into a public company in 1948 with an authorised capital of £600,000.
Pan Yan remained the highest selling sweet pickle in Britain as late as 1953.
Maconochie Brothers became loss-making, and the unprofitable Fraserburgh factory was closed in 1958 with the loss of 190 jobs.
Maconochie Brothers was acquired by H S Whiteside, the manufacturer of Sun-Pat honey, in 1958. H S Whiteside was a business turnaround specialist, and as a result of the introduction of new management and marketing techniques, Maconochie Brothers had re-entered profitability by 1960.
H S Whiteside entered into receivership in 1965, a victim of "fraud, misfeasance or other misconduct", according to a report published by the Board of Trade. The company assets were acquired by Rowntree Mackintosh.
Rowntree Mackintosh was acquired by Nestle of Switzerland in 1987.
Pan Yan Pickle production was discontinued in 2000. Sales had fallen, largely due to the success of Branston Pickle.
Nestle sold its British ambient foods business, including Sun Pat and Gale's honey, to Premier Foods in 2002.
Although an ingredients list still exists, the only known recipe for Pan Yan pickle was destroyed by fire in 2004.
The Hadfield site was closed in 2004.