Pearce Duff is the leading blancmange powder brand in Britain.
Origins
The business was established by William Pearce and William Henry Duff (1793 – 1874), a Hampshire-born cook, in 1847. Initially the business was operated from a private home. Baking powder and egg substitute powder were the first products.
Pearce Duff were engaged in advertising by 1866. By this time the business was based at 42 Long Lane, Borough, London.
Control of the firm had passed to George Pearce and Daniel Duff (1837 – 1917) by 1884.
Relocation to Rouel Road
The business was relocated to Rouel Road, Bermondsey on the former premises of Young & Co, a glue manufacturer, from 1890.
The factory briefly closed in August 1911 due to worker intimidation by striking employees.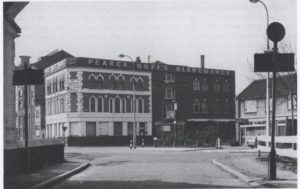 In 1914 the partners were Daniel Duff, Mrs Elizabeth Jane Duff (born 1870), Daniel Duff Jr (1879 – 1953), James Thomas Hosking (1856 – 1922) and Leslie George Cockhead (1861 – 1947). Nearly 500 people were employed at the Rouel Road factory, which spanned five storeys.
J T Hosking retired from the partnership in 1916.
Daniel Duff died in 1917 with an estate valued at £65,091.
Pearce Duff & Co had been registered as a private limited company by 1937. Daniel Duff Jr was managing director.
L G Cockhead died in 1947 with an estate valued at £90,327. His nurse, with whom he was romantically involved, was granted an inheritance of £20,000.
Daniel Duff Jr  died in 1953 with an estate valued at £165,026.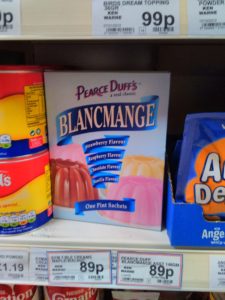 Introduction of automation; acquisitions
Mechanisation and automation of the factory was completed in the mid-1950s. A fully-automated plant for manufacturing custard powder was installed in 1957. Products were exported to 77 countries.
The business remained family-owned, and four members of the Duff family sat on the board of directors in 1960. Nearly 30 percent of production was exported by 1962.
A factory was acquired at Annan, Dumfriesshire to manufacture jellies in 1965.
Hugh Bidwell (1934 -2013) became managing director of Pearce & Duff in 1970, and was chairman from 1971.
Pearce Duff acquired Marela Ltd from W R Grace of New York in 1973. Marela manufactured pickles and Fardon's sauces and vinegar. In return, W R Grace and Barings Bank took a 40 percent stake in Pearce Duff. The acquisition gave Pearce Duff an annual turnover of around £4.5 million.
The Bermondsey and Annan factories were closed in 1974, and production was relocated to a new factory at Dunstable, near Luton. 50 jobs were relocated to the new location, but 250 jobs were lost. The Dunstable site employed 250 people.
Pearce Duff won a Queen's Award for Export Achievement in 1979.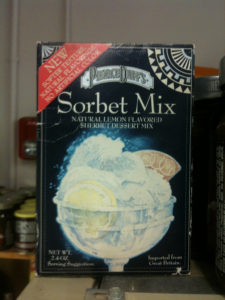 James Ashby & Sons, tea and coffee importers of London, was acquired in 1983. The purchase took Pearce Duff annual turnover to over £16 million.
Pearce Duff loses its independence
Hugh Bidwell and Sir Kenneth Cork (1913 – 1991) held a majority stake in Pearce Duff by 1984. That year they sold the business to Gill & Duffus, the largest cocoa trader in the world, for £4 million.
Dalgety acquired Gill & Duffus the following year. Dalgety merged Pearce Duff with its own Spillers Homepride division.
Dalgety sold its food ingredients business, including Pearce Duff, to Kerry Group of Ireland in 1998.
Pearce Duff blancmange powder is manufactured in Rotherham, Yorkshire, and 700,000 units were sold in 2006, worth £500,000 in retail sales.
Meanwhile, Pearce Duff custard powder is also sold in Pakistan and Spain, and Pearce Duff is the leading brand of baking powder in West Africa and the Middle East.