How did Eno's Fruit Salts became one of the best known branded medicines in the world?
J C Eno introduces Fruit Salts
James Crossley Eno (1827 – 1915) had established a small chemist's shop at 5 Groat Market in Newcastle upon Tyne by 1851. He introduced Eno's Fruit Salts, an indigestion remedy, from 1868. It became popular among sailors, who helped to establish the reputation of the product overseas.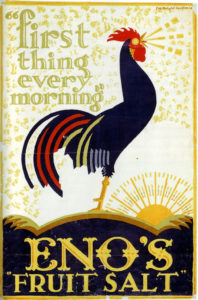 Eno soon found himself unable to meet increasing demand for his product, and he relocated his business to a factory on New Cross Road, London, from 1876. The business employed 50 people by 1884.
J C Eno was established as a limited company with a capital of £100,000 from 1891.
Eno's Fruit Salts consisted of sodium bicarbonate, tartaric acid and citric acid, according to an analysis for the British Medical Journal in 1903.
Eno entered into retirement from around 1904. He was succeeded as company chairman by his son in law, Commander Harold W Swithinbank (1858 – 1928).
Harold F Ritchie (1881 – 1933) of Toronto was the Canadian sales agent from 1907. Ritchie characterised the J C Eno business as tradition-bound and staid. He promised to forfeit his commission if he failed to double Canadian sales within one year; instead he quadrupled volumes. TIME magazine characterised Ritchie as the "world's greatest salesman".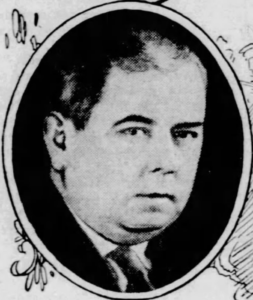 James Eno died in 1915. He left a gross estate valued at £1.6 million.
J C Eno company capital had been increased to £650,000 by 1920.
The Eno business is sold to Harold F Ritchie
Following the death of Commander Swithinbank, the business was sold to Harold F Ritchie for over £1.5 million in 1928. Ritchie received the first option to acquire the business in recognition of his service to the company.
Ritchie maintained existing management. Between 1928 and 1932 he established factories in Canada, the United States, Argentina, Brazil, Mexico, Venezuela, Australia, South Africa and Germany.
Ritchie died in 1933. His widow sold control of the company to the London & Yorkshire Trust for over £1 million in 1934.
Shares in Eno Proprietaries Limited were offered to the public. The business had a capitalisation of £3.25 million.
Eno's Fruit Salts had become one of the best known proprietary medicines in the world. The product was sold in 83 countries. It was advertised in 73 countries with 26 different languages. The principal factory was in London, but there were two large factories in North America, and nine smaller factories across the rest of the world.
Beecham acquires the business
Eno Proprietaries was acquired by Beecham for just over £1 million in 1938. Beecham was attracted to the strong export trade of the business.
The New Cross factory was completely destroyed by Germany bombing during the Blitz in 1940. Production was transferred to the Macleans toothpaste factory in Brentford. Fruit Salt production was relocated to a site at Watford from 1946. The Watford site was closed in 1953, and production was returned to Macleans.
Eno's Fruit Salts had been rebranded as simply "Eno" by the 1980s. It continued as a major Beecham product line.
Beecham was merged with SmithKline Beckman to form SmithKline Beecham in 1989. It amalgamated with GlaxoWellcome to create GlaxoSmithKline in 2000.
Eno is still widely sold across the world as an antacid for the relief of indigestion. It is the leading over the counter heartburn treatment in India and Brazil.