A G Barr is one of the largest soft drinks manufacturers in Britain, where its leading product, Irn-Bru, is the third highest selling soft drink.
Robert Barr (1834 -1904) was born in Falkirk, Scotland, a sizeable town roughly located between Glasgow and Edinburgh. He initially followed his father into the cork-cutting trade.
The cork-cutting trade came under threat with the rise of the screw-stopper, so Robert Barr established a soft drinks business in Falkirk from 1873. Barr had likely been exposed to the soft drinks trade through his cork-cutting business, and probably noted its high growth potential.
The soft drinks enterprise employed five men, three girls and two boys by 1881.
Robert Barr was a Liberal in politics, a keen sportsman, and a generous benefactor to charitable causes.
Andrew Greig Barr (1872 – 1903), son of Robert Barr, managed the Falkirk business from 1890. He had originally served an apprenticeship as a banker, a profession for which he demonstrated great potential.
A sister factory was established at 184 Great Eastern Road, Glasgow, and Andrew Greig Barr managed it from around 1892. He would develop it into the largest carbonated soft drinks factory in Scotland.
Robert Barr had passed full control of the soft drinks business to Andrew Greig Barr by 1899.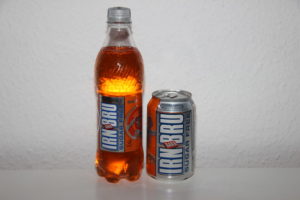 Iron Brew was introduced from 1901. It was based on an American soft drink of the same name, first produced in the late nineteenth century. The Barr recipe contains 32 flavouring ingredients, mostly originating from India, including "fruit essences", quinine and curry powder.
The Falkirk and Glasgow works employed at least 500 workers by 1903.
Andrew Greig Barr contracted typhoid fever and died from acute pneumonia in 1903. He left a personal estate valued at £18,409.
Upon the death of their brother, Robert Fulton Barr (1868 – 1918) and William Snodgrass Barr (born 1881) became joint-managing directors of A G Barr & Co.
Robert Barr died of heart failure in 1904.
A workforce of around 1,000 were employed by 1913.
The Parkhead site was significantly expanded in 1914, to create one of the largest soft drinks factories in Britain.
A G Barr & Co was the largest soft drinks manufacturer in Scotland by 1918.
Robert Fulton Barr died in 1918, and the business was continued by William Snodgrass Barr.
W S Barr passed the chairmanship of the company to his nephew, Colonel Robert Barr (1896 – 1949), from 1931.
The Parkhead site in Glasgow was the largest soft drinks factory in Britain by 1931, and employed around 100 people.
A small amount of iron was present in Iron Brew from 1937 onwards.
Government rationing regulations saw Iron Brew withdrawn from sale between 1942 and 1948. A G Barr continued to advertise Iron Brew during this period. When Iron Brew was reintroduced to the British market it was renamed Irn-Bru in order to differentiate the drink from competing products.
Robert Barr became chairman from 1947.
A G Barr & Co went public in 1965.
Irn-Bru dominated the Scottish soft drink market by the early 1970s.
Tizer, the Manchester-based soft drinks manufacturer, was purchased for £2.5 million in 1972. The acquisition transformed A G Barr into the largest specialist soft drinks manufacturer in Britain.
Robin Barr became chairman from 1978.
Mandora, the soft drinks subsidiary of the Mansfield Brewery, was acquired for £21.5 million in cash in 1988. Mandora employed a workforce of 400 at its factory on Bellamy Road, Mansfield. The deal transformed A G Barr into the third largest soft drinks manufacturer in Britain. A G Barr invested £300,000 to upgrade the warehousing facilities at the Mansfield site in 1988.
Irn-Bru had distribution across Britain by 1992.
Only Robin Barr and one other unnamed individual know the 32 secret ingredients for Irn-Bru. Robin Barr personally mixes the 32 ingredients himself.