R & J Dick was the largest boot manufacturer in the world. Dick's established the first national shoe shop chain in Britain. The business was later reinvented to become the largest manufacturer of industrial belting.
Robert Dick (1820 – 1891) and James Dick (1823 – 1902) were the sons of a Kilmarnock sailor. Robert trained as a jeweller, and James was apprenticed to an upholsterer.
The two brothers entered into partnership as R & J Dick from 1846.
The brothers utilised gutta-percha, a gum-based leather substitute. Robert made the moulds and James prepared the material. Soon, they were able to offer a low-cost boot with a watertight gutta-percha sole.
R & J Dick employed six men and three boys in 1851. Robert was the inventor, whereas James was more business-minded.
A four-storey factory was acquired at Greenhead, Glasgow in 1859. R & J Dick employed 100 men, 100 boys and 200 girls by 1861.
R & J Dick supplied the greater part of the insulation for underwater telegraph cables.
Retail shops were introduced, and R & J Dick became the first national shoe shop chain in Britain.
R & J Dick operated the largest footwear factory in the world by 1866. 60,000 pairs of boots were manufactured every week.
R & J Dick employed between 1,400 and 1,500 workers by 1867. That year the factory was struck by a fire which caused damage to the value of £25,000.
The business was flagging by the early 1880s: the price of gutta-percha had risen exponentially as demand had increased, and the boots and shoes could no longer be manufactured at a competitive price.
R & J Dick employed 610 men, 83 boys, 204 women and 46 girls in 1881.
James Dick became fatigued with business, and his health began to suffer. He married one of his employees in 1885, and emigrated to Australia.
In his brother's absence, Robert invented a mechanical belt using balata gum. It was immensely strong, and resistant to oxidisation and moisture.
There were 1,500 employees in 1886.
Robert Dick died in 1891, and James reluctantly returned to manage the business.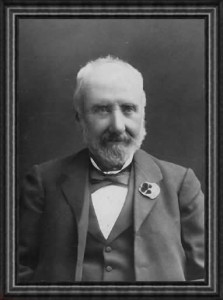 The balata belting patents expired in 1900, but the firm continued to hold a considerable share of the market.
James Dick died in 1902 with an estate valued at £887,651. He was childless, and dedicated his wealth to charities and employees.
John Edward Audsley (1824 – 1920), an employee of 40 years, took over management of the company.
R & J Dick was converted into a company in 1908 with a capital of £650,000.
A new American tariff on belting imports led the company to build a factory at Passaic, New Jersey in 1909. It could match the belting production levels of the Greenhead factory.
R & J Dick balata belting was used across the world by 1911. The product was advertised in languages as diverse as Burmese, Romanian and Hindustani.
R & J Dick acquired estates in Venezuela to provide balata gum in 1918.
R & J Dick had an authorised capital of £925,000 by 1920.
R & J Dick sustained heavy losses relating to its Venezuelan operation in 1921, following a slump in balata prices, and was forced to mortgage its properties in order to maintain sufficient working capital. The trading loss for the year amounted to £298,463.
J Parker Smith, company chairman, blamed the losses on the "extravagance and laxity" of the Venezuelan manager.
After sustaining continued losses, a shareholder criticised the loss-making New Jersey factory as a "white elephant" in 1923.
Shoe production was discontinued in 1923. Retail shop leases were allowed to expire. The company sold 12 retail shops in Scotland to Greenlees & Son of Glasgow in 1935. The boot manufacturing business was divested in 1935.
R & J Dick employed just 235 people in 1961.
The company was acquired by the Pollard Ball and Roller Bearing Co in 1962, in a share transaction which valued the company at £1,075,000.