The Pearson group of companies was by far the largest British business in 1919.
Pearson expands its infrastructure and engineering business
Weetman Pearson (1856 – 1927) became a partner in S Pearson & Son, a public works contractor, in 1876. The firm had been founded by his grandfather, Samuel Pearson.
Pearson was single-handedly responsible for growing the family firm from a regional to an international player.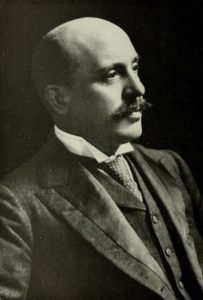 Pearson embarked upon a £2 million project to provide a drainage canal for Mexico City, which had experienced seasonal flooding, in 1890. The Grand Canal in Mexico City was completed in 1896, on schedule and on budget.
Around the turn of the century, Pearson built three harbours, Vera Cruz, Salina Cruz and Puerto Mexico, as well as the Tehuantepec railway (completed 1905) which connected the Atlantic and Pacific coasts.
Pearson enters the oil industry in Mexico
Weetman Pearson began to acquire oil concessions in Mexico from 1901. He was encouraged by President Porfirio Diaz (1830 – 1915), who was keen to develop a rival to the US oil companies already operating in the country.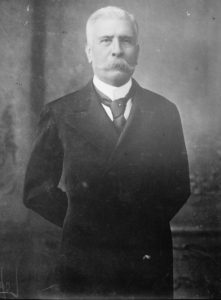 S Pearson & Son won a contract to tunnel the Hudson River and the East River in Long Island, thus linking Brooklyn and New Jersey by rail, in 1904.
S Pearson & Son was the largest engineering firm in the world by 1905, employing 60,000 men.
Pearson struck oil in Mexico, and agreed to supply C T Bowring, the largest distributor of petrol in Great Britain, with oil at a fixed price. Unfortunately, his well ran dry, and he was forced to buy oil at inflated prices from his rival, Standard Oil, in order to fulfil the contract.
Mexican Eagle
In a huge stroke of luck, Pearson made a large oil discovery in 1908. Dos Bocas was the largest oil deposit yet found in the world.
The Mexican Eagle Co was formed to exploit this field in 1908.
Mexican Eagle went public in 1910, with a capital of £3 million. Its production output over the next two years was estimated at 750,000 tons. Mexican Eagle was recognised as a strong competitor to Standard Oil Co, controlled by John D Rockefeller (1839 – 1937).
Standard Oil and Royal Dutch Shell virtually controlled the global oil market at this time. As Pearson did not want to be reliant on them, he established the Eagle Oil Transport Co to process and distribute his raw product.
The Anglo-Mexican Petroleum Co was registered in 1912 to market the product outside of Mexico.
The value of Mexican Eagle tripled between 1910 and 1913. Between 1912 and 1913, the company held an estimated 50 percent market share for fuel products in Great Britain. Production in 1913 was eleven million barrels. Mexican Eagle was the largest British company by 1913.
Mexico was the third largest oil producer in the world by 1914, after the United States and Russia, and Pearson controlled around 60 percent of the country's output.
Mexican Eagle produced nearly 19 million barrels of oil in 1919.
Eagle Oil Transport had a capital of £3 million in 1919. Mexican Eagle had a capitalisation of nearly $56 million.
With a market capitalization of £79 million, the Pearson group of companies ranked as by far the largest business in Britain by 1919, with a valuation more than 25 percent higher than its nearest rival, Burmah Oil.*
Pearson sells Mexican Eagle to Shell
Pearson sold 35 percent of the ordinary capital of Mexican Eagle and 50 percent of the shares of Anglo-Mexican to the Shell Transport & Trading Co for a reported £10 million in 1919. Shell representatives were given a majority on both boards of directors.
The merger represented the takeover of the largest British company by the largest European company. The Shell companies had an output of oil in 1918 roughly double that of Mexican Eagle, around 40 million barrels.
Shell invested heavily to increase production in Mexico. Mexican Eagle produced over 32 million barrels in 1920. An estimated 50 million barrels were shipped in 1921. The company had a daily capacity of well over 100,000 barrels.
Pearson had struck lucky again, by cashing out at the right time. Mexican Eagle share prices declined by 89 percent between 1920 and 1930.
Pearson died in 1927 with an estate valued at £4 million. According to his obituary in the Manchester Guardian, he "never lost his accent and pleasant Yorkshire ways".
By the early 1930s, Mexican Eagle, in common with its competitors, was decreasing its investment in Mexican oil. The Mexican oil industry was nationalised by the government in 1938.
References
* Bud Frierman, Lisa, Andrew C. Godley and Judith Wale, 'Weetman Pearson in Mexico and the Emergence of a British Oil Major, 1901-1919', Business History Review 81 (2007).