Carr's are best known for their Table Water biscuits.
Jonathan Dodgson Carr (1806 – 1884) was the son of a Quaker grocer from Kendal. He served an apprenticeship to a baker. Carr commenced business as a miller and baker on the outskirts of Carlisle, North West England in 1831.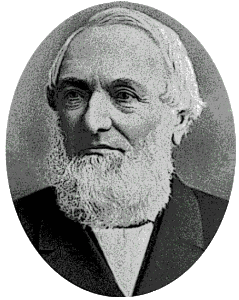 Carr began to sell biscuits in tins in order to preserve their freshness. He was the first person to use steam-powered machinery to manufacture biscuits.
Carr was a gentle, kind and modest man. An enlightened employer, by 1841 Carr had established a library for his workforce.
In 1841 he was appointed biscuit maker to Queen Victoria. He was at this point the sole manufacturer of machine-made biscuits in the United Kingdom.
400 tons of biscuits were produced in 1846, and a staff of 90 was employed.
After the death of J D Carr in 1884, he was succeeded by his three sons, Henry (1834 -1904), James (1838 – 1901) and Thomas. As the eldest, Henry Carr was the chairman.
A deeply spiritual man, Henry Carr had a greater inclination towards religion than business. However, he was determined to show that he was worthy of the legacy left him by his father. He ventured upon an ambitious expansion of the biscuit factory. Unfortunately, funds soon ran short, and the firm's bank forced the firm to make a public offering of shares in 1894.
Henry was succeeded by Theodore (1866 – 1931), the son of Thomas Carr, following his death in 1904.
Theodore Carr was a hands-on employer. In 1890 he had developed the company's signature product, the Table Water biscuit, as a variant of the Captain's Thin, a Victorian staple which was itself derived from the ship biscuit. The Table Water biscuit was thinner and crisper than any biscuit before it, and was particularly suited to cheese.
Carr realised that the company was heavily indebted due to the unprofitable flour milling division. The flour milling division was divested as Carr's Flour Mills in 1908.
By 1926 Carr & Co employed 3,000 people in Carlisle. In 1927 the company had a capital of £600,000.
Theodore Carr died in 1931, and he was succeeded by his brother, Harold Carr (1880 – 1937).
Carr & Co granted its workers a five day working week from 1934, and reduced hours from 47 to 45 with no reduction in pay.
Carr & Co was one of the largest biscuit manufacturers in Britain by 1939, producing 14,500 tons a year.
Carr & Co was a mid-sized British biscuit producer by 1960, and it could feel itself under increasing pressure to compete with the larger producers.
Carr & Co was acquired by Cavenham, controlled by James Goldsmith (1933 – 1997) in 1964, beating a £1.175 million bid by J Lyons.
Goldsmith sold the freehold of the Carlisle factory for £600,000, and leased it back for £63,000 a year.
According to Ian Carr, one of the company directors, it was Goldsmith's ambition at the time to build a biscuit empire by acquiring Associated Biscuits. This never transpired however, and Carr & Co was sold to United Biscuits in 1972.
The Carlisle factory escaped closure, in part, due to its excellent labour relations, which were in themselves a valuable asset.
As of 2016 the Carlisle factory employs over 600 people, and produces McVitie's products such as the Gold bar, as well as Carr's Water Biscuits.