Cope Brothers was the second largest tobacco manufacturer in Britain, and pioneered the employment of women in the sector.
George Cope (1823 – 1888) and Thomas Cope (1827 – 1884) began to sell cigars, snuff and tobacco from 63 Paradise Street, Liverpool in 1848. Trading as Cope Brothers, by 1853 the firm was undertaking its own manufacturing from premises on Lord Nelson Street.
George managed the manufacturing arm of the firm, while Thomas was responsible for the business as a whole.
Cope Brothers was one of the first tobacco manufacturers in Britain to employ a female workforce. Cope Brothers began to employ women following a factory strike in 1858. Female workers proved capable, so the policy was continued until the factory employed around 700 women and girls by 1871, out of a total of 774 employees.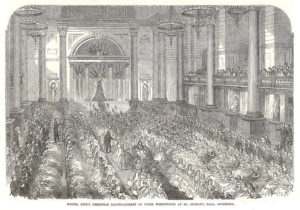 Cope Brothers operated the largest tobacco factory in Britain by 1870. The factory was spacious and well-ventilated. Charles Dickens and Emily Faithfull were given tours and reported favourably. Shifts were of six to eight hours in duration. The girls were generally the daughters of shopkeepers, warehousemen and clerks.
Cope Brothers employed 1,400 women and girls by 1879. The factory ran almost the entirety of one side of Lord Nelson Street by 1882.
Thomas Cope died in 1884, and left an estate valued at £199,000.
Cope Brothers was converted into a private limited liability company in 1885. It had a capital of £350,000.
George Cope died in 1888. He was succeeded as managing director by his nephew, Thomas Henry Cope (1867 – 1913).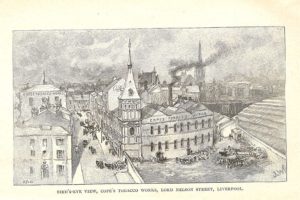 The regular workforce at the Liverpool factory totalled 1,500 people by 1892, many of them women and girls. With four percent of the British tobacco market, Cope Brothers was second only to Wills of Bristol.
The formation of Imperial Tobacco in 1901 created a giant in the industry. In a defensive move, Cope Brothers acquired Richard Lloyd, tobacco manufacturers best known for the Old Holborn brand, in 1902. Robinson & Barnsdale Ltd, tobacco manufacturers of Nottingham, was acquired in 1905.
Escudo Navy De Luxe pipe tobacco was introduced by Cope Brothers in 1912.
H C Lloyd & Son Ltd of Exeter was acquired in 1924.
Around 460 Cope Brothers employees went on strike in 1950 in protest against the hiring of non-unionised labour. The strike lasted for nearly three months.
Cope Brothers was acquired by Gallaher in 1952, in an exchange of shares. The Liverpool factory appears to have been closed shortly afterwards. At the time, purchase of American tobacco was limited by quotas from the Government, and Gallaher acquired Cope Brothers to increase its quota allowance. Gallaher was also attracted by the strength of the Old Holborn brand.
Cope Brothers remained a major Gallaher subsidiary as late as 1969.
Escudo Navy De Luxe pipe tobacco and Old Holborn are still sold as of 2017.