Hayward's is the leading pickled vegetable brand in Britain.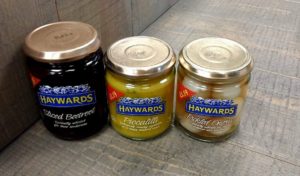 Robert Hayward (born 1847) was born in Lambeth, London. He was a dedicated Baptist. Hayward established his pickle manufacturing business at Montford Place, Kennington, in 1869. He initially distributed his wares with a single horse and cart.
Hayward Brothers was established in 1880 when Robert was joined by his brother Henry (1852 – 1925). Three men and five boys were employed at the firm by 1881.
Two nephews of Robert Hayward; George Charles Hayward (died 1931) and Joseph Robert Hayward (1870 – 1933), established a subsidiary at Christchurch, New Zealand in 1890. They sold pickles and sauces under the Flag Brand name. By 1896 it was the largest pickle company in New Zealand with over 50 employees, and exports had commenced to Australia. Factory floor space covered 21,000 square feet by 1903. Hayward Brothers operated the largest malt vinegar brewery in New Zealand by 1908.
A large three storey storehouse on Bowden Street, Kennington, was destroyed by fire in 1895.
Hayward Brothers was incorporated as a limited company in 1898.
The Kennington factory was extended in 1907.
200,000 bottles of Haywards Military Pickle were sold in London in 1905. By this time it was the company's leading product line. By 1911 it was the highest selling pickle in Britain.
In 1914 Robert Hayward was chairman, and his fellow directors were his brother Henry Hayward, and his two sons, George Joy Hayward (1873 – 1953) and Frank Tresidder Hayward (1876 – 1960).
When Henry Hayward died in 1925 he left an estate valued at £28,719.
A V-1 flying bomb caused significant damage to the factory in 1944.
George J Hayward died in 1953 with an estate valued at £16,384.
Edward Manwaring Ltd acquired the Haywards pickles trademark in 1956. They relocated production to their factory on the Bird in Bush Road, London. The Montford Place factory became the production site for Beefeater London Dry Gin in 1958.
Hayward's Food Products was acquired by the Melbray Group for £473,000 in 1963. The Manwaring family remained the largest shareholders.
In 1964 Melbray acquired Harry Peck & Co, a canned meat concern, and merged it with Haywards to form Hayward-Peck. Peck's products were canned tongue, and meat and fish pastes, including own-label produce for Harrod's.
Hayward-Peck had been mainly based in the South East of England, but a national distribution network was established from 1964.
Hayward Peck was sold to Brooke Bond-Oxo for £1.5 million in 1970.
A new pickle factory was opened at Bury St Edmunds in 1978. The company employed 150 people by 1989.
Haywards Pickles was sold to Hillsdown Holdings (later Premier Foods) in 1989 for an undisclosed price. Haywards was the market leader in the sour pickle market, with a 14 percent share and an annual turnover of around £10 million.
Hayward's main products were sweet, sour and mixed pickles in 1996. The company employed 120 people and had an annual turnover of around £10 million. Haywards sweet Military Pickle was still available as late as 1997, but has since been discontinued.
Premier Foods sold its vinegar and sour pickles business, including Hayward's, to Mizkan of Japan for £41 million in 2012.
As of 2016, Haywards vegetables in vinegar are produced at Middleton, Manchester, and Hayward's pickles are manufactured at Bury St Edmunds.