Babycham was a highly-successful pear cider drink that was established in Britain from the early 1950s.
Background
The Showering family had a long-established association with the innkeeping and brewing trade in Shepton Mallet, Somerset, dating back to the 18th century.
Albert Edward Showering (1874 – 1946), a small-scale brewer, owned three public houses in Shepton Mallet by 1928. He had four sons, and two of them, Herbert (1906 – 1974) and Francis (1912 – 1995) were to prove instrumental in the subsequent growth of the family business.
Arthur Edward Showering (1899 – 1979) took over the licence of the Ship Inn on Kilver Street, Shepton Mallet, which was owned by his father Albert, in 1921. The rear of the Ship Inn housed a small brewery.
Showerings was incorporated as a private company in 1932, with Herbert Showering as chairman. Cider production was established by this time. Albert Edward Showering retired in 1934.
Francis Showering, a trained chemist, was manager of the Showerings cider mill by 1939. He was a stocky, hard-working, no-nonsense West Countryman. He had been appointed managing director of Showerings by 1949.
Showerings won numerous awards for the quality of its bottled ciders throughout the late 1940s and early 1950s.
Babycham introduction
Following years of research and development Francis Showering developed a new sterile filtration process that improved the shelf quality of perry (pear cider) in 1947. The product was clear and sparkling, and reminiscent of champagne.
The sale of perry in Britain at the time was very small. The Showering brothers introduced the new product to the Bristol area and assessed its potential. Francis Showering determined to market the product towards women, and the Babycham trademark was registered in 1950. The product was packaged in 4 liquid ounce (118ml) "baby bottles".
In order to prioritise the production of Babycham, brewing ceased from 1952, and apple cider production ended in early 1953. Babycham was launched nationwide from 1953 and demand immediately exceeded all expectations.
Herbert Showering was responsible for marketing the product, and advertising commenced from September 1953. Advertising was to heavily emphasise its similarity to champagne. Sales quickly boomed. Advertising agency Masius Wynne-Williams created the Chinese water deer mascot for the brand.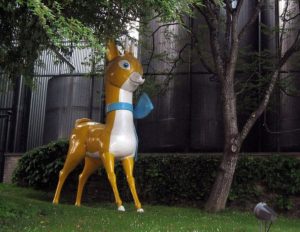 A significant factor behind the success of Babycham was that it appealed to the relatively underdeveloped female market. At the same time, bottled beers and ciders were becoming increasingly popular over draught drinks due to their more consistent quality. Furthermore, the brewers who owned much of the licensed premises in Britain readily introduced Babycham to their public houses, as it was not in direct competition with their beer.
Showerings found it was unable to meet demand for Babycham in the pre-Christmas period of 1954. Rather than compromise on product quality, which could have increased supply, strict rationing of Babycham was introduced.
In 1955 Babycham became the first alcoholic product to be advertised on British television. Around £300,000 was spent on advertising  between 1953 and 1956.
The success of Babycham turned the Showerings brothers into millionaires.
Acquisition trail
Showerings acquired R N Coate & Co of Nailsea, near Bristol, one of the four largest cider manufacturers in Britain, in 1956.
Tens of thousands of bottles of Babycham were produced every day by 1958.
Showerings was converted into a public company in 1959. Over 1,000 people were employed. By this time Showerings bought much of Britain's perry pear crop, and had to import additional fruit from Europe.
Aided by heavy marketing expenditure, annual sales of Babycham had reached £8 million by 1961.
Showerings was keen to reduce its dependence on the Babycham brand. The family-controlled William Gaymer & Son of Norfolk was acquired for £150,000 in 1961. Gaymer was widely credited as the oldest cider producer in Britain, and was one of the largest, best known for the Olde English brand. However it had struggled against the greater resources of its major rival, H P Bulmer. The deal transformed Showerings into the second largest cider manufacturer in the world.
Allied Brewies and recent era
Showerings merged with Allied Breweries in 1968. Francis Showering was appointed chief executive of the wine and spirits division.
2.5 million bottles of Babycham were manufactured every week by 1969, utilising the majority of British pear production.
The Shepton Mallet plant had a production capacity of 90,000 bottles an hour, and Showerings employed around 500 people in the town.
Babycham overseas sales tripled between 1962 and 1971. Babycham was exported to 52 countries by 1971.
R N Coate production was relocated to Shepton Mallet from 1974.
Keith Showering (1930 – 1982), son of Herbert, became chairman of Allied Breweries from 1975. Allied was the largest drinks business in Europe by this time.
Allied Breweries sold 144 million bottles of Babycham a year by 1977. The product was distributed across 90 percent of licensed premises in Britain.
Babycham was made with 25 percent apple cider by 1979. It had an alcohol content of 8.4 percent.
Babycham sales were successfully established in South Africa and the Far East and the product was exported to more than 70 countries by 1980.
The Shepton Mallet site employed nearly 800 people in 1986.
The Allied Breweries cider business was subject to a management buyout named the Gaymer Group in 1992. The deal valued the business at £140 million. 125 jobs were lost at Shepton Mallet.
Annual sales of Babycham had fallen to around one million bottles by 1993, and the deer mascot was retired.
The alcohol content of the product had fallen to six percent by 1993.
The Gaymer Group was acquired by Matthew Clark for £109 million in 1994.
Babycham sales suffered in the mid-1990s as alcopops grew in popularity.
Matthew Clark was acquired by Constellation Brands in 1998.
The Gaymer Group was sold to C&C Group of Ireland for £43.5 million in 2009. Constellation Brands retained the rights to Babycham.
The Shepton Mallet factory was bought back by the grandchildren of Francis Showering in 2016.