Tate & Lyle is the largest sugar business in Europe. Henry Tate built his fortune by popularising the sugar cube In Britain, and later established the Tate Gallery in London.
Henry Tate establishes the business
Henry Tate (1819 – 1899) was born in Chorley, Lancashire to a Unitarian minister from Newcastle upon Tyne. He was apprenticed to an elder brother at a grocery shop in Liverpool from 1832.
Tate acquired his own grocery shop at Old Haymarket, Liverpool, from Aaron Wedgwood (1789 – 1840) in 1839. He began to focus on the sale of tea.
Tate had six shops by 1855; four in Liverpool, one in Birkenhead and one in Ormskirk. He expanded into the wholesale trade in 1857.
Tate entered into partnership with John Wright, a sugar refiner of Manesty Lane in Liverpool, from 1859. In order to concentrate on the sugar business, he sold his grocery interests to a brother-in-law in 1861.
Tate built a sugar refinery of his own at Earle Street in 1862. Little is known of Tate's refineries at this time, but they probably produced low quality sugar and treacle.
Tate bought out Wright's stake in 1869, and his sons Alfred Tate (born 1846) and Edwin Tate (1847 – 1928) were brought into the business, which was renamed Henry Tate & Sons.
Tate acquires new patent rights
Henry Tate acquired the rights to the new French Boivin-Loiseau sugar purification process in 1872. Despite having been first offered to every other sugar refiner of scale, none but Tate had recognised its potential. It was this patent that really offered Tate a serious advantage over his rivals, as it was more efficient than the then-predominant Greenock process.
Tate opened a new refinery on Love Lane, Liverpool in 1872. Soon, the factory was producing 1,000 tons of sugar every week. The business employed 400 people by this time.
Tate paired up with David Martineau, a London sugar refiner, to acquire the British rights to Eugen Langen's sugar cube manufacturing process in 1875. Previously sugar had been sold to grocers in large cones, with servings then broken off with a hammer. The old method was inefficient, and the pre-packaged "Tate's Cube Sugar" was to prove a great success.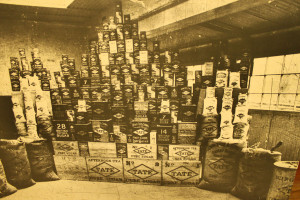 Tate acquired a derelict shipyard at Silvertown on the Thames in London in 1874-5. He opened his largest sugar refinery there in 1878, and appointed Edwin Tate as manager. The new refinery focused solely on sugar cube production.
By 1883 Tate had the largest sugar producing capacity in Liverpool, and the third largest capacity in London. The Liverpool plant produced hard sugar and the London plant produced soft sugar.
Henry Tate & Sons employed 538 people by 1889.
At the age of 76, Tate was asked why he did not retire. He replied, "when you pull on a string and gold sovereigns come tumbling down, it's very difficult to stop pulling that string". However he finally did retire the following year.
Henry Tate & Sons became a private limited company in 1896, and his son, William Henry Tate (1842 – 1922), became the first chairman, and his brothers were the directors.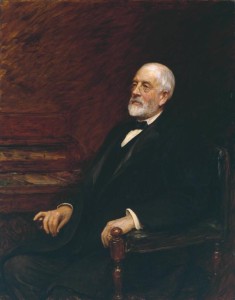 Henry Tate was a private man, a good employer and a generous benefactor. He built, at the cost of £500,000, the Tate Gallery for the people of Britain, which housed his collection of art including Waterhouse's The Lady of Shallot. Other benefactions, sometimes anonymous, but always discreet, amounted to almost £1 million. Despite his great wealth he lived a modest life, and refused a baronetcy twice before finally accepting in 1898, having been told by the Prime Minister that a third refusal would offend the Royal family. He died the following year.
At the turn of the century the factories in Silvertown and Liverpool employed between 2,000 and 3,000 people. The London buildings occupied 36,000 square metres, and the Liverpool buildings occupied 19,400 square metres.
Public offering and acquisitions
After a director died his widow wished to sell her stake, so Henry Tate & Sons went public from 1903.
Henry Tate & Sons was the largest sugar refiner in Europe by 1914. The company merged with Abram Lyle & Sons, another large British refiner best known for its golden syrup, in 1921. The new company, Tate & Lyle, had a capital of £4.5 million and employed over 5,000 people. The business controlled around 50 percent of Britain's sugar refining capacity.
Reasons for the merger included the expectation of the re-emergence of European sugar refiners after the First World War, but also the Tate family lacked young blood to take over the company, whilst the Lyle family had an abundance of candidates.
Fairrie & Co of Liverpool was acquired in 1929. The company employed around 900 people. The Fairrie sugar refinery was immediately closed down.
Tate & Lyle was the 32nd most valuable company in Britain by market value in 1930.
Tate & Lyle employed 7,000 people, and was among the 100 largest employers in Britain by 1935.
A major rival emerged after the British government nationalised fifteen sugar beet refiners under the British Sugar name in 1936.
Tate & Lyle held 60 percent of the British sugar market by 1937.
Tate & Lyle acquired Macfie & Sons of Liverpool in 1938. The ageing Macfie refinery was immediately closed down, and production was relocated to Love Lane.
The Silvertown site became the largest sugar refinery in the world, with an output of 14,000 tons a week by 1939.
Tate & Lyle employed 10,000 people in 1961. The company held over 50 percent of the British sugar market in 1970.
Britain entered the Common Market from 1972, which saw quotas imposed on imported raw sugar cane. As a result, Tate & Lyle was forced to diversify.
Manbre & Garton, a sugar and starch producer, was acquired in 1976. The acquisition gave Tate & Lyle a monopoly on cane sugar production in Britain.
Unfortunately Manbre & Garton began to haemorrhage capital. Combined with some ill-fated diversification attempts, by the late 1970s Tate & Lyle was in trouble.
The business is streamlined and sold to American Sugar
Canadian Neil Shaw was appointed managing director in 1980, and he set about transforming Tate & Lyle into a professionally-managed company.
Shaw closed down the Garton starch factories, sold six of Tate's ships, closed its glucose operations, reduced head office staffing levels and cut out excessive levels of management. The Love Lane refinery was closed in 1981 due to an excess of sugar capacity caused by the Common Agricultural Policy of the European Union.
Worldwide staff had been reduced from 16,400 to 11,400 by 1984.
Tate & Lyle sold its sugar business to American Sugar of Yonkers, New York in 2010. This allowed the company to concentrate on its industrial food products division.
The Silvertown refinery supplied 40 percent of Europe's cane sugar demand in 2013.