Mackeson was the first milk stout with national distribution.
The Hythe Brewery was established on High Street, Hythe, Kent in 1669.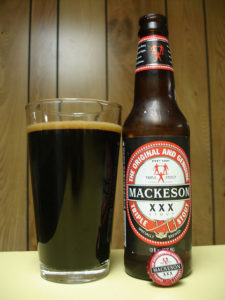 William Mackeson (1774 – 1821), a surgeon, became junior partner at the Hythe Brewery from 1801.
Following his death in 1821 the business was continued by his brother, Henry Mackeson (1772 – 1860). Mackeson employed nine men at the Hythe Brewery in 1851.
Henry Mackeson died in 1860, and his son, Henry Bean Mackeson (1813 – 1894) took control of the Hythe Brewery.
Henry Bean Mackeson was gentlemanly, genial, courteous, and well-respected. He employed 37 men in 1871, and 36 men in 1881. He served as Mayor of Hythe for nine consecutive years.
Henry Mackeson (1861 – 1935), studied chemistry at Edinburgh and London. He became the head of the business following the death of his father in 1894. He was persistent and hard working, and helped to develop the business. He was joined in partnership by his brother, George Lawrie Mackeson (1864 – 1950).
Mackeson & Co was incorporated with a share capital of £120,000 in 1900.
Mackeson Milk Stout was introduced from 1909. Stout was already recommended as a source of energy during convalescence, and Mackeson added lactose (milk sugar) in an attempt to increase its nutritional value. Every pint of Mackeson contained the lactose from the equivalent of half a pint of milk. It was the first milk stout in the world.
Henry and George Lawrie Mackeson sold their shareholdings to H & G Simonds, a large brewery based in Reading, in 1920. The two brothers took the opportunity to enter into retirement.
Mackeson was a well-established brand throughout Kent and the brewery employed 120 people by 1929.
Whitbread, a large London brewer, acquired Mackeson & Co in 1929. Simonds sold up as the offer price was simply too good to refuse.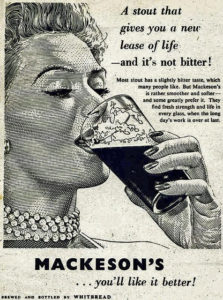 Whitbread afforded Mackeson Milk Stout nationwide distribution. Over 50,000 barrels were sold in 1939, and the beer accounted for nearly ten percent of Whitbread production.
The name was changed to "Mackeson Stout" from around 1942 onwards.
Sales gained momentum following the Second World War, when the stout began to be marketed towards women, who it was reasoned would appreciate its smooth and sweet flavour. Mackeson also benefited from increasing demand for bottled beers, which, although more expensive, provided consistent flavour and quality.
103,000 barrels of Mackeson were produced in 1948.
Mackeson Stout contained eight percent lactose in 1954.
Whitbread bottled beers were available in over half the licensed houses in Britain by 1955. Demand was such that Whitbread had to subcontract a portion of its bottling to other companies; 20 percent of bottled production by 1957.
60 percent of the £850,000 Whitbread advertising budget was dedicated to Mackeson in 1957.
Mackeson accounted for almost half of revenue at Whitbread by 1960.
425,000 barrels of Mackeson were sold in 1961.
Mackeson held a 25 percent share of the British stout market by 1963. Whitbread experimented with a draught version of Mackeson at this time.
A reciprocal agreement was signed with Bass in 1965, who agreed to stock Mackeson Stout across its estate of 4,100 public houses in exchange for Whitbread selling Bass beers throughout their estate.
Mackeson was launched in South Africa in 1967.*
Mackeson had an ABV of over four percent in 1968, and sold for a premium price.
The Hythe brewery was closed in 1968 and Whitbread relocated production to the Exchange Brewery in Sheffield.
Mackeson had been introduced in cans by 1971.
Mackeson was withdrawn from sale in South Africa in 1972.*
Mackeson was brewed under licence in Jamaica and Trinidad from 1973. It began to be brewed in Singapore from 1978 and Nigeria from 1979.
British Mackeson had an ABV of 4.3 percent in 1988.
The Exchange Brewery was closed in 1993, and Whitbread relocated production to their Castle Eden, Co Durham and Samlesbury, Lancashire plants.
Mackeson XXX Stout was brewed under license in the United States by the Hudepohl-Schoenling Brewing Company in Cincinnati, Ohio from around 2000.
Mackeson Stout was produced under contract by a number of brewers from 1999, including Young's of Wandsworth, Ridley's of Chelmsford, Cameron's of Hartlepool and Hyde's of Manchester. Since the closure of Hyde's Brewery in 2012, the production location has been unclear.
The ABV of Mackeson's was reduced from 3 percent to 2.8 percent from 2012 in order to qualify for duty relief.
Notes
* Thanks to Martyn Cornell for this.