Keen & Co was perhaps the largest mustard manufacturer in the world before it was overtaken by Colman's in the 1860s.
Thomas Keen established a mustard factory at Garlick Hill in the City of London in 1742. Keen & Co was the first commercial producer of mustard powder in the capital (the main production centres at the time being Durham and Tewkesbury).
Mustard became an increasingly popular condiment throughout the eighteenth century.
The business traded as Sutton, Keen & Smith by 1794.
The entire factory was destroyed by fire in 1806.
The business traded as Keen, Son & Co by 1818.
A Joseph Teale exited the business in 1824, leaving John Keen, John Henry Keen and James Keen (1780 – 1849) as partners.
John Keen retired in 1828, leaving Thomas (1800 – 1862) and James Keen as sole partners.
The business was known as Keens & Welch by 1841. James Keen left the partnership in 1849, leaving Thomas Keen and John Welch (1805 – 1856).
Thomas Keen was a wealthy man by 1851; he kept nine servants in his household.
Thomas Keen died in 1862, and Thomas Keen & Son was merged with Robinson & Bellville of Holborn, manufacturers of patent barley. The merged firm traded as Keen Robinson Bellville & Co.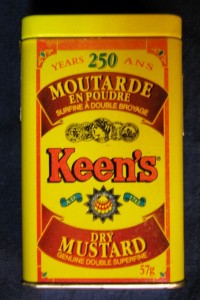 Keen's mustard was described as "world famous" in the Morning Post in 1868.
William John Bellville (1829 – 1891) was sole proprietor of the firm by 1876.
Keen operated the largest mustard factory in London by 1881, and it was supposedly the oldest mustard factory in the world. Additional factory premises were acquired at Denmark Street, London, in the 1880s.
William John Bellville died in 1891 with an estate valued at £638,000. The firm was inherited by his wife, Emma Bellville (born 1847).
The Garlick Hill premises was said to the oldest factory in the City of London by 1892. It spanned five floors. Most mustard seed was grown in the East of England, although some was imported from the Netherlands. There were extensive granaries in Wisbech, Cambridgeshire and Boston, Lincolnshire. The firm employed over 1,000 people, and was notable for not employing women, except for in sack mending.
The firm became a registered company from 1893 and changed its name to Keen Robinson. It had capital of £300,000.
Keen Robinson was acquired by J & J Colman of Norwich, a rival mustard manufacturer, in 1903. Frank Ashton Bellville (1870 – 1937) joined the Colman's board of directors.
It appears that Keen's mustard advertising was immediately withdrawn following the merger, in favour of the Colman's brand.
Emma Bellville and her son, William John Bellville (1868 – 1937) had thirteen servants between them at their home at Stoughton Grange, Leicester by 1911.
Manufacturing was centralised at the Carrow Works in Norwich, the site of Colman's production, from 1925.
The two brothers and heirs to the Keen Robinson fortune both died in 1937. Frank Ashton Bellville left an estate valued at £394,397, and William John Bellville left an estate valued at £393,709.
The Keen's mustard brand appears to have been phased out in Britain after 1945.
Colman was sold to Unilever in 1995.
The Australian rights to the Keen's brand, where it remains popular, were acquired by McCormick & Co in 1998.
Unilever still produce Keen's mustard for the Canadian market.