Levy & Franks was one of the first firms to introduce catering to public houses. It developed Chef & Brewer, the second oldest pub chain in the world.
Levy & Franks can trace its origins to 1887 when Isaac Levy (born 1845) became the licensee of The Pitt's Head pub on Old Street, London.
The Levy family were working class Jews from Whitechapel, London. Isaac Levy had previously worked as a bookmaker. He was not keen on drink, but loved food.
City pubs at the time were descendants of the gin dens, and it was difficult to get a good cup of tea, let alone food. City workers increasingly commuted from the suburbs, and were keen for somewhere to buy a hot lunch. The King Lud at Ludgate Circus was acquired in 1894, and Welsh rarebits began to be sold.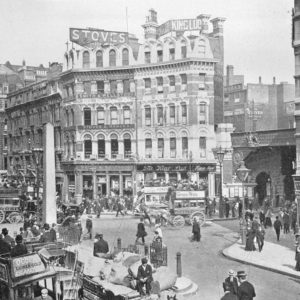 Ezekiel Levy (born 1872) entered into partnership with his brother in law, Henry "Harry" Franks (born 1869), to acquire the licensed premises of his father in 1897. Ezekiel Levy had began as the licensee of the Admiral Keppel, Fulham Road in 1893 (sold to Levy & Franks in 1924).
Isaac Levy grew wealthy and relocated to 50 Russell Square, where he had five servants by 1901.
Harry Franks originated the Chef & Brewer name in 1901.
Levy & Franks was incorporated as a private company in 1911.
Levy & Franks controlled 70 to 80 public houses by 1914. A typical daily sale for one of their pubs was 600 sandwiches, 135 meat pies and 800 Welsh rarebits.
Levy & Franks went public in 1946. The company owned 46 licensed houses, all but two of which were in the Greater London area. The Chef & Brewer brand was familiar throughout London by the 1950s.
The company operated 50 pubs and eleven delicatessens by 1962.
Levy & Franks entered into financial difficulties due to high warehouse and head office costs, and the directors approached Grand Metropolitan, a hotels and catering concern, who acquired the business for £2 million in 1966.
Chef & Brewer was acquired by Scottish & Newcastle, a large British brewer, in 1993.
Chef & Brewer was sold to Spirit Group, a pub company, in 2004.
Greene King, a large British brewer, acquired Spirit Group in 2014. The Chef & Brewer chain operated 136 outlets in 2016.