Meredith & Drew was the largest biscuit manufacturer in Europe.
William Meredith
William Meredith (1803 – 1868), originally from Bristol, established a bakery at Shadwell, East London from 1830. William George Drew (1813 – 1867) was his principal assistant.
Little is known of this early period, but following a quarrel between the two men, Drew left to establish his own biscuit business nearby from 1852.
Meredith hired Frederick Collier (1838 – 1903) from 1853. Meredith focused on the public house trade for his biscuits, pound cakes and Banbury cakes. He operated a steam-powered factory on Commerical Road East, and traded as Meredith & Son by 1856.
Drew & Sons
Drew had also established a steam-powered factory by 1856, located on Shadwell High Street. Like Meredith, he focused on supplying the public house and hotel trade with biscuits. He employed 30 men by 1861.
Drew died from a heart attack in 1867, and his obituary hailed him as "a man of remarkable energy and enterprise", remembered for his charitable interests. He was succeeded in his business by his wife Barbara, and his only son, Lear James Drew (1840 – 1917), a genial man.
Drew & Sons produced over 100 different varieties of biscuit by 1877.
Meredith & Drew
Frederick Meredith and Lear James Drew merged their interests as Meredith & Drew in 1891, with a capital of £107,000. The merged business was one of the largest biscuit manufacturers in Britain.
Meredith & Drew received its first Royal Warrant, from Queen Victoria, in 1894.
The Meredith & Drew factory at Shadwell was extended in 1896. Production was still concentrated on the manufacture of biscuits for the catering industry, particularly public houses and hotels.
Meredith & Drew developed a reputation for fair treatment of its customers and workforce.
Meredith & Drew was one of the best known East End of London businesses by 1897. Lear Drew was chairman, and he was supported by a strong management team including H D Rawlings (1836 – 1904) as vice chairman and Frederick Collier as managing director.
The Wright stuff
Meredith & Drew merged with Wright & Son of Shadwell through an exchange of shares in 1905. Thomas Reuben Wright (1868 – 1923) became managing director of the company.
Lear J Drew died in 1917 with an estate valued at £30,986.
Thomas Reuben Wright died in 1923 with an estate valued at £73,530.
The Shadwell factory employed around 1,000 workers by 1925.
A factory was acquired in Ashby-de-la-Zouch, Leicestershire in 1927.
Meredith & Drew launched the Betta Biscuit, a cut-price product, from 1931. Largely due to the success of the product, the company had become the largest biscuit manufacturer in Europe by 1934.
Meredith & Drew had six factories across England by 1939. The London site, which was also the largest, was destroyed during the Blitz in 1940, and production was permanently relocated to plants at Oldham, Brighouse and High Wycombe. A factory was also acquired at Halifax. Company headquarters were relocated to Ashby-de-la-Zouch in Leicestershire.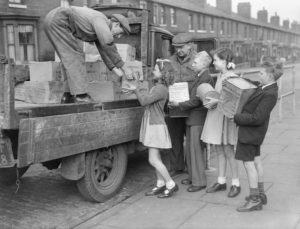 Meredith & Drew lost its position as the largest biscuit manufacturer in Britain following the formation of United Biscuits in 1948. It remained the longest-established biscuit manufacturer in England.  At this time 29 different biscuits were produced, and among the most popular were shortcake, currant shortcake, digestive, Marie, Nice, bourbon, custard cream and ginger nut.
Meredith & Drew had an authorised share capital of £1 million, and 2,500 employees by 1951. Geoffrey Anthony Edward Drew Wright (born 1908), son of T R Wright, was managing director by this time.
A new factory at Hollyhill Wood, Cinderford, Gloucestershire, with a focus on cream cracker production, went online from 1951, with 300 staff, including 150 women.
Meredith & Drew divested its Brighouse factory in 1954. The company reduced seven factories to three throughout the 1950s, with production centralised at Halifax, Cinderford and Ashby-de-la-Zouch.
The Cinderford factory was closed with the loss of 346 jobs in 1962. Production was transferred to the Halifax and Ashby-de-la-Zouch plants, which were extended and modernised.
Meredith & Drew held around five percent of the British crisps market by 1963, with own-label production for Marks & Spencer and a strong presence in the licensed trade.
Crisps contributed an increasing share of turnover, and the Ashby-de-la-Zouch facility began to struggle to meet demand. A new crisp factory with a staff of 280 was acquired in Lanarkshire in 1963.
Meredith & Drew was strong in own-label production, savoury biscuits, the catering trade and potato crisps in 1967.
United Biscuits era
Meredith & Drew, with four percent of the British biscuit market, was acquired by United Biscuits for £2 million in a cash and share offer in 1967.
The Meredith & Drew biscuit factory in Halifax employed hundreds of workers in 1968.
United Biscuits acquired Kenyon, Son & Craven, the manufacturer of KP nuts for £3.5 million in 1968. Kenyon, Son & Craven was merged into Meredith & Drew.
Meredith & Drew advertising was wound down, and brand rationalisation saw the Meredith & Drew name retired by some point after 1980.
The Halifax site was closed with the loss of 990 jobs in 1989, and production was relocated to Ashby-de-la-Zouch.
The Meredith & Drew brand was reintroduced from 2018 as a United Biscuits premium biscuit brand with a focus on the catering trade.