Edward Sharp & Sons became the largest toffee manufacturer in the world.
Edward Sharp establishes a confectionery factory
Edward Sharp (1854 – 1931) was born in Maidstone, Kent, the son of a manager at a paper factory. He was educated at the local grammar school. He was a dedicated Congregationalist.
Sharp established a grocery business on Week Street, Maidstone. He began to sell homemade sweets, principally toffee and nougat, in his shop from 1878. The business was initially modest, and Sharp employed one man and one boy in 1881.
Sharp acted as his own salesman, and travelled Kent on his bicycle.
The confectionery sideline was to prosper, and Sharp had divested his grocery business by 1898 and established a dedicated factory in a former roller skating rink on Sandling Road, Maidstone.
Kreemy Toffee helps to establish sales, and a new factory is built
A new type of creamy nougat that Sharp introduced was recast by the works manager to create a creamy toffee. Branded as "Kreemy Toffee", the new product line helped to secure a national reputation for the business from the turn of the century.
A new factory, the Kreemy Works, was established at St Peter's Street, Maidstone, from 1912.
Sharp's success was credited to improved methods of manufacture, careful advertising and a national increase in toffee sales during and following the First World War. The business claimed to be the largest toffee manufacturer in the world in 1922, and Sharp was made a baronet.
Sharp's wife died in 1925, and to widespread surprise he married his secretary when he was 74 years old in 1928. Sharp died in 1931 and left an estate valued at £156,367.
Sharp's sons Herbert Edward Sharp (1879 – 1936) and Wilfred James Sharp (1880 – 1945) became joint-managing directors of the company.
Edward Sharp & Sons toffee sales continued to grow, and it was the largest toffee manufacturer in the world in 1933. The company owed its success to heavy advertising and a quality product.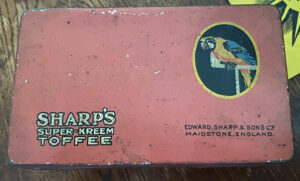 H E Sharp died in 1936 and left an estate valued at £79,943. W J Sharp died in 1945 and left an estate valued at £194,219. The grandsons of the founder became joint-managing directors.
Employees were allowed to consume as much confectionery as they could eat on the premises, but were not permitted to take produce home.
Restricted supplies of raw materials forced Sharps to concentrate on the export trade during the Second World War and up to the early 1950s.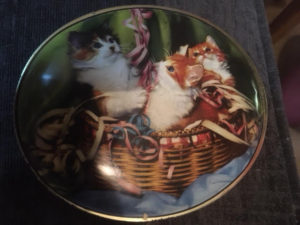 Sharps was one of the foremost sugar confectionery manufacturers in Britain in 1951. The business targeted the high-quality market. Super Kreem toffee was the highest-selling product line. The factory could produce 600 wrapped sweets a minute.
Sugar rationing ended in 1953, and butter rationing ended in 1954. To cope with increasing sales, 24-hour production was introduced, and 350 men were employed on the night shift alone by 1954.
Edward Sharp & Sons loses its independence, the brand is withdrawn and the factory is closed
Following the post-rationing boom, an increasingly affluent society began to favour chocolate over sugar confectionery. Edward Sharp & Sons was acquired by Trebor, a privately-owned London confectionery manufacturer, in 1961. The sales forces were merged in 1968, and the company became known as Trebor Sharp.
The Maidstone plant focused on Easter eggs, toffee, fudge and chocolate-coated products by 1980.
Trebor Sharp was acquired by Cadbury in 1989.
Sharp's toffee was discontinued in 1998.
The Maidstone factory was closed as part of an efficiency drive in 2000, with the loss of over 300 jobs. The factory had produced Softmints, toffee and fudge. Manufacturing was relocated to Chesterfield and Sheffield. The factory was demolished and replaced by housing in 2002.
The brand was relaunched as Sharps of York from 2004. The Sharps brand was acquired by Tangerine Confectionery in 2008. The Sharps brand had been discontinued by 2016.