Sharwood's is the leading Asian food brand in Britain.
James Allen Sharwood (1859 – 1941) was born in Islington. His mother was a Scottish schoolmistress, who instilled in him the importance of paying attention to details. He was named for his grandfather, a prosperous Fenchurch Street wholesale druggist.
J A Sharwood's father was an excellent chemist, but he was a spoiled man. He spent extravagantly, and was declared bankrupt in 1864, and sent to debtor's prison. His marriage ended in divorce. J A Sharwood was to meet his father only once, in 1890, before he died in the workhouse in 1894.
J A Sharwood attended the Heath Mount School in Hampstead, and then went on to work in the City of London. He initially worked in insurance, before working as a manager for a wine and spirits distributor. He established himself as a wholesale grocer on Carter Lane from 1888.
J A Sharwood had a great interest in travel and learning foreign languages. He was intelligent, hard-working, and innovative.
Green Label mango chutney was introduced from 1889.
The Northern Meat Preserving Co was acquired in 1891.
Sharwood was introduced by a family friend to Lord Dufferin (1826 – 1902), the Viceroy of India. Dufferin asked Sharwood to bring his French chef some supplies from Europe.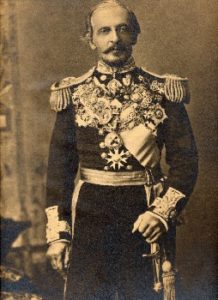 Legend has it that the grateful chef recommended that Sharwood visit P Vencatachellum at No. 1 Popham's Broadway in Madras. Vencatachellum made a famed curry powder, which blended stone-ground turmeric from Chittagong, coriander from Kerala, chillis from Orissa, and four secret ingredients. The mix impressed Sharwood, and he arranged to distribute Vencat curry powder in Britain from 1893.
J A Sharwood was incorporated as a limited company with capital of £50,000 in 1899.  A factory, the Offley Works, was established at Vauxhall.
White Label Worcestershire Sauce was the main product by 1900. It was aged for five years.
F A Bovill & Co of City Road, London, a preserve manufacturer, was acquired in 1900.
Sharwood had retired by 1927 and settled in Cape Town, South Africa.
J A Sharwood was advertising itself as "the largest dealers in Indian condiments in the world" by 1933.
Sharwood died in 1941 and his effects in England were valued at £7,296.
Cerebos, a British foods company, acquired J A Sharwood in 1962 for £982,047. The Offley Works was divested and production was relocated to Greatham, Hartlepool.