Domestos is the leading brand of bleach in the United Kingdom.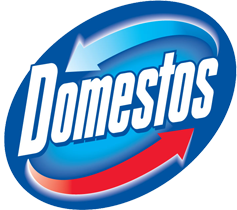 W A Handley establishes the Domestos business
Wilfred Augustine Handley (1901 -1975), was the son of a blacksmith employed in the Tyneside shipbuilding industry.
W A Handley trained as a dental mechanic. As a side project, he manufactured chemicals in his garden shed. He acquired sodium hypochlorite, a waste product from the local chemical industries, including ICI Billingham, and manufactured a powerful disinfectant and sterilizer, which he called "Domestos".
W A Handley established his "Hygienic Disinfectant Service" in 1929. Assisted by his wife Ivy, he worked as a door-to-door salesman to sell Domestos.
Domestos was incorporated as a private company in 1936.
Stergene, designed for washing woollens, was introduced in 1948.
Domestos enjoyed distribution across Britain by 1952.
Sqezy, the first washing up liquid in squeezable bottles, was launched in 1957.
W A Handley placed Domestos into a shell company which was valued at £250,000 in 1957.
Unilever era
W A Handley lacked sufficient capital to expand, and the business was sold to Unilever for £2.5 million in 1961. Unilever lacked a bleach brand of its own, and was attracted to the company's strong growth. The acquisition provided Domestos with Unilever managerial expertise.
Handley was retained in a managerial capacity, but stepped down as chairman in 1962.
The Domestos blue plastic bottle was introduced from 1963.
The Domestos marketing and sales departments had been transferred to London by 1965.
Domestos employed 700 people by 1965.
Domestos sales continued to grow, but the Newcastle factory lacked space to expand. As a result, production of Domestos detergents including Sqezy and Stergene were transferred to the Unilever factory at Port Sunlight, Merseyside, from 1965. The customer service office was relocated to London.
Domestos held a third of the British bleach market by 1968.
Handley died in 1975 and left an estate valued at £172,786.
The Domestos factory in Newcastle upon Tyne was closed in 1975 with the loss of 160 jobs, and operations were relocated to Port Sunlight.
Domestos was sold throughout Europe by the end of the 1970s. It was introduced to Australia from 1981.
Globally, Domestos enjoyed ten percent growth in 2017, and is a leading product in the Unilever Home Care division.