Watney's Red Barrel was the highest-selling keg bitter in the world by the mid-1960s. Its subsequent relaunch as Watney's Red in 1971 probably represents the most famous failure in brand management of recent British history. How did Watney's Red became the most reviled beer in Britain?
Watney's Red Barrel is introduced
Watney, Combe & Reid was formed by the amalgamation of three London breweries in 1898. It was the second largest brewing concern in the world.
The brewery was highly profitable. When Charles Combe (1837 – 1920) died he left a net estate valued at £956,139, or over £350 million in 2020 prices.
Watney, Combe & Reid had begun to pasteurise at least some of its bottled beers by the 1920s. A large new pasteuriser was imported from Germany in 1930.
Watney, Combe & Reid introduced the Red Barrel as their in-house trademark from 1930.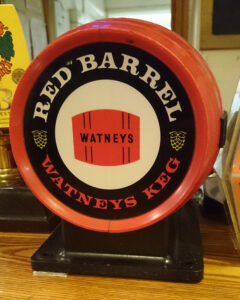 Watney, Combe & Reid introduced Watney's Red Barrel, their first keg beer, in 1931. It was developed for export to British expatriates in the Middle and Far East. The pasteurised pale ale was able to withstand tropical heat and a lengthy shipping period. The beer was to prove a success among British expatriates and travellers, and was soon found on Royal Navy ships, Cunard liners and Middle Eastern oil fields.
Watney's Red Barrel became the first keg beer introduced to the British market in 1935. It was initially sold at the East Sheen Lawn Tennis Club, where its keeping properties proved ideal for the intermittent trade of a sports club.
Simon Harvey Combe (1903 – 1965) was appointed chairman of Watney, Combe & Reid in 1948.
Watney's Red Barrel was introduced to pubs as a premium-priced bottled pale ale from 1950.
Flowers Breweries became the first mass marketer of keg beer in Britain in 1955. Watney, Combe & Reid followed suit, and introduced the keg version of Red Barrel to British pubs from 1956.
Watney Mann expands through acquisition
Watney, Combe & Reid acquired Mann, Crossman & Paulin to form Watney Mann in 1958. The merger allowed the group to reclaim its position as one of the largest brewers in Britain, and strengthened Watney's position in hitherto underrepresented markets such as Essex, Luton and Coventry.
Many of the larger breweries had introduced keg beer by the late 1950s, but it was Watney's Red Barrel that was the most widely-distributed.
Watney Mann remained a highly traditional and conservative business, but this was all about to change. Sears Holdings, controlled by Charles Clore (1904 – 1979), launched a £27 million hostile takeover for Watney Mann in 1959. Clore planned to modernise Watney Mann's antiquated estate of pubs, doing away with the "smoky, smelly, barnlike premises" by introducing comfortable seating, removing the distinction between saloon and public bars, and improving the food offering. Pubs in areas with high footfall, such as city centres, would be converted into shops.
The directors of Watney Mann, descendants of the founding brewing families, were horrified. Simon Combe called the proposal, "preposterous … deplorable for the brewing industry and a disaster for Watney's".  Although the deal eventually failed, the directors realised that company could no longer take its independence for granted. Large sums were invested to modernise the tied estate of 3,670 pubs, with a new corporate identity designed by Milner Gray (1899 – 1997) . Pub exteriors were painted pillar-box red.
In order to make itself a less likely takeover target, Watney Mann acquired Phipps of Northampton, with 1,171 licensed premises, to create the second largest brewing group in Britain in 1960. Later that year Watney Mann acquired Ushers of Trowbridge for £4 million, and Wilson & Walker of Manchester for nearly £11.5 million. Watney Mann also required brewing capacity, and the Phipps and Wilson & Walker breweries were under-utilised.
Keg beer sales began to grow, initially at the expense of bottled beers. Customers, particularly the young, appreciated the consistent taste, and it commanded a premium price. Brewers appreciated that its offered higher margins than cask beer. Watney's Red Barrel was the highest-selling keg bitter in Britain by 1961. It was brewed with Norfolk malt and Goldings hops, and was naturally matured for several weeks.
Export of Watney's Red Barrel to northern France and Belgium commenced from 1962.
Watney Mann had 6,224 tied houses, and 34,000 free trade accounts by 1963. Most Red Barrel was sold to the free trade or exported, and traditional cask beer predominated in the tied estate.
Watney's Red Barrel was successfully introduced to America. Nearly 5,000 barrels of Red Barrel were exported to Northern Europe in 1965.Licensed production of Red Barrel began at the Murphy's brewery in Cork, Ireland, from 1966. It was claimed that Watney's Red Barrel was the highest-selling keg beer in the world by 1966.
Watney Mann continued to expand throughout the 1960s with a series of acquisitions. The acquired breweries included Morgans of Norwich (1961), Bullard & Sons and Steward & Patteson of Norwich (1963), Drybroughs of Edinburgh (1965) and Maes of Belgium (1969).
Watney Mann announced plans to centralise production at its breweries in Mortlake, Manchester, Norwich and Edinburgh in 1970. The Trowbridge, Whitechapel and Brighton breweries would be closed. Production of cask ales had largely ceased, and local names would be phased out in favour of the Watney brand.
Watney's Red is introduced
Watney's Red Barrel sales had plateaued by the late 1960s, and the product had fallen behind Double Diamond as the market leader. Double Diamond offered greater taste consistency than Red Barrel, as it was only brewed in one place: Burton upon Trent. It was also believed that its sweeter taste and higher strength rendered it more appealing. Meanwhile it was claimed that Red Barrel suffered from inferior marketing.
Watney's Red Barrel was reformulated and rebranded as Watney's Red from April 1971. Somewhat confusingly, the new product was a "completely different beer", being darker, fizzier, slightly sweeter, and with a creamier head. It supposedly offered greater "drinkability".
The Watney's Red product launch was accompanied by a £500,000 television and poster campaign. Images of Castro, Khrushchev and Mao were used alongside with the tagline, "long live the Watney's Red revolution". A further £100,000 was spent to convert the cowls on 30,000 Red Barrel keg dispensers.
Watney's Red initially enjoyed sales that were 15 percent higher than Red Barrel. Around 350,000 barrels of Watney's Red were sold in 1972, accounting for around 20 to 25 percent of Watney Mann sales.
Watney Mann is acquired by Grand Metropolitan; the public backlash begins
Watney Mann, with an estate of 7,000 pubs, was acquired by Grand Metropolitan, the owner of Truman's Brewery and a host of hospitality concerns, for around £400 million in 1972. At the time it represented the largest takeover in British history.
Towards the end of 1971, Watney Mann began to brew using a grist of up to 50 percent raw barley and added enzymes in an effort to lower production costs. The proportion of raw barley was increased to up to 70 percent of the grist from 1973.
Following a successful launch, the sales of Watney's Red began to decline, and remained stubbornly behind those of rival Double Diamond. The recipe was tweaked twice to increase ABV and original gravity in 1973. Richard Boston (1938 – 2006), a beer writer for The Guardian, derided the tactic as "desperate", and suggested that "Watney's themselves are becoming uncomfortably aware that people don't like their beer".
Meanwhile, the Campaign for Real Ale had been established in 1971. CAMRA rallied against keg beers, which lost much of their flavour during the filtration and pasteurisation processes. Watney's Red was subject to particular criticism, and the company was derided as "Grotney's". A Watney Mann official dismissed CAMRA members as a "cranky bunch", and claimed that market research demonstrated that the public preferred keg beer.
Concerned over criticism of the company, as well as by falling sales of Watney's Red, Watney Mann conducted a market research study in mid-1974. Watney Mann management acknowledged that the introduction of Watney's Red had "backfired". In a bid to rescue the company's reputation, greater autonomy was devolved to regional management, and local beers began to be promoted from 1974. Scheduled brewery closures at Trowbridge and Halifax were reversed. Discontinued local brands such as Tamplins were revived, and efforts were made to reach out to CAMRA. Watney's introduced Fined Bitter, a cask beer later renamed Stag, to its tied estate from 1976. The red colour scheme for pubs was phased out.
Watney's Red was finally discontinued in May 1979. Nationally distributed products remained important however, and Grand Metropolitan focused on Webster's Yorkshire Bitter as its core ale brand from the early 1980s.
Ruddles Brewery of Rutland was acquired in 1986 to increase Grand Metropolitan's presence in the cask ale market. The brewery received a £5 million investment, and a further £1 million was spent on advertising the brand.
Grand Metropolitan sold its brewing interests to Courage in 1991.
Watney's Red remained available in France and Spain into the early 1990s. Watney's Scotch Ale is still sold in Belgium. Mann's Brown Ale remains available throughout Britain.