Doxford of Sunderland was the largest shipbuilder, and the largest manufacturer of marine engines in the world.
William Doxford (1812–1882) established a shipyard at Coxgreen, Sunderland in 1840. In 1858 he relocated the works to Pallion, Sunderland.
Business expanded after the firm began to build iron ships from 1864. In 1870 a larger yard with a five berth capacity was acquired.
The first government contract came in 1872 with an order for three gunboats.
The engineering works were opened in 1878. The marine engines business was to become as important as shipbuilding to the firm.
In 1879 the firm built the largest steamer afloat, the 4,500 ton Grecian.
The company was incorporated in 1891 with a capital of £200,000, all owned by the Doxford family.
In 1892 the firm launched the first turret-deck steamer. In 1892 the firm launched the Samoa, the largest cargo vessel in the world.
In 1896 the firm launched the largest cargo-carrying vessel ever built in England or Scotland. The Algoa, with a carrying capacity of 11,300 tons, was the second largest ship afloat.
In 1900 the firm laid down the largest private crane in the world.
A limited public offering was offered in 1900. The company had a share capital of £500,000. The firm's works covered 32 acres.
In 1904 the original five berths were replaced with three berths of greater length, each capable of building a 12,000 ton ship.
In 1905 and 1907 the firm held the "Blue Ribbon" for the largest output of any British shipyard. 20 vessels were launched in 1905 with 86,532 gross tonnage. Output in 1906 was much larger, at 106,000 tons, although the firm did not win the Blue Ribbon.
The company built its first oil engine in 1912.
From 1914 the shipyard and engineering works were dedicated to building destroyers. 21 were built during the First World War.
In 1919 the Sperling Group-controlled Northumberland Shipbuilding Company acquired over 90 percent of William Doxford & Sons. Chaired by Viscount Furness, the combine was one of Europe's largest industrial companies.
In 1921 the Doxford opposed-piston, airless injection oil engine was introduced.
Charles David Doxford died in 1935, the last member of the Doxford family to take an active interest in the running of the firm.
In 1951 the firm launched its largest vessel yet, the 16,500 ton Charlton Venus tanker.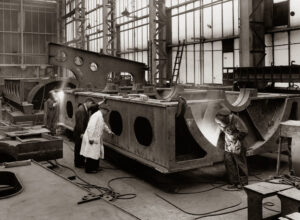 Throughout the 1950s and early 1960s the Doxford engine had a 25 to 30 percent global market share, and 25 licencees around the world.
In 1961 the Sunderland Shipbuilding Dry Docks and Engineering Company Ltd was acquired. It brought the Wear's largest engineering works and three shipyards under a single owner.
In 1972 Doxford was acquired by Court Line.
The last Doxford engine was built in 1980. Across its history, 1,200 were sold.
The three Wearside yards of Sunderland Shipbuilders were closed in 1990 with the loss of 2,500 jobs.