Tanqueray is one of the highest selling gin brands in the world.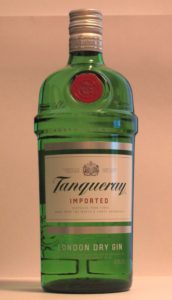 Charles Tanqueray
Charles Tanqueray (1810 – 1865) was the son of the Reverend Edward Tanqueray (1762 – 1847), rector of Tingrith in Befordshire.
With his elder brother Edward (1805 – 1838), Charles was apprenticed as ginmaker to Currie & Co of Bromley by Bow, one of the largest distilleries in London.
The two Tanqueray brothers partnered with Arthur Currie (1804 – 1875) to takeover the Bloomsbury Distillery, an established gin manufacturer at 3 Vine Street, Bloomsbury, in 1835. The building has not survived, but the street still exists, and has been renamed Grape Street.
Charles Tanqueray was an ambitious man. He  wanted to create a gin to rival, or even better, those of Felix Booth (1775 – 1850) and Alexander Gordon. He experimented ceaselessly through trial and error to perfect his recipe. He finally settled on just four botanicals: juniper, angelica root, liquorice and coriander seeds, the same four used by Tanqueray today.
The Bloomsbury Distillery was described as "extensive" by 1840.
Edward Tanqueray died in 1838, and Charles was assisted by his brother John Samuel Tanqueray (1817 – 1902) in the 1840s and 1850s.
Arthur Currie left the partnership in 1847.
Charles Waugh Tanqueray
Charles Tanqueray died in 1865 and the business was managed by his brother William Henry Tanqueray (1814 – 1887). Charles Waugh Tanqueray (1848 – 1931), the son of Charles Tanqueray, took over the distillery upon completion of an apprenticeship to a grocer in 1867.
Charles Waugh Tanqueray was perhaps more commercially-minded than his father, and under his leadership sales grew and exports increased. A keen sportsman, he was an upright Christian gentleman with a social conscience and a determined character.
Most Tanqueray gin was sold at a strength of 40.19 percent ABV in 1877. Some gin was also sold at 35.19 percent ABV.
Tanqueray Gordon and acquisition by Distillers
Charles Waugh Tanqueray approached Reginald Charles Wilford Currie (1854 – 1922), the proprietor of Gordon & Co, gin distillers of Goswell Road, London, regarding a merger of their two companies in 1897.
Tanqueray was amalgamated with Gordon in 1898 to form Tanqueray, Gordon & Co, a company with a capital of £500,000. R C W Currie became the managing director, and Charles Waugh Tanqueray took the opportunity to retire.
Following the merger all production was centralised at the Gordon site at 132 Goswell Road. Gordon's London Dry Gin became the priority brand.
Harry Aubrey Tanqueray (1907 – 1982) was the only grandson of C W Tanqueray. He became a stockbroker, and does not appear to have been affiliated with the gin business.
Largely due to the growth of the temperance movement and a substantial rise in excise duty, alcohol consumption declined in the period following the First World War. Tanqueray Gordon was acquired by the Distillers Company, which was heavily involved in consolidating the spirits industry, in 1922.
R C W Currie, managing director of Tanqueray Gordon, died in 1922.
Tanqueray Gordon was by far the largest gin distiller in the world by 1926.
Charles Waugh Tanqueray outlived his only son Charles Henry Drought Tanqueray (1875 – 1928), and died in 1931.
The Goswell Road site was nearly destroyed during the Blitz.
The Tanqueray green bottle was introduced from 1948.
The growth of Tanqueray overseas
The premium-priced Tanqueray became popular among affluent Southern Californians, and American sales took off from there. British gin was popular because it was smoother than American gin, and was to prove a good mixer for a Martini cocktail.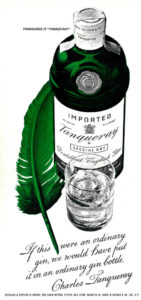 United States sales of Tanqueray doubled in 1964. Frank Sinatra and the Rat Pack became fond of Tanqueray martinis at the Buena Vista Social Club in San Francisco.
In four years United States sales rose by 1700 percent. Over 85 percent of the Goswell Road output was shipped to the United States by the 1960s.
Tanqueray became one of the leading spirit brands in the world. 600,000 cases of Tanqueray were exported to the United States in 1975.
Tanqueray sales reached one million cases in 1979.
Due to increasing sales a purpose-built 26 acre distillery in Laindon, Essex was opened from 1984, and the Goswell Road site was divested.
Charles Tanqueray & Co won a Queen's Award for Export Achievement in 1985.
Guinness acquired Distillers in 1986.
John P Tanqueray (born 1934), the great grandson of Charles Tanqueray, retired as commercial director of Tanqueray Gordon in 1989.
Guinness merged with Grand Metropolitan in 1997 to form Diageo. The combination of two spirits giants left the company with an excess of productive capacity. As a result the Laindon distillery was closed with the loss of 220 jobs in 2000, and all production was relocated to Cameronbridge, Scotland.
Tanqueray held over 50 percent of the US gin market in 2002.
Globally, Tanqueray sales grew by 15 percent in 2018.