J W Foster & Sons produced some of the most highly-regarded running shoes in the world in the 1920s. Rebranded as Reebok, its fashion shoes became highly successful in the 1980s.
J W Foster & Sons
Joseph William Foster (1881 – 1933) was a cobbler and keen amateur runner. He developed a spiked running shoe in 1895.
Foster began to manufacture shoes for other runners, and established a shoe manufacturing business at 57 Deane Road, Bolton from 1900.
The business was trading as J W Foster & Sons by 1910. This was presumably an attempt to make the firm seem larger or longer-established than it really was, as his sons at the time were eight and four years old.
Production switched to army boots during the First World War.
Foster's running shoes were the elite athletic item of their era. A large number of professional athletes used his shoes.
J W Foster & Sons advertised that 90 percent of English and Scottish football league clubs used their shoes by 1922. The firm also supplied the 1924 British Olympic track team.
J W Foster & Sons advertised itself as the oldest manufacturer of entirely handmade running shoes in the world by 1926.
C Ellis broke the one mile running record wearing Foster's shoes in 1928. Percy Williams (1908 – 1982) used Foster's shoes to win the 100m and 200m races at the 1928 Olympic games.
Joseph William Foster died in 1933 and left an estate valued at £5,598. His two sons, John William Foster (born 1902) and James William Foster (1906 – 1976) took over the business.
Army boots were produced during the Second World War.
Reebok is established; expansion in North America
German rivals Adidas and Puma began to entered the athletic shoe market from the post-war period, with lower-cost and more effective models. The founder's grandsons, Joseph William Foster (born 1935) and Jeffrey William Foster (1933 – 1980), became frustrated at their fathers' lack of vision, and established Reebok in Bury in 1958, in order to manufacture their own athletic shoes. Joseph William Foster was the chairman and managing director.
The Reebok brand was well known throughout the North West of England by the 1970s. Reebok absorbed J W Foster & Sons in 1976.
Paul Fireman (born 1944), a marketer for outdoor equipment, lobbied Joseph William Foster for the licence to sell Reebok shoes in North America. Eventually Foster relented, and sold the American sales rights to Fireman for $65,000 in 1979.
Reebok registered United States sales of around $300,000 in 1980. By this time the components came from the original factory in England, but the shoes were assembled in South Korea.
Reebok USA suffered cash flow problems due to the high demand for their product. Stephen Rubin (born 1937) acquired 55 percent of Reebok USA for $77,500 in August 1981. Rubin brought to the company knowledge of the sports shoe market, and experience with Asian outsourcing.
Reebok identified the growing market for aerobics, and launched two shoes, Freestyle and Energizer, in 1982. Total US sales had climbed to $12.9 million by the end of 1983. Meanwhile, Nike was suffering a downturn, which allowed Reebok to flourish.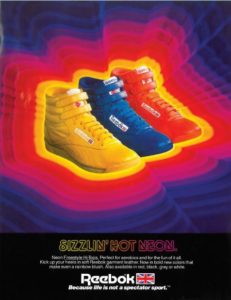 Reebok International and Reebok USA merged in April 1984. Stephen Rubin maintained his 55 percent stake and was named chairman of Reebok International. Paul Fireman was named President and CEO of Reebok International, and held the remaining 45 percent share.
Reebok headquarters were relocated from Bolton, England to Avon, Massachusetts. The site had 52 employees. The relocation was based on the fact that most Reebok sales were in the US.
Warehouse and office facilities were maintained in Bolton, and Foster remained President of Reebok International.
In 1984 all the lasts, dies and markings were made in England. Research and development took place in England and South Korea.
Reebok becomes a public company; acquisition by Adidas
Stephen Rubin took Reebok International public in 1985. Sales for that year totalled over $300 million.
Growing sales saw the head office relocated from Avon to Canton in 1986.
The British factory was relocated from Bury to Bolton in 1986.
Rockport was acquired for $118.5 million in cash in 1986.
Foster retired as President of Reebok International in 1990, but remained in a consultancy position.
The cost-conscious Rubin clashed with Fireman, who argued for lavish marketing campaigns. Rubin sold his stake in Reebok for $770 million in 1991.
Reebok was acquired by Adidas for £2.1 billion in 2005.
Adidas closed down the Reebok head office in Bolton in 2009, ending the brand's association with its home town.
Foster stepped down from his consultancy position in 2015.