Dorman Long was the largest steel and iron manufacturer in the British Empire, but is best known for its large structural engineering projects, such as the Sydney Harbour Bridge.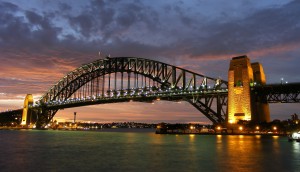 Arthur John Dorman (1848 – 1931) was the son of a Kentish tanning yard owner. He relocated to Middlesbrough in the North East of England in 1866 to serve an apprenticeship to E G Johnson of Richard Johnson & Co, iron producers.
Dorman was not afraid to get his hands dirty, and although his spectacles and Southern accent caused great amusement to his fellow puddlers, he earned their respect in undertaking their strenuous work. A straight-forward and likeable man, he rose to the position of assistant manager.
Dorman partnered with the financier Albert de Lande Long (1844 – 1917) to acquire the West Marsh Ironworks at Middlesbrough in 1876. With 20 puddling furnaces and three rolling mills, the firm specialised in producing wrought iron bars and angles for the shipbuilding industry.
Developing business led Dorman Long to acquire the Britannia Works from Bernard Samuelson and steel production commenced on a large scale.
Dorman Long became a limited company with a share capital of £350,000 in 1889. It had an annual output of 100,000 tons of steel.
A half share in Bell Brothers of Middlesbrough was acquired from Sir Hugh Bell in 1899. Bell Brothers held extensive collieries, ironstone mines and limestone quarries.
Company capital was increased to £1 million in 1902 to purchase the remaining half of Bell Brothers  from Sir Lowthian Bell, who became company chairman. The firm was now the largest steel producer in the North of England, and the only one that was entirely vertically integrated.
The merger made logical sense as the result of increasing co-operation between the two firms. It was also a response to the formation of United States Steel in 1901, which was the largest manufacturer in the world.
The North Eastern Steel Company was acquired in 1903.
During the First World War Dorman Long was the first non-armaments company in Britain to dedicate itself to shell production.
The six blast furnaces of Walker Maynard & Co at Redcar were acquired in 1915.
A steelworks was opened at Redcar at a cost of £2 million in 1917.
Sir B Samuelson & Co of Middlesbrough was also acquired in 1917.
Dorman Long was easily the largest iron, steel and coal company in Britain by 1923.
The Redcar steelworks covered 150 acres and employed 2,500 men by 1923.
Richborough, the state-owned Kentish coal port which had been neglected since the war, was acquired in 1924.
Dorman Long entered the bridge building industry in 1924. The Sydney Harbour Bridge was their first contract, constructed at an estimated cost of £4.5 million.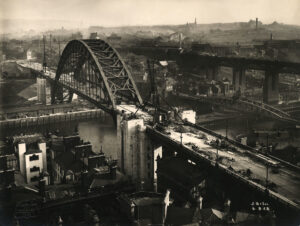 Dorman Long acquired Bolckow Vaughan in 1929 to form the largest steel, iron and engineering firm in the British Empire. The merged firm had an annual capacity of three million tons of steel (25 percent of British production) and two million tons of pig iron. The merger was due to a slump following the post-war boom, and neither firm had issued a dividend since 1921.
A J Dorman died in 1931. His obituary in the Yorkshire Post heralded his strong relationship with his workforce. By this time Dorman Long was the best-known bridge builder in the world.
A keen Anglican and Conservative, Dorman was also a generous benefactor. He built Dormanstown garden village to improve the living standards of his workforce, and donated the Dorman Museum to the people of Middlesbrough.
Dorman Long struggled during the Great Depression, and entered into receivership in 1933. The board of directors was reconstituted, and managerial control was returned to Middlesbrough.
Dorman Long opened the second largest coking plant in Europe at their Cleveland Works in 1936.
Dorman Long employed 39,889 people in 1937, with the vast majority working in County Durham and Yorkshire. The wage bill for the year amounted to nearly £7 million.
Dorman Long built the second largest bridge in the world at their works in Middlesbrough in 1937. It was erected in Denmark and still stands.
By 1938 Dorman Long controlled collieries with an annual output of four million tons, and ironstone mines with an annual capacity of 2.5 million tons. The South Bank works contained the largest coking plant in England.
By 1949 Dorman Long held 60 percent of the structural engineering industry in South Africa, and owned the largest structural engineering company in South America, British Structural Steel of Buenos Aires.
By 1963 Dorman Long had declined relatively, to be the 38th largest steel manufacturer in the world, with an annual output of 1.745 million metric tons.
Dorman Long was responsible for 22 to 25 percent of British structural steel output in 1964, and employed a total of around 25,000 people.
Dorman Long merged with South Durham and Stewarts & Lloyds in 1967 to create British Steel & Tube, one of the largest steel manufacturers in the world.
Later that year, British Steel & Tube was nationalised, under the name British Steel.
After large profit losses in the early 1980s, Dorman Long reduced its workforce from 9,000 to 3,000.
Trafalgar House acquired Dorman Long from British Steel for £10 million in 1982. Trafalgar House merged the firm with its own Cleveland Bridge & Engineering Co to form the largest structural steel fabricator in Western Europe, with 7,000 employees.
Dorman Long Technology still specialises in the construction of bridges. It has company headquarters in Northamptonshire, and maintains its North of England headquarters in Darlington.