George Bassett & Co was the largest sugar confectionery manufacturer in the world throughout much of the nineteenth century. The business is best known for the introduction of Liquorice Allsorts.
George Bassett establishes the business
George Bassett (1818 – 1886) was the son of a farmer at Ashover, Derbyshire. He served an apprenticeship with William Haslam, a confectioner of Low Pavement, Chesterfield.
Bassett was from a Wesleyan Methodist background, and remained strongly committed to the church throughout his life. He was a shrewd and painstaking man, with a dogged perseverance.
Bassett relocated to Sheffield in 1842 and established himself as a retail confectioner at 30 Broad Street, Park. He later opened shops at Market Hall and Westbar. Additional premises were opened at Snig Hill.
The retail trade was to prove slow, and Bassett decided to enter the confectionery manufacturing business. He sold his retail business in 1859 and took on a partner, William Lodge, and they traded as Bassett & Lodge. A new steam-powered confectionery works was opened at Portland Street, Infirmary Road, Sheffield.
The Bassett & Lodge partnership failed to work out, and was dissolved in 1861.
George Bassett employed 36 men, 30 boys and 12 girls in 1861. He was regarded as a kind employer.
S M Johnson enters the firm
George Bassett entered into partnership with Samuel Meggitt Johnson (1837 – 1925), who had previously worked for him as an apprentice, from 1864.
Bassett employed 150 people by 1871. The Portland Street works was the largest confectionery factory in the world by 1876.
George Bassett was elected Mayor of Sheffield in 1876. The former United States President, Ulysses S Grant, stayed at Bassett's house on his visit to Britain in 1877.
After suffering a paralytic stroke in 1878, George Bassett was forced to resign from business and public service. S M Johnson took full control of Bassett & Co.
George Bassett died in 1886 with a personalty of £91,524. He had given generously to various charitable causes throughout his life.
Bassett's was the largest confectionery manufacturer in Britain by 1886.
The Don Works, Bridge Street had also been opened in Sheffield by 1890. The Don Works employed 180 women. The Portland Street works employed 300 people.
S M Johnson was highly regarded as an employer.
Charles Thompson, the company's sole sales representative, called on a Leicester wholesaler called Walker in 1899. A shop assistant knocked over his tray of sweets. Walker liked the look of the scattered sweets, and ordered a batch. Thus, the sale of Liquorice Allsorts began.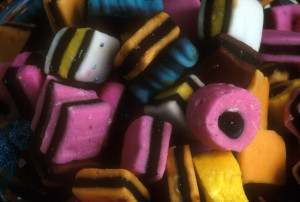 The business was converted into a private limited company in 1919.
When Johnson died in 1926, his estate was valued at £818,360. In his obituary in The Times he was heralded as one of Sheffield's most benevolent citizens.
Growth and acquisitions
George Bassett was incorporated in 1926 with a capital of £350,000.
The Don Works had been closed down by 1927, but a peel and fruit preservers, Samuel M Johnson & Sons of Owlerton, had been acquired.
Net profit in 1928 was £72,601.
All production was concentrated at the Owlerton site from 1933.
Geo Bassett & Co had 1,200 workers in 1939.
Geo Bassett & Co accounted for over 35 percent of British confectionery exports to the United States in 1952.
D Gordon Johnson, a descendant of S M Johnson, was appointed chairman and managing director from 1955. By this time Geo Bassett & Co employed 2,500 people, and controlled around half of the British liquorice industry.
One million dollars worth of Licorice Allsorts were sold in the US and Canada in the 1956-7 financial year.
Over 20,000 tonnes of Bassett's confectionery was sold in the 1958-9 financial year.
W R Wilkinson, confectioners of Pontefract, was acquired for £1.1 million in cash in 1961.
Barratt's, with the leading position in the children's confectionery market, was acquired for nearly £4 million in 1966.
Geo Bassett received a Queen's Award for Export Achievement in 1967. Confectionery was exported to 40 countries.
Geo Bassett was the largest sugar confectioner in Europe by 1972.
The Barratt factory in Wood Green, London was closed with the loss of 750 jobs in 1975. The closure was due to a shortage of labour in the area and the difficulty of modernising the factory.
Geo Bassett operated five factories by 1977: Sheffield, Pontefract, Uddingston, Breda in the Netherlands and Sydney, Australia. 30 percent of all its British production was exported to 62 countries.
1979-80 saw the company register a profit loss due to the strength of the pound sterling and strong competition from imports. As a result, the Allsorts product was repositioned as a mid-market rather than upmarket brand, in order to increase sales.
The following year, Bassett's re-entered profitability after 25 percent of its workforce was dismissed, leaving it with 3,000 employees.
Bassett's had fallen to third place in the British sugar confectionery market by 1986, behind Trebor and Rowntree, with a seven percent market share.
Sale to Cadbury
The company was acquired by Cadbury for £91 million in 1989. Cadbury merged its own smaller sugar confectionery businesses of Pascall-Murray and Lion into the larger Bassett concern.
Later that year, Cadbury acquired Trebor for £110 million, and re-named its sugar confectionery subsidiary Trebor Bassett.