Terry's is the ninth largest chocolate confectionery brand in Britain, and is best known for its Chocolate Orange product.
Early history
The Balydon & Berry confectionery business was established in York, England from 1767.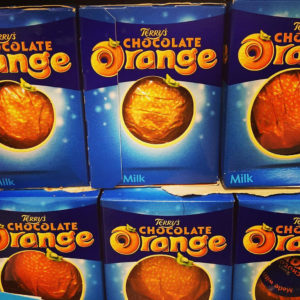 Joseph Terry (1793 – 1850) was the son of a baker from Pocklington, outside York. He trained as an apothecary and established a chemist's shop at Walmgate in York.
Terry married Harriet, the sister in law of Robert Berry. Terry became involved in the Robert Berry & Co confectionery business.
William Balydon retired in 1821, and Robert Berry died in 1825. Joseph Terry divested his apothecary business and joined in partnership with George Berry, son of Robert Berry, to take over the confectionery business at St Helen's Square. The two men traded as Terry & Berry.
Terry's training as an apothecary and his upbringing in a baker's shop gave him an excellent background for the confectionery business.
George Berry sold his stake in the business to Joseph Terry in 1828, and the firm traded as Joseph Terry & Co. During the 1830s Terry established retail agencies in 75 towns, mostly in the North of England and the Midlands, but also in London and Luton. The company rapidly expanded throughout the 1840s.
Joseph Terry died in 1850, and after a brief period in custodianship, the business passed to his second son, Joseph Terry Jr (1828 – 1898) and his two younger brothers in 1854. The business was the second largest employer in York by 1851, with 127 workers.
The firm was producing chocolate confectionery by the 1860s. Terry opened a new steam-powered manufacturing site in York in 1864. Joseph's eldest son, Thomas, became a partner after 1880. He developed the export trade to new markets such as Australia and New Zealand. A dedicated chocolate factory was opened in 1886.
Incorporation
The business was incorporated as Joseph Terry & Sons Ltd in 1895, by which time it had 300 employees.
Terry's had emerged as the leader in chocolate assortment sales by the 1920s.
Terry's acquired cocoa estates in the Venezuelan Andes in 1922, and palm trees were added to the Terry's logo to reflect this. The estate produced the high quality Criollo beans.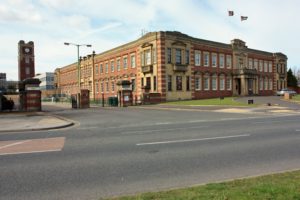 Terry's relocated to a purpose-built factory at Bishopthorpe Road in York from 1926. Its two most iconic products were first produced at the site, All Gold in 1930 and Chocolate Orange in 1931. Originally, each Chocolate Orange was made with 22 cocoa beans. The Chocolate Orange was preceded by the Chocolate Apple, introduced in 1926.
Terry's had a share capital of £812,490 (around £51 million in 2014) in 1934. Terry's employed 2,500 people in 1937.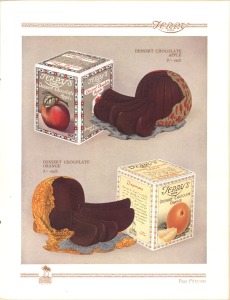 Terry's was built up entirely from its own profits and with practically no advertising. The first national press advertising campaign appeared in 1938.
During World War II part of the factory was requisitioned by the government and became a repair site for Jablo propellers. Terry's sold its Venezuelan estates in 1940.
The Chocolate Apple was discontinued in 1954 as cocoa supplies were limited in post-war Britain, and Terry's wanted to concentrate on the more popular Chocolate Orange line.
Sale by the family
Following the death of Francis Terry in 1960, rumours emerged that the family were willing to sell the company. Forte, the hotels group, acquired Terry's for £4.25 million (around £78 million in 2014) in 1963. At this time the company was still not an extensive advertiser and was considered a high-grade chocolate manufacturer.
Forte increased advertising, and trebled the sales of Chocolate Orange between 1973 and 1976.
Forte required capital to acquire the hotel assets of J Lyons, and sold Terry's to Colgate-Palmolive, the American consumer goods company, for £17.5 million in cash (around £95 million in 2014) in 1977.
The Terry's All Gold chocolate assortment had been established as the leading product by the late 1970s. A Chocolate Lemon was briefly introduced in 1979.
United Biscuits acquired Terry's for £24.5 million (around £75.5 million in 2014) in 1982. United Biscuits believed that it would be able to improve Terry's sales through its large distribution network, both in Britain and overseas.
United Biscuits invested heavily to internationalise its confectionery business, which it renamed Terrys Group. It acquired Callard & Bowser at Bridgend, Wales, which had a large US export market, Chocometz in France, and Aura in Italy. A deal was agreed with Marabou of Norway to distribute Dime bars in the UK.
The family connection to the company ended when Peter Terry retired as chairman in 1986.
Kraft takeover and subsequent ownership
Terry's was sold to Kraft of Chicago for £220 million in 1993. It was the fourth largest chocolate company in Britain. Its main lines were All Gold, Moonlight and Chocolate Orange. The sale also included the United Biscuits confectionery business. There were 2,270 employees across the businesses, with 1,350 employed at Terry's in York.
By this time eight million Chocolate Oranges were produced every year. A Kraft spokesman suggested that the Terry's factory might be used to produce Suchard product lines such as Toblerone for the UK market (this never happened).
The number of employees at Terry's had been reduced from 1,350 to 775 by 1996. That year, Kraft announced that there would be a further 300 job losses, leaving a staff of 475.
Kraft changed the brand name from "Terry's of York" to "Terry's". Kraft phased out all the lower volume Terry's product lines in 2002, leaving just All Gold, Twilight, Chocolate Orange and York Fruits.
Kraft closed the York site in 2005 and moved production to Poland and Slovakia, with the loss of 316 full time jobs, and 150 seasonal jobs. Kraft explained that volumes had declined between 2000 and 2004, mostly due to reduced export sales of Chocolate Orange. This, together with the size and age of the Terry's site, made production unviable.
The York Fruits brand was sold to Smith Kendon in 2008. The Terry's name no longer appears on its packaging.
Kraft spun off its snacks and confectionery business as Mondelez in 2012.
Mondelez sold Terry's to Eurazeo in 2017. Production was relocated from Poland and Slovakia to France from 2018.