Henry Denny & Sons was the largest bacon producer in Europe.
Henry Denny (1790 – 1870) was born in Waterford, Ireland, to a Protestant shoemaker. He established himself as a provisions merchant in Waterford, initially in partnership with a Simon Max, but began trading independently from 1820.
Waterford was the centre for pig production in Ireland, however Denny's principal trade was in butter as late as 1839. It is not until 1846 that we see him described as a bacon merchant.
Henry Denny was elected Mayor of Waterford in 1854. Abraham Denny (1820 – 1892), a trained architect, joined his father in the business from 1855. Abraham Denny is said to have been instrumental in expanding the business.
The firm introduced improvements to existing curing techniques. It was granted a patent for a process that cured bacon with ice in 1857. Known as "mild curing", it made the bacon more palatable by using much less salt for preservation. In an era before refrigeration, large shipments of ice had to be ordered in from Norway.
Improved preservation techniques allowed Irish meat to be exported year round, and the firm used over 1,000 pigs every week by 1866.
Henry Denny died of bronchitis in 1870 and the business was continued by Abraham Denny.
E M Denny & Co was established as the London agent for Henry Denny & Sons. It was managed by Edward Maynard Denny (1832 – 1905) and Thomas Anthony Denny (1819 – 1910), cousins to Abraham Denny.
Henry Denny & Sons operations were extended to Limerick in 1872.
The works at Waterford probably represented the largest bacon curing plant in Europe by 1882.
Operations were extended to Cork in 1889.
Henry Denny & Sons went public in 1891 with a capital of £400,000. The company was one of the largest employers in Waterford.
Operations had been established in Hamburg, Germany by 1892.
Abraham Denny died in 1892 with personalty valued at £174,967. He was succeeded by his son, Charles Edward Denny (1849 – 1927) .
Due to an insufficient supply of pigs in Ireland, Henry Denny & Sons acquired a Danish meat company in 1894. The company introduced Irish meat curing techniques to Denmark.
The original Denny site on Queen Street, Waterford, had become too small for the company's needs by 1898, and the factory of Richardsons of Morgan Street was acquired.
Edward Maynard Denny died in 1905. He left a gross estate valued at £584,789.
Thomas Anthony Denny died in 1910 with a gross estate valued at £226,150. He had been a prominent supporter of the Salvation Army.
Over 3,000 pigs were used every week by June 1914. The company was a substantial supplier of Irish bacon to the British armed forces during the First World War.
Henry Denny & Sons was advertising itself as the largest bacon producer in Europe by 1919.
Charles Edward Denny died in 1927, with an English estate valued at £475,248 and an Irish estate valued at £66,277.
The factory on Morgan Street, Waterford, was the largest of its kind in the British Isles by 1933. 400 workers were employed during peak periods. The site could handle up to 4,000 pigs every week.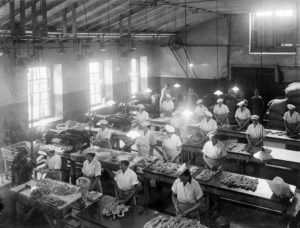 A Wiltshire cure bacon factory was opened in Portadown, Northern Ireland in 1935. It initially had a capacity to process 2,000 pigs a week, and employed a workforce of 200.
J & T Sinclair was acquired in 1963.
Due to overcapacity in the industry, the Cork factory was closed in 1968, with the loss of 160 jobs out of a total of 180.
The Waterford site was closed in 1972 due to overcapacity in the industry, and the cost of modernising the factory.
The company began to seriously struggle as the bacon market became oversaturated. The Irish operations were acquired by Kerry Foods for around £1.5 million in 1982. The company employed 300 people. Kerry already supplied much of the pigs for Denny products.