In Britain, Batchelor's has a major trade in tinned peas, but is perhaps best known for its convenience foods such as Cup-A-Soup and Super Noodles.
William Batchelor (1861 – 1913) was a tea dealer in Sheffield, Yorkshire. Originally from a modest Lincolnshire background, he was a puritanical Primitive Methodist.
Batchelor opened a factory in the basement of a Primitive Methodist chapel on Stanley Street, Sheffield, in 1899. He grew the business almost entirely from its profits. The sale of dried peas was the principal business by 1912.
The firm had grown to employ 50 people when Batchelor died in 1913. With his sons at war, and an invalid wife, if was left to his 22 year old daughter, Ella Hudson Gasking (1891 – 1966), to run the company as managing director.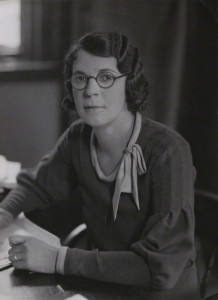 Gasking was a warm and friendly woman. Although a hard worker, she had no business training. She later commented, "I myself never even dreamed of being a business woman… I took over because I had to".
Following the end of the First World War, Gasking was assisted in management by her two brothers, Maurice William and Frederick Lewis Batchelor.
Dried peas in cartons proved popular with heavy industries workers in Sheffield. The peas had to be soaked overnight before use.
Canned fresh peas were expensive. However, Batchelor's discovered that they could pre-soak the dried peas on site, and then can the produce, thus reducing costs.
Gasking travelled to America four times in order to study US canning methods.
A pea canning factory was established at Lady's Bridge, Sheffield in 1930. The canned "processed peas" were to prove an immediate success.
"Bigga" marrowfat peas were introduced from 1932.
The success of Batchelor's was such that within a few years it needed to relocate to a larger factory. In order to fund this the family business was converted into a public company with an authorised capital of £720,000 in 1936.
Batchelor's had the highest sales of canned and dried peas in the world. Turnover was just under £1 million.
A new factory was opened at Wadsley Bridge, Sheffield at a cost of £100,000 in 1937. It was the largest canning plant in Britain. Situated on a twelve acre site, it was equipped with playing fields and speaker radios for the staff.
Shortly afterwards, a small factory was opened at Worksop, which concentrated on the dried peas trade.
Production was soon expanded to include canned soups, vegetables and fruits, although peas remained the principal product.
Ella Gasking became one of the most prominent businesswomen in Britain, and one of Sheffield's best-known industrialists. She was noted for her charm and vitality; her humility and accessibility.
By 1939 the company had 1,000 employees, with a further 1,000 indirectly employed.
During the Second World War, Batchelor's was one of the principal suppliers of canned goods to the British armed forces.
Ella Gasking was awarded an OBE in recognition of her contribution to the war effort and the grocery industry in 1943.
Batchelor's was acquired by Unilever for £750,000 in 1943. Unilever would provide Batchelor's with commercial and technical support.
Poulton & Noel, a large canning company with a factory in Southall, London, was acquired in 1945. Production was rapidly increased.
Ella Gasking retired as chairwoman in 1948. She was replaced by her brother, Maurice W Batchelor.
Unilever introduced Bird's Eye frozen pea production at the Wadsley Bridge site.
Batchelor's employed 3,500 full-time workers by 1950. Hundreds more were employed during the fresh fruit season.
In 1951 the firm launched its first packet soup (chicken noodle).
In 1958 a factory was opened in Ashford, Kent.
In 1960 a factory in Portadown, Northern Ireland was acquired. In 1961 a former Chivers factory in Huntingdon was leased.
In 1967 the Sheffield cannery was modernised.
In 1969, £750,000 was spent on extending the factory in Worksop.
By 1971-2 Batchelor's held around a third of the canned pea market in Britain.
In 1972 Cup-A-Soup was launched. In other countries it is branded under other  brands from the Unilever stable, such as Lipton.
In 1972 the Farrows tinned peas company was acquired.
In 1977 around 1,200 workers at the Batchelor's factories in Sheffield and Worksop went on strike for nine weeks regarding pay. As a result, Batchelor's lost over £5 million to wasted food.
In 1980 a steel strike saw Batchelor's production reduced to one third of capacity due to a lack of supply of cans.
In 1982 Batchelor's closed its factory in Sheffield with the loss of 650 jobs. Production was concentrated at Worksop.
A condition of Unilever acquiring Best Foods (Hellmann's, Knorr) in 2001 was that it sell some brands. In 2001 Batchelor's and Oxo were sold to Campbell's Soup for £633 million. At this time the Batchelor's site in Worksop employed 515 people.
In 2006 the UK and Ireland business of Campbell's was acquired by Premier Foods for £460 million. The Worksop factory employed around 410 people as of 2007.