Donnay is best known today as a cheap clothing brand available from Sports Direct stores.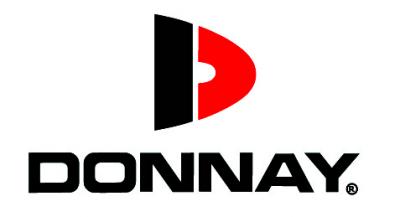 Founded in Belgium in 1913, Donnay became involved in sporting goods in 1934 when they began to manufacture wooden tennis rackets. Throughout the 1970s, Donnay was the world's largest producer of tennis rackets.
From 1979 to 1983 Donnay was buoyed by its sponsorship of Bjorn Borg, the superstar tennis player of the era. As the company did not have a marketing manager until 1987, the company image during that era was very closely tied to Borg.
Donnay first ran into trouble in 1973 when Wilson Sporting Goods dropped the company as its contract tennis racket manufacturer in favour of cheaper production in Taiwan. The Wilson contract had accounted for 1.3 million rackets out of a total production figure of 2 million.
Donnay was also slow to make the switch from the increasingly obsolete wooden rackets to the lightweight graphite models. The company manufactured just 3,000 graphite rackets in 1980, against 1.8 million wooden rackets.
When Bjorn Borg retired from tennis in 1983, it was the final nail in the coffin for Donnay. The company had tied its fortunes too closely to a single figure, and had maintained production in Belgium whilst competitors moved production to the Far East. Its production line was ten times longer than rival manufacturers.
The company lost money every year after Borg's retirement, until it declared bankruptcy, with $35 million of debt, in 1988. It was purchased by Bernard Tapie, a French singer turned businessman, who later acquired Adidas.
Donny finally ended wooden racket production towards the end of the 1980s.
Tapie had a major success when he signed an 18 year old Andre Agassi between 1989 and 1992. Despite this, the company struggled to maintain profitability. The local government in Belgium acquired it to save it from bankruptcy in 1993. The factory in Belgium was closed down, and a company that had employed 600 people now employed 25 at a distribution centre. In 1996, Mike Ashley, the owner of Sports Direct, acquired the global rights to the brand for $3.9 million.
Ashley originally supported the brand as a leading tennis company. However in 2004, he acquired Dunlop Slazenger. Dunlop-Slazenger became the prestige tennis brand, and Donnay became the marque for cheap rackets and clothing.
Note: if it seems as if I just mined this from Wikipedia, I was myself largely responsible for writing the Wikipedia page as of 2014. (https://en.wikipedia.org/wiki/Donnay_Sports)