Furness Withy was the third-largest shipping line in Britain.
The origins of the shipping business
John Furness was a West Hartlepool coal trimmer. He married the daughter of his employer, Averil Wilson, and established a provisions and grocery business.
Under the leadership of his eldest son Thomas Furness (1834 – 1905), the provisions business developed into one of the largest of its kind in the North of England.
His younger son, Christopher Furness (1852 – 1912), also joined the business from an early age.
Much of the supply of groceries came from overseas, particularly the United States. Christopher Furness became frustrated by the additional shipping costs and determined to cut out the middle man.  In 1877 he acquired vessels for himself and inaugurated a regular service between Boston, Massachusetts and West Hartlepool.
Christopher Furness develops Furness Withy
Differences of opinion saw Thomas Furness take full control of the provisions concern from 1882, and Christopher Furness took over the shipping business. Christopher Furness & Co was established as a private company with a capital of £100,000.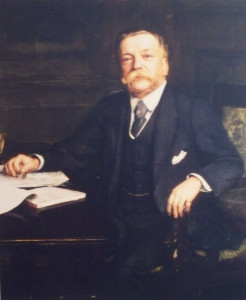 Christopher Furness & Co, with 18 wholly-owned steamers and stakes in 21 other ships, merged with the West Hartlepool shipbuilding firm of Edward Withy & Co in 1891. The new concern, Furness Withy & Co, had a capital of £700,000.
Christopher Furness received a knighthood in 1895. When asked the reason behind his success in life, he replied, "putting two days work into one". He also had a keen eye for opportunity.
The British Maritime Trust, with 26 ships, was acquired in 1896.
A stake in the marine engineering business of Richardsons, Westgarth & Co of West Hartlepool was acquired in 1900.
The Gulf Line, with seven ships, was acquired in 1902.
Irvine's shipyard at West Hartlepool was acquired in 1907. The acquisition helped to make Furness Withy one of the largest shipbuilders in Britain.
Furness Withy was one of the largest owners of British shipping tonnage by the early twentieth century.
Company capital had increased to £3.5 million by 1907.
Christopher Furness was a Methodist, and enjoyed good relations with his workforce. He introduced a pioneering co-partnership scheme which enabled employees at his shipbuilding works to purchase shares from 1908. It was the largest scheme of its kind yet introduced in England. Unfortunately the scheme had been quashed by the unions by 1910.
Furness had a restless energy and a thorough knowledge of the shipping industry. A radical Liberal, he was a Member of Parliament for Hartlepool from the 1890s.
Furness was raised to the Peerage as Baron Furness of Grantley in 1910. He had eleven live-in servants by 1911.
Furness died in 1912 with an estate valued at £1.8 million. An obituary in The Straits Times commented, "to his energy and industry a great deal of the unparalleled success of West Hartlepool is due."
Furness Withy was one of the Big Five of British shipping by 1910, alongside Cunard, Royal Mail, P&O and Ellerman. The business ranked among the hundred largest publicly-quoted companies in Britain.
A large interest in Houlder Brothers & Co was acquired in 1911. The Warren Line of Liverpool was acquired in 1912. Furness Withy was the third largest British shipping line, as measured by tonnage, by 1913. Furness Withy controlled over one million gross tons of shipping by 1914.
Furness Withy acquired full control of the Johnston Line of Liverpool, with 17 vessels of 73,000 tons, in 1916.
Furness Withy owned 200 vessels by August 1916.
The Prince Line of Newcastle, with 38 ships, was acquired for £3.3 million in 1916.
Furness Withy largely controlled the North Atlantic cargo trade by 1918, through its ownership of the Furness, Manchester and Johnston lines. It also had an interest in the Argentine meat trade through the Houlder line. The Prince line ran boats to South America and South Africa from New York.
End of family control and later history
The family interest in Furness Withy was bought out in 1919 and Frederick W Lewis (1870 – 1944) became chairman. By this time group assets were valued at £34 million. Company capital was increased to £5.5 million.
Furness Withy had the third-largest motor-powered fleet in the world by 1930.
Company headquarters were transferred to London in 1931.
During the Second World War the company lost 42 vessels and 1,078 men to enemy action.
F W Lewis (by now Lord Essendon) died in 1944, and was succeeded as chairman by Ernest H Murrant.
The firm took time to regain the number of ships lost during the war. In 1951 it controlled 81 ships with an aggregate of 680,000 gross tons.
Royal Mail Lines was acquired in 1965. Following the acquisition Furness Withy operated 64 ships with a tonnage of 600,000.
The Furness repair yard in Hartlepool was acquired by Swan Hunter in 1967.
By 1970 Furness Withy had a fleet of just over 100, and a tonnage of over one million. The company employed 9,500 people in Britain.
Furness Withy sold 23 ships in 1971 in response to rising costs and declining revenues.
Furness Withy operated 50 ships with a tonnage of one million, and was the third largest merchant shipping group in Britain in 1980.
Furness Withy was acquired by Orient Overseas Container (Holdings) of Hong Kong, controlled by C Y Tung (1912 – 1982), for nearly £112.5 million in 1980.
Tung introduced dramatic cutbacks, and had reduced the Furness Withy fleet to 24 vessels by 1982. He was accused of asset-stripping the business.
Furness Withy was sold to Oetker Group in 1990.
Oetker Group sold its bulk shipping holdings, including Furness Withy, to Swire Group in 2019.