Gallaher was one of the largest tobacco companies in the world.
Thomas Gallaher (1840 – 1927) was the son of a farmer. He served an apprenticeship in the early 1850s with Robert Bond, a general merchant in Shipquay Street, Londonderry in Northern Ireland.
Gallaher opened a tobacconist business at 7 Sackville Street, Londonderry in 1857, using £200 he borrowed from his parents. He made and sold Irish roll pipe tobacco. The expanding business was relocated to Belfast in 1863.
A five storey factory employing 600 people was built at York Road, Belfast in 1881.
A factory was opened at 60 Holborn Viaduct in London in 1888, followed by a Clerkenwell factory a year later.
The firm was converted into a limited liability company in 1896.
A new £100,000 factory across seven acres was opened in Belfast in 1897.
Gallaher refused to join the great tobacco combines of the age, Imperial Tobacco and the American Tobacco Company.
A machine-made cigarette brand, Park Drive, was introduced from 1902.
The company employed 3,000 people by 1907.
Gallaher acquired the six acre Great Brunswick Street premises of the Dublin City Distillery for £20,000 in 1908. There, he built a large tobacco factory.
At York Street, Belfast, Gallaher established what was, by 1914, one of the largest tobacco factories in the world. The company also owned extensive plantations in Virginia.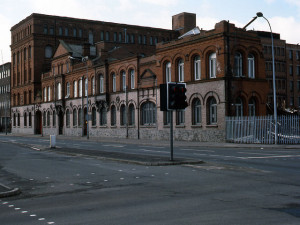 Gallaher died in 1927. He was remembered as a courteous, kindly man, and a generous employer. He left an estate valued at £503,954. His nephews, principally John Gallaher Michaels (died 1949), inherited the company.
The Constructive Finance & Investment Co, led by Edward de Stein (1887 – 1965), acquired the entire share capital of Gallaher for several million pounds in 1929, and offered shares to the public.
A new factory was established at East Wall, Dublin for £250,000 in 1929. The East Wall factory was closed with the loss of 400 jobs, following the introduction of a tariff on firms not majority-owned by Irish residents, in 1932.
Imperial Tobacco acquired 51 percent of Gallaher in 1932, although management retained its independence.
Gallaher acquired Peter Jackson in 1934. The firm manufactured Du Maurier cigarettes, which was the first popular filter tip brand.
E Robinson & Son, manufacturers of Senior Service cigarettes, was acquired in 1937. The brand was very successful in the Manchester area, but Robinson's had lacked the capital to take the brand nationwide.
Benson & Hedges Ltd was acquired, mainly for the prestigious brand name, in 1955.
The company grew rapidly in the 1950s mostly due to expanding sales of Senior Service, as well as Park Drive cigarettes.
Gallaher acquired J Wix & Sons Ltd, the manufacturer of Kensitas cigarettes, in 1961.
The Imperial Tobacco stake in Gallaher had been diluted to 37 percent by 1961.
Gallaher claimed 37 percent of the British cigarette market by 1962.
A large factory was established at Airton Road, Dublin in 1963.
Company president Sir Edward de Stein died in 1965.
By 1965 the company employed 15,000 people. By 1968 the company had an authorised capital of £45 million.
The Belfast factory was closed in 1988. 700 jobs were lost, and production was relocated to Ballymena in County Antrim.
Japan Tobacco acquired Gallaher for £7.5 billion in cash in 2007.
Ballymena, the last remaining tobacco factory in the UK, was closed in 2017, with production relocated to Eastern Europe. 860 jobs were lost.