Maple & Co was the largest furniture retailer in the world.
John Maple (1815 – 1900) was born in Greenhurst, a Sussex hamlet. He was the son of a small farmer. Maple served an apprenticeship at a general store.
Maple partnered with James Cook to form Maple & Cook, furnishers and drapers of Tottenham Court Road, London in 1840. The business had a capital of under £500.
Cook left the firm by mutual consent in 1847, and the business traded as John Maple & Co.
Maple managed the business on a low-margin principal. He claimed to have the largest furniture showroom in the world by 1850.
In 1857 the entire building collapsed. It was speedily rebuilt in a grander style.
His son, John Blundell Maple (1845 – 1903), entered the business from 1861. He was made a partner from 1867.
Hundreds of salesmen were employed at Tottenham Court Road by 1874.
John Blundell Maple had taken control of the business by 1880. A dapper, yet modest, kindly and genial man, the subsequent growth of the business was mainly to his credit. Maple had "unbounded energy, enterprise and commercial genius" according to the Leeds Mercury.  An obituary would later describe his "great shrewdness and energy, and capacity for acquiring a complete mastery of all the details of the business".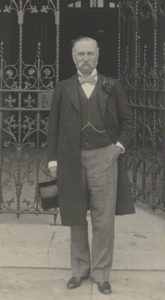 At J B Maple's initiative, the firm furnished many of the great hotels and houses throughout the British Empire and Europe. One furnishing bill for a great London hotel amounted to £100,000.
Maple & Co was the largest furniture retailer in the world by 1885.
The Tottenham Court Road premises covered four acres by 1888. A staff of 2,051 were directly employed.In order to meet demand, the vast majority of production was subcontracted. John Crossley & Sons, a carpet manufacturer, represented one of the largest suppliers. Maple & Co had furnished all the Courts of Europe. Most members of the British Royal Family had been supplied, including Queen Victoria.
Maple & Co was converted into a limited liability company with capital of £2 million in 1891.
J B Maple paid for the reconstruction of University College Hospital in 1896, at a cost of £120,000.
John Maple died in 1900 with an estate valued at £892,503.
By 1903 the Tottenham Court Road premises was thirty times larger than it had been in 1863. At the headquarters alone, 3,000 people were employed.
John Blundell Maple died in 1903. He ranked as one of the richest British businessmen of his era, and his estate was valued at £2,153,292. Maple had been a generous philanthropist throughout his life. The Daily Mail commented, perhaps hyperbolically, that his goods furnished "half the palaces of Europe, and the bulk of the best modern mansions in Great Britain".
An Argentinian subsidiary was established in 1906.
Maple & Co was acquired by Macowards of Cardiff in 1972 for £14.4 million. That year the Tottenham Court Road head office and flagship store was closed for redevelopment. The resulting fiasco saw shares plummet to ten percent of their 1972 value by 1977.
There were 45 British and two French stores in 1977.
Maple & Co was acquired by Waring & Gillow, a furniture retailer, for £9.7 million in 1980.
Waring & Gillow was acquired by Asda, a supermarket chain, in 1989. Maples was subject to a management buyout in 1993.
Maples entered into receivership in 1997, a result of high debts and poor trading. The firm targeted the upper mass market, had 24 stores including nine larger out-of-town sites, and a staff of 340.
The Tottenham Court Road location was acquired by Furniture Village. Eight stores were sold to Allders.