Peek Frean pioneered the modern British biscuit. The business introduced the Bourbon, Custard Cream, Marie and Garibaldi biscuit varieties.
You can read the first part of this history here.
Peek Frean becomes a limited company; introduces the mass-market biscuit
Peek Frean & Co Ltd was registered as a limited company with a share capital of £500,000 from 1901. The business sold through 45,000 outlets.
Peek Frean held a Royal Warrant to supply biscuits to King Edward VII.
The shortbread-based Pat-A-Cake biscuit was launched in 1902. The first biscuit marketed at an affordable price, it was to prove a major success for the company. First week sales totalled over twelve tons.
Nearly 400 million Pat-A-Cake biscuits weighing a total of 6.5 million lbs were sold in 1906. Annual sales for this single type of biscuit amounted to £160,000. As well as the Pat-A-Cake, 250 different varieties of biscuit were sold.
Arthur Carr (1855 – 1947) became chairman and managing director of Peek Frean from 1904. Carr massively increased the company's advertising budget.
The company employed 1,200 to 1,300 men, 900 to 1,000 girls, and 250 office staff by 1907.
Production of the Pearl biscuit ended in 1907. The Bourbon, a cocoa-flavoured cream sandwich biscuit, was introduced in 1910.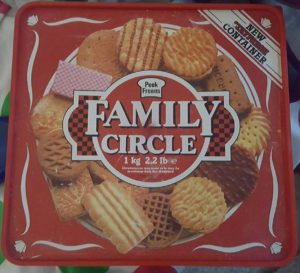 Peek Frean was an enlightened employer for the period. Staff received in-house medical and dentistry care (to which the company paid £3,000 a year in 1911), and a staff canteen which the company subsidised to the level of hundreds of pounds a year. By 1911 a third of company profits were spent on employee welfare, and wages were among the highest in London.
A Bermondsey carman's strike closed down the Peek Frean factory in 1911. 2,500 employees were temporarily thrown out of work.
A Bermondsey women's strike in August 1911 saw 1,200 employees refuse to work. The strikers wanted higher pay and the abolition of short shifts. However Peek Frean management countered that strikers had intimidated non-striking staff and that their wages were higher than the Bermondsey average.
Peek Frean produced nearly 100 million shortbread biscuits in just three months in 1912. This was understood to constitute a record for the sale of biscuits.
Over 3,000 people were employed by 1912.
Peek Frean established the Meltis chocolate factory in Bedford in 1913. 130 people were employed there.
Peek Frean introduced the Custard Cream biscuit in 1913.
Between 1900 and 1913, sales doubled and profits almost quadrupled.
Huntington Stone, a major shareholder, died in 1916 and left a gross estate valued at £239,580. He bequeathed around £200,000 to Christian missionary charities.
The Drummond Road site covered six acres by 1917. 4,000 people were employed.
Peek Frean claimed that Pat-A-Cake was the most popular biscuit ever produced by 1920. As much as 75 tons, or ten million biscuits, could be produced in a single day.
Peek Frean merges with Huntley & Palmer
High income tax and death duties convinced Huntley & Palmers of Reading to accept Peek Frean's invitation to merge in 1921. A holding company, Associated Biscuit Manufacturers, with a capital of £2.5 million, was formed.
Peek Frean acquired Britannia Biscuits of India, with a factory in Mumbai, in 1924.
Peek Frean had introduced Vita-Wheat, the first British wheat crispbread, by 1927.
Arthur Carr retired in 1927.
Twiglets, a savoury snack, were introduced in 1930.
Ellis Carr, a major shareholder, left a personal estate of over £1 million in 1930.
Peek Frean acquired the English subsidiary of Suchards of Switzerland, based at Bedford, in 1932.
Peek Frean had established an Australian subsidiary by 1934.
The Peek Frean site covered twelve acres by 1939, and employed over 4,000 workers. Over 300 different varieties of biscuit were produced. The company manufactured its own biscuit tins; some three million a year.
Arthur Carr died in 1947 with an estate valued at £630,206.
Peek Frean provided one of three wedding cakes for the Royal Wedding of Princess Elizabeth, now Elizabeth II, in 1947. It weighed 600 pounds and stood six tiers tall.
Peek Frean built a factory across a seven-acre site in Ontario, Canada from 1950. The factory supplied the Canadian and the North Eastern United States markets. Manufacturing in America allowed Peek Frean to reduce its wholesale prices by 25 percent.
The Bermondsey factory employed 3,700 people by 1954.
Peek Frean acquired the Ashley Vale Biscuit Company Ltd, with a factory at Avonmouth, Bristol in 1955.
There were 1,750 employees at Bermondsey in 1964.
Peek Frean closed the factory in Bristol in 1965 and relocated production to Bermondsey. 350 to 400 employees were made redundant.
The Meltis confectionery site at Bedford employed 1,300 people by 1966. The factory had extended to cover five acres, and Meltis was the largest producer of Turkish Delight in Britain, and the second largest producer of liqueur chocolates.
Meltis merged with Chocolat Tobler to form Tobler Meltis in 1967. Interfood, the owner of Suchard, acquired Tobler Meltis in 1975.
Peek Frean grew in the early 1970s due to rising sales of the Club biscuit, shortcake and Christmas puddings.
Peek Frean (Australia) held around seven percent of the Australian market, but became loss-making, and was sold to rival Arnotts in 1975.
Nabisco of America acquired Associated Biscuits for £84 million in 1982.
Peek Frean was the largest manufacturer of Christmas puddings in Britain by 1984. This was due to the fact that they were relatively low-priced, as they did not contain alcohol. Over 4.5 million Christmas puddings were sold every year.
The Peek Frean brand had become primarily associated with commodity and children's biscuits by the mid-1980s.
Acquisition by BSN, closure of the Bermondsey site
Associated Biscuits was acquired by BSN of France, proprietors of the LU biscuit, in 1989. Nabisco retained the Canadian business, which continued to produced biscuits under the Peek Frean brand.
The Bermondsey factory was closed with the loss of 1,022 jobs in 1989. The factory had high overheads due to its inner-city location and age, and was operating at just 50 percent capacity. Meanwhile, the biscuit market had been in decline. Production was transferred to Aintree and Leicestershire.
The India and Pakistan subsidiaries were divested for $44 million in 1989. Britannia was the largest biscuit manufacturer in India, and English Biscuit Manufacturers was the largest biscuit manufacturer in Pakistan.
All advertising support for Peek Frean branded products in the UK ended from 1990, and the brand began to be phased out from 1991.
BSN (now called Danone) sold its UK and Irish biscuit operations to United Biscuits for £200 million in 2004.
Although no longer sold in Britain, Peek Frean branded products continue to be manufactured in Canada and Pakistan.
The Peek Frean Family Circle biscuit assortment is still sold. It was initially rebranded as Crawford's, and latterly as McVitie's.