Wrigley's pioneered sales of chewing gum in Britain, and holds 93 percent of the British gum market as of 2016.
Wrigley of Chicago established a British subsidiary in 1911. Wrigley (Sales) Ltd had premises at Lambeth Palace Road, London. The first sales of Wrigley's chewing gum were at Heppell's, a West End of London chemist.
Previously engaged in sales, Stanley Lorimer Murison (1881 – 1932)  was the managing director from 1921. A quiet and determined man, he spent heavily on advertising, and the company grew under his leadership.
Wrigley advertised that their chewing gum was manufactured using only refined chicle, pure sugar and flavouring. In 1923 the main two flavour varieties sold were Spearmint and "P.K." (triple-distilled peppermint).
By 1925 sales had grown such that eleven acres of former British Empire Exhibition land at Wembley was acquired to establish a factory. Build, land and equipment costs totalled £200,000. The factory was opened in 1927 with 350 employees. A large amount of Wembley production was exported overseas; to Europe, India, Egypt and South Africa.
Over 109 million packets of Wrigley gum were sold in Great Britain in 1929. Wrigley's was the only sugar-coated chewing gum produced in Britain.
Company capital was reduced from £200,000 to £150,000 in 1930. Wrigley claimed that due to high sales of its product, it needed less capital than previously.
Wrigley produced several tons of chewing gum in Britain every day by 1933. Its factory had a capacity of 300,000 sticks of gum a day.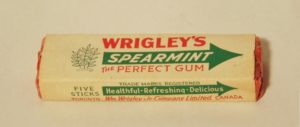 The Second World War saw production levels soar, largely fuelled by British and Empire military consumption. Britain was the second largest exporter of chewing gum in the world by 1940, thanks largely to the Wrigley factory.
The factory and head office were relocated to a 39 acre site outside Plymouth in 1970. The architecture of the new factory was described in The Times in 1973 as a "giant, worked-out, shapeless lump of gum".
Orbit, Britain's first sugar-free gum, was launched in 1977. Wrigley's Extra was launched in 1989. Airwaves was launched in 1997. Extra Mints were launched in 2004.
Wrigley was acquired by Mars, the chocolate manufacturer, in 2008.
Wrigley employed nearly 500 people in Britain and Ireland in 2015. Around 25 percent of Plymouth production is exported overseas. Wrigley holds over 90 percent of the British chewing gum market.