The Crosse & Blackwell brand rights are owned by various companies across the world. The brand is most closely associated with tinned soup in Britain. In America it is a specialist purveyor of English-style condiments. In South Africa it is the highest-selling brand of mayonnaise.
Origins of the business
West & Wyatt was established in London in 1706. The firm had a sizeable trade in salted fish and held Royal appointments to George III, George IV and William IV.
Edmund Crosse (1804 – 1862) and Thomas Blackwell (1804 – 1880) joined West & Wyatt as apprentices in 1819. The two men soon struck up a strong friendship. Richard West had died in 1824, and upon the retirement of William Wyatt in 1830, Crosse and Blackwell borrowed £600 from their families to acquire the business.
Supposedly, Crosse sourced the ingredients and Blackwell created the recipes. There were 15 employees in 1835.
Relocation to Soho Square; mass production begins
Under the name Crosse & Blackwell, the company gained a Royal Warrant from Queen Victoria in 1837. The following year there were 21 employees. The expanding business relocated from 11 King Street (now Shaftesbury Avenue) to 21 Soho Square in 1839.
Crosse & Blackwell became the first company in the world to mass produce jam from 1841. Previously jams had been made by local confectioners and private households.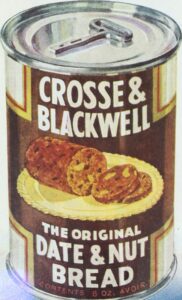 Crosse & Blackwell had a capital of £26,000 in 1844. The firm had a particularly successful export trade, and produced 75 different sauces and pickles and 25 varieties of soup, as well as potted meats, jams and honey. At this stage these were luxury foods, not the commodity goods that preserves would later become.
Crosse & Blackwell opened the first large-scale salmon cannery in the world in Cork, Ireland, in 1849.
The firm grew due to a rise in luxury food sales, and a steadfast dedication to quality.
Crosse & Blackwell employed 126 people in 1851.
A second Soho Square building was acquired in 1857.
Mushroom catsup (ketchup) ranked as the firm's most popular sauce in 1857, with 17,000 gallons sold that year. 120,000 tins of sardines were sold in 1859.
Crosse & Blackwell was the leading preserved goods producer in the world by 1860. Nearly one million jars of pickles were produced every year. 249 people were regularly employed, with hundreds more employed as seasonal workers. Over 100,000 gallons of vinegar were used every year. A contractor in East Ham employed 400 women to pick and prepare 12,000 bushels of onions every year.
Edmund Crosse died in 1862 with an estate valued at £140,000.
Crosse & Blackwell operated 38,000 square feet of factory and warehouse space in the Soho Square area by 1865. The firm employed nearly 400 people by 1867. The business was awarded warrants from Emperor Napoleon III of France and the King of Belgium in 1868.
Continued expansion resulted in premises at Soho Square, Sutton Place, George Yard, Denmark Street, Stacey Street, Dean Street and Earl Street by 1868.
In 1869 two million bottles of pickles were sold. 562 tons of English fruit, and over 500 tons of sugar were used to make preserves and jams. 800,000 tins of sardines were sold.
By 1870, depending on the season, between 600 and 1,000 people were employed by Crosse & Blackwell. Standards of freshness and cleanliness were paramount. The firm also had a reputation as a good employer.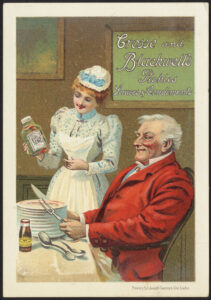 The second generation takeover the business
In the 1870s, the partner's sons joined the business, Edmund Meredith Crosse (1846 – 1918) and Thomas Francis Blackwell (1838 – 1907). In 1880 T F Blackwell became the senior partner upon the death of his father.
In 1880 around 1,200 people were regularly employed, around 400 to 500 of which were women. That year, 20,000 bushels of onions were pickled. The firm's brewery produced 500,000 gallons of vinegar each year. 60,000 bottles of pickles were produced every week. Over one million tins of soup were sold annually; turtle, mock turtle and oxtail were among the most popular variants.
Crosse & Blackwell was described as "probably the largest employer of labour in London" in 1887.
Crosse & Blackwell became a limited liability company with a capital of £570,000 in 1892. T F Blackwell was appointed company chairman.
About one million gallons of vinegar were produced every year by 1893.
Crosse & Blackwell added glucose to some of its jams, citing public demand, from 1894. Jams were produced at Soho Square. Raspberries and strawberries were sourced from Kent, and greengages, damsons and plums came mostly from Cambridgeshire.
Crosse & Blackwell was one of the largest food manufacturers in the world by 1898. The company employed around 2,000 people, mostly unskilled labourers. There were factories at Soho Square; Charing Cross Road; Soho Wharf in Lambeth, Victoria Wharf at Millwall, a vinegar brewery on the Caledonian Road, a lemon squeezing factory at Vauxhall and a branch factory in Cork, Ireland.
T F Blackwell died in 1907, leaving an estate of £979,659 (£103 million in 2013). He was regarded as one of the merchant princes of British business; a strong man of high integrity. He continued to work at the company until a few days before his death.
Despite suffering from heavy import duties, Crosse & Blackwell had developed a leading reputation and taken a significant share of the United States jam market by 1913.
Read Part II of this history here.