Brooke Bond was the largest tea company in the world. Its PG Tips product is the highest selling tea in the UK.
Arthur Brooke (1845 – 1918), was the son of a tea dealer from Ashton under Lyne, Lancashire. He trained at the wholesale tea firm of Peek Brothers & Winch at Liverpool, and later London.
In 1869 Brooke opened a shop in Manchester, selling tea, coffee and sugar. He traded as "Brooke, Bond & Co". A Mr Bond was never involved in the business, and Brooke simply liked the sound of the name.
Brooke took cash payments only, at a time when almost all groceries were sold on credit. Within three years he had opened shops in Liverpool, Leeds and Bradford. In 1872 he moved to London where he opened a blending warehouse on Whitechapel High Street. He distributed his own tea to ensure freshness.
Trade depression in the 1870s forced Brooke to sell his London and Scottish stores, and convinced him to pursue the wholesale business.
Brooke introduced a profit-sharing scheme for his 154 employees from 1882. Brooke was an early adopter of this quite revolutionary practice. By 1891 the scheme had accounted for an average of a 10 percent bonus every year.
In 1892 Brooke Bond was converted into a limited liability company with a share capital of £150,000. By this time the business was mostly wholesale. A four-storey warehouse was acquired in Leeds; it had floor space of 54,000 sq ft.
In 1894 Brooke Bond had a 1/30th share of the British tea market. By 1897 it was claimed that two million Britons drank Brooke Bond every day. By 1902 the company had 500 staff and 30,000 sales outlets.
In 1910 the company relocated to Goulston Street in Aldgate, London.
Brooke retired as company chairman in 1910, and was succeeded by his son, Gerald (1881 – 1969). In his obituary, The Times described Arthur Brooke as a "model employer". He pioneered the eight hour working day, and paid higher wages than his competitors.
By 1917 Brooke Bond was a leading tea blender. In 1923 Brooke Bond opened a large factory at Trafford Park, Manchester, to serve the northern market.
In 1924 Brooke Bond acquired 1,000 acres at Limuru, Kenya, where they established plantations. Together with James Finlay & Co, the two companies pioneered tea production in East Africa.
In 1932 Brooke Bond acquired the Red Rose tea brand in Canada.
The mid-market PG Tips brand was launched in 1930. Brooke Bond Dividend Tea was launched in 1935. Dividend was the company's value product, and each packet offered the chance to win cash prizes.
Gerald Brooke retired as chairman in 1952. Under his tenure the company's tea packet trade had multiplied twenty times. He was succeeded by his son, John Brooke (born 1912), a high-powered, resilient man.
In 1954 turnover exceeded £68 million. The majority of sales came from quarter pound packets of tea, of which one thousand million were sold throughout the year.
Chimpanzees were first used as actors in television advertisements for PG Tips from 1955.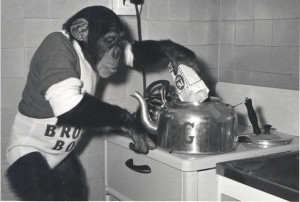 By 1956 over 100 million cups of Brooke Bond tea were drunk worldwide every day, and the company had overtaken Lyons to take the largest share of the British tea market.
By 1957 Brooke Bond was probably the largest tea company in the world, with a one third share in both the British and Indian tea markets. The company owned thousands of acres of tea plantations, more than any other tea distributor. There were five blending and packing factories in the UK. Company vans made deliveries to over 150,000 shops in Britain.
In 1958 the head office was relocated to Cannon Street, London. By this time the company had interests in Britain, India, Pakistan, Ceylon, Canada, East Africa and South Africa.
Brooke Bond was still highly traditional. Agents regularly attended the tea auctions in Mincing Lane, London, with the time-honoured cries of "I want some" and "am I in it?" However it also kept with the times. Its annual advertising budget totalled $3 million. Total sales in 1962 were $318 million.
By 1963 Brooke Bond owned 30,000 acres of tea plantations, located across India, Ceylon and Africa. The company sold six brands of tea, marketed across 80 countries. 65 million cups of Brooke Bond tea were consumed in India every day. Its Red Rose brand was the market leader in Canada.
In 1965 Brooke Bond employed approximately 50,000 people. In 1966 Brooke Bond claimed to be the largest growers, manufacturers and distributors of tea in the world. In 1968 Brooke Bond held 36 percent of the British tea market.
In 1968 Brooke Bond acquired Leibig, who owned the Oxo stock cube and the Fray Bentos canned meat brands, for £36 million. The merger created the sixth largest food company in Britain, and was to prove a great success.
By 1969, 100 million cups of Brooke Bond tea and coffee were drunk every day in India. By this time the company employed 12,000 people on its Kenyan tea plantations.
In 1970 Brooke Bond acquired Haywards Pickles, alongside other smaller brands, from the Melbray Group for £1.5 million in cash.
By 1972 Brooke Bond held 40 percent of the British tea market. PG Tips was the brand leader in tea with a 20 percent share, while Dividend held 12 percent.
In 1980 The Times credited the chimpanzee advertisements with taking PG Tips from number four in the British tea market in 1956 to number one.
In 1984, Unilever, the Anglo-Dutch consumer goods giant, acquired Brooke Bond for £389 million in cash in a hostile takeover. Brooke Bond was the world's largest tea producer at the time, and held 31 percent of the British tea market. Unilever already owned the Lipton tea business.
Haywards Pickles was sold to Hillsdown Holdings in 1989. In 1993 the Fray Bentos brand was sold to Campbells Soup.
As of 2015, the Trafford Park factory in Manchester is the third largest tea factory in the world. PG Tips is still the highest selling tea in Britain, with a market share of 23 percent. The brand has lost market share in recent times to higher quality rivals Twining and Yorkshire Tea.
The Brooke Bond name is no longer in use in Britain. Brooke Bond's Choicest Blend was latterly sold by Typhoo, but it was discontinued in the 2000s. PG Tips no longer carries the Brooke Bond name. Brooke Bond remains a major brand in India and Pakistan.