Vestey Brothers was the largest meat retailer in the world by 1925. The company controlled one third of the refrigerated storage capacity in Britain and two thirds of multiple butchers shops. It accounted for 20 percent of all meat imported into Britain.
William Vestey (1859 – 1940) and Edmund Hoyle Vestey (1866 – 1954) were born to Samuel Vestey, a Liverpool provisions merchant.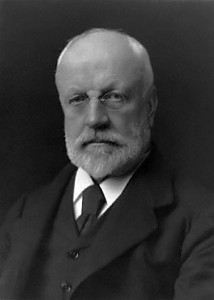 William Vestey was sent to America in 1876 to scout for opportunities. He was surprised at the amount of meat that was wasted, and a factory was established to can this as corned beef and ship it to Britain.
William moved to Argentina in 1890 where he utilised the new refrigeration process to export frozen partridges. Later, beef and mutton were added. Being among the first to realise the potential of the new technology gave Vestey Brothers an advantageous head-start on its rivals.
Vestey Brothers established Union Cold Storage as a subsidiary from 1897 to handle their meatpacking and distribution network.
Vestey began to import eggs and chicken from China from 1906. Eggs had previously had poor availability, and Vestey's frozen egg mix was a major factor in the growth of catering giants such as J Lyons.
Vestey began to acquire its own refrigerated fleet, called Blue Star Lines, from 1909.
Vestey Brothers acquired ranches and freezing works in Venezuela, Argentina and Brazil between 1913 and 1920.
Blackfriars Export Co was acquired in 1914.
The Vesteys relocated their business from Britain to Buenos Aries in 1915 in order to avoid income tax, which had been increased to fund the war in Europe. The business grew rapidly during the First World War, following a surge in meat prices.
Vestey Brothers had operations all over the world, and a capital of over £20 million by 1919. It was one of the largest British industrial concerns, and larger than all the other British freezing and cold storage companies combined. In meat-packing, only the American firms of Armour and Swift were larger.
Vestey acquired £7 million of beef from the British government in a single deal in 1920. Also that year, Eastmans Ltd, who had a chain of butchers shops in Britain, was acquired.
Union Cold Storage was the largest cold storage company in the world by 1920, with a share capital of £4,780,000. The Blue Star Line was the largest refrigerated fleet in the world.
William and Edmund became so rich that they didn't live off the interest of their wealth, but the interest of the interest. William was raised to the peerage in 1922.
Union Cold Storage spent £4 million to acquire the subsidiaries of the Western United Investment Company in 1923. This included the British Argentine Meat Company and Fletcher's butchers shops.
Vestey Brothers acquired the Liebig company's freezing facility at Fray Bentos in Uruguay in 1924.
Vestey Brothers was the largest retailer of meat in the world by 1925, with a chain of 2,365 butchers shops in Britain. Vestey was responsible for 25 percent of the meat that was exported from South America.
Union Cold Storage employed over 30,000 people, with a capital of £9.6 million, in 1925. It had over 450,000 cattle on ranches in Australia, South America and South Africa. The company handled 20 percent of Britain's frozen meat imports, and operated a third of the country's cold storage capacity.
Vestey opened a new refrigeration plant in Buenos Aires, Argentina in 1927. With a capacity of 1.5 million cattle and 2.5 million sheep annually, it was one of the largest in the world. The plant employed 3,000 people.
In 1934 Vestey acquired the William Angliss & Co meatpacking company of Australia.
In 1940 William Vestey conservatively valued Vestey Brothers at over £90 million. The family became the richest in Britain, after the Royals.
Edmund Vestey died in 1954 and left an estate valued at £737,738.
The company retained its position throughout much of the rest of the century. In 1968 it was still the largest cold storage operator in Britain, and had also become a leading supplier of chicken. It remained on par in terms of scale with Armour and Swift.
The family's massive tax avoidance scheme was revealed in 1980, to public outrage.
In the 1980s Vestey Brothers was considered to be the largest privately owned multinational in the world. It was the world's largest retailer of meat.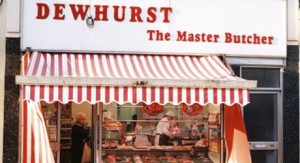 In 1984 Vestey sold off five of its seven North Australian ranches. Before the sale it had been the largest private landowner in Australia. After the sale it still raised about 10 percent of all cattle in the country.
In 1991 speculation in the property market saw Union Cold Storage hampered by short term debt of £423 million.
In 1992 Vestey announced it would close 600 of its 1,000 Dewhurst butchers shops. The chain had been adversely affected by the growth of the supermarkets.
In 1995 both Dewhursts and Union Cold Storage entered administration. 213 of the Dewhurst shops were saved by a management buyout. In 1996 the remnant Australian estates were sold off. In 1998 the Blue Star Line was sold to P&O Nedlloyd for £60 million. The sale of the fleet allowed the group to finally re-emerge free of debt.
Vestey Group continues to trade today as a smaller organisation, focused on sourcing, distributing and processing meat. The Vestey family are still wealthy: they ranked 160th on the Sunday Times Rich List 2015, with an estimated fortune of £700 million. Actor Tom Hiddleston is a direct descendant of Edmund Vestey.