The ABC tea shop was a ubiquitous part of early twentieth century London life, mentioned by T S Eliot and Virginia Woolf, and lambasted by George Orwell.
Origins
The Aerated Bread Company (ABC) was incorporated in London with a nominal capital of £500,000 in 1862. The business was formed in order to manufacture bread using a new patented process which used carbon dioxide instead of yeast.
ABC, as a mass producer of bread, had a large number of contracts with institutions such as schools and hospitals. It also had a number of retail outlets in London from which its sold bread and cakes directly to customers.
Establishment of the ABC tea shop chain
In 1884 a manageress at a ABC bakery shop near London Bridge Station suggested to the company directors that on-site sales of tea might increase revenues. Her suggestion was to prove successful, and soon all the ABC outlets sold tea as well as bread and cakes.
Competitors sold pre-prepared tea from a large container, and the quality was variable. ABC differentiated itself by preparing fresh tea to order.
The tea shops proved popular among clerical workers, who appreciated their affordable prices, and there were around 70 outlets by 1889.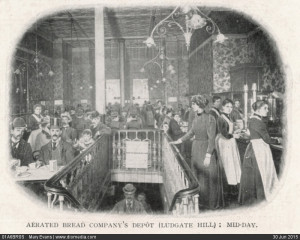 Production at a centralised bakery in Camden Town from 1891 helped to keep costs low.
ABC did not escape criticism however; it became notorious for the meagre pay it gave its waitresses, who worked a 62-hour week.
Increased competition from J Lyons
J Lyons opened its first tea shop in 1894. Lyons branches were more upmarket and better managed than the ABC shops, and had more central London outlets than ABC by 1911.
ABC served over 1.25 million customers across 150 branches in 1911. By this time the tea shops had evolved into cheap restaurants. A contemporary commentator indicated that service was slow, but the quality of the tea was "beyond reproach".
ABC was far better known for its London tea shops than its bread manufacture by 1913.
New management from Buszard
ABC acquired W & G Buszard, a London bakery chain with 140 shops, including the prestigious Criterion restaurant in Piccadilly, in 1918. ABC were attracted to the merger by the strong management team at Buszard. Buszard directors, led by Charles Cottier (1869 – 1928) and Frederick Hutter (1876 – 1927), quickly came to dominate the ABC board, with Cottier serving as chairman and Hutter as managing director.
Cottier was a forceful personality, and under his leadership ABC undertook numerous acquisitions from 1919. These were Bertram & Co (railway catering), James Cottle (Liverpool and Manchester restaurants), Cabins, JP Restaurants (with 80 outlets around London), Newberys (shop-fitters), Abford Estates (a large property development) and a controlling interest in W Hill & Sons (29 shops), at a combined cost of just under £500,000.
Frederick Hutter was described as the "Napoleon" of the London catering trade. He came from humble origins, and has began his career as a baker's assistant.
ABC had a total of 200 to 250 tea shops and restaurants by 1922. The manufacturing site at Camden Town covered over four acres.
ABC had 156 branches across London in 1926. That year also saw the prim black and white "Victorian" waitress uniforms replaced by blue dresses.
ABC built the largest single tea shop in Britain, opposite Victoria Station, in 1926. The site was bought from the Duke of Westminster, supposedly for £500,000.
Hutter died in 1927, and Cottier died the following year. It appears that the business suffered following the loss of their strong leadership.
Following a spate of low profits, Sir W H Peat (1878 – 1959), the well-known accountant, was contracted to perform an independent review of the company in 1929. Peat argued that the numerous recent acquisitions did not tie in with the core ABC business, and as such, very few economies of scale could be made. He also argued that the company had paid excessive dividends, and had failed to update and modernise its shops, which had become run-down.
The manufacture of aerated bread ended in 1954.
Acquisition by Allied Bakeries
ABC had 164 outlets and was the second largest restaurant chain in Britain by the mid-1950s. However the business had become loss-making.
ABC was acquired by Allied Bakeries, controlled by W Garfield Weston (1898 – 1978), for nearly £3 million in 1955. Allied Bakeries were motivated by the opportunity to increase the number of outlets for their bakery products. Allied Bakeries had also privately valued the ABC real estate assets at between £1.7 million and £2 million.
Unprofitable branches were quickly divested, and new outlets opened at improved locations. Allied Bakeries invested in the outlets to bring them up to the standard of their competitors. The changes worked, and the previously loss-making venture had become one of the most profitable subsidiaries of Allied Bakeries by 1959.
Allied Bakeries sold the Abford House subsidiary, which consisted of a large freehold property in Victoria, London, for over £500,000 to Spiers & Pond, a hotels and catering company, in 1959.
ABC reported a profit before tax of over £850,000 in 1962. A pre-tax profit of £735,000 was reported in 1966.
Decline of the ABC tea shop
Trade at the tea shops began to decline from the 1960s and into the 1970s. Rivals with no or limited seating had lower overheads. There were 200 ABC tea shops in 1976, but the outlets were being phased out in favour of take-away bakery shops.
Production of small, hand-finished cakes at the Camden Town site was ended in 1976, resulting in the loss of over 400 jobs.
The Camden Town site was antiquated and unsuited for modern production, and it was closed with the loss of 200 jobs in 1982. The ABC tea shops also disappeared at around this time.
The Camden site was demolished a few years later, and a Sainsbury's supermarket now stands in its place. Any residual ABC trademarks are held by Associated British Foods, the successor company to Allied Bakeries.