Rabbits & Co became one of the largest shoe manufacturers in the world.
Edward Harris Rabbits (1818 – 1874) was born in Frome in Somerset. He established himself as a shoe maker and retailer in Newington, London, with a borrowed capital of a half crown. His factory was at the Elephant Buildings, Newington Butts.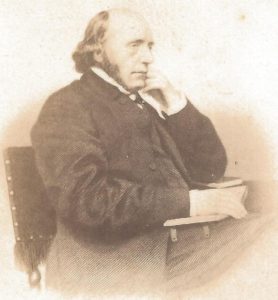 Rabbits was a argumentative and characterful man. Originally a Wesleyan Methodist, he tired of the formality of the church and became a Methodist Reformer, and later a dedicated member of the evangelical Methodist New Connexion.
Rabbits employed 90 men and 85 women by 1851. He operated multiple retail branches by 1856.
The E H Rabbits shoe factory was described as one of the largest in the world in 1861. With a height of 68 feet, it was one of the tallest industrial buildings in London. The warehouse constantly employed nearly 400 people. Well-heated and well-lit, it also contained a sixty foot-long lecture hall for the discussion of religion and philanthropy.
Rabbits first met William Booth (1829 – 1912), a penniless yet gifted Methodist preacher, in 1850. He encouraged Booth to continue as a preacher, provided him with financial support, and introduced him to his future wife, Catherine Mumford. Booth went on to establish the Salvation Army in 1865.
E H Rabbits died in 1874. He had been a keen donor to religious and philanthropic causes throughout his life.
The business passed to his brother, William Rabbits (1827 – 1878), who was also a boot maker with a factory at St Thomas's Works, Whites Grounds, Bermondsey. The firm was renamed Rabbits & Sons.
Rabbits died in 1878 and the firm was run by his executors until 1880, when it was taken over in partnership by his sons, William Thomas (1847 – 1908) and Charles Joseph Whittuck Rabbits (1854 – 1901). By this time the firm had 18 retail outlets across London.
William Thomas Rabbits left the partnership in 1887, likely due to ill health, and Charles Rabbits became sole proprietor.
Charles Rabbits registered the business as a private limited liability company in 1891.
Charles Rabbits died in 1901, with a gross estate valued at £321,179.
Rabbits & Sons was acquired by Freeman Hardy & Willis, a larger shoe retail chain, in 1903.
The Elephant Buildings at Newington Butts had become an engineering store by 1909.