J Sears & Co was the largest footwear retailer in Britain.
John George Sears (1870 – 1916) was the son of James George Sears, a Northampton leather seller, who in 1871 employed two men and three boys. John George Sears was raised as a Congregationalist.
Sears began as a clicker (one who cuts the uppers for shoes and boots from leather), and rose to the position of factory foreman.
In 1891 J G Sears entered business with his brother, William Thomas Sears, under the name of J Sears & Co. They had a small factory on Derby Road, Northampton.
The firm was able to take work from the strike-affected Manfield of Northampton in 1895.
In 1897 Sears opened his first retail outlet. In 1900 a branch was opened on Fleet Street, London.
A large factory on Adnitt Road, Northampton, was acquired in 1904.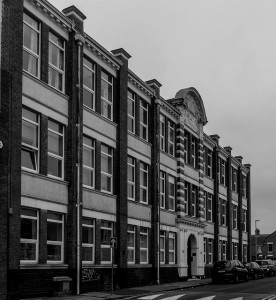 Much of the firm's success was due to extensive advertising, and the energy, bold application and sound judgement of J G Sears.
In 1912 J Sears & Co went public with a capital of £350,000. The firm had 80 branches, including 47 in London. The company had one of the largest shoe factories in Britain.
Sears was a loveable, generous and unaffected man. He was a prominent Freemason.
Shortly after the public offering, Sears' health broke down, "undermined by years of almost superhuman activity", according to the Taunton Courier. He died in 1916 with an estate valued at £400,718.
In 1916 the firm employed 1,000 people in manufacture, and 1,000 people in retail.
In 1928 J Sears & Co acquired Freeman Hardy & Willis, a business similar to their own. By 1929 the firm had an issued capital of £3.35 million and 722 retail shops.
In 1953 J Sears & Co was acquired in a hostile takeover by Charles Clore.