Brown & Polson corn flour is one of the oldest surviving grocery brands in Britain.
John Polson (1800 – 1843), William Polson (1810 – 1893) and John Brown (1806 -1889) merged their starch manufacturing interests in 1842 to form Brown & Polson with a factory at Thrushcraigs, Paisley.
Brown & Polson had been appointed starch manufacturer to Queen Victoria by 1853.
John Polson Jr (1825 – 1900) discovered a method for manufacturing pure starch from maize, which he called corn flour. He patented the process in 1854. It was the first corn flour to be manufactured in Britain.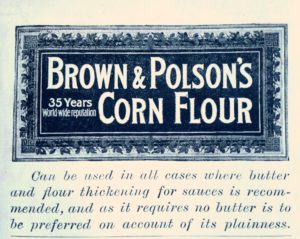 Corn flour was a thickening agent for foods, advertised as a substitute for arrowroot, and used to make custard, blancmange, puddings and cakes.
The Thurscraig works were sold off in 1857, and production was relocated to the Royal Starch Works at Carriagehill, Paisley.
William Polson left the partnership in 1857 to enter into starch manufacture for himself.
In a major promotional coup for the firm, the influential Dr Hassall confirmed the purity of Brown & Polson corn flour in 1858.
Brown & Polson employed 32 men and 60 women by 1861.
A factory fire in 1866 caused damage estimated at £40,000 to £50,000. Two boys lost their lives by venturing too close to the burning building.
Brown & Polson employed around 200 people in 1871. The firm introduced a profit sharing scheme for its workforce from 1873.
In 1879 the partners were John Polson Jr, John Brown and John Armour Brown (1839 – 1924).
John Polson Jr was a practical and thrifty man, as well as a generous benefactor.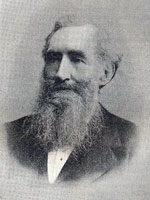 John Armour Brown was head of Brown & Polson by 1881. He was a strong, practical man, with a keen intellect.
Brown & Polson employed 277 people in 1881, including 89 men, 14 women, 86 boys and 88 girls.
Brown & Polson converted the by-product of corn flour manufacture into animal feed, which by 1884 had become a significant part of the business in its own right.
Brown & Polson was considered an enlightened employer. The firm was proud to announce in 1893 that a worker had never encountered the loss of a life or a limb in their factories, and the workforce had never gone on strike.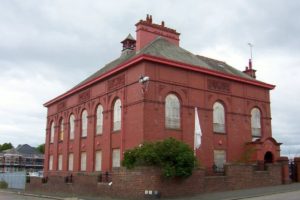 Currie & Co, starch and corn flour manufacturer of Murray Street, Paisley, was acquired from the executrix of James Currie Auchencloss in 1897.
John Polson died in 1900 with an estate valued at £349,059.
Brown & Polson acquired William Polson & Co in 1904.
Brown & Polson Limited was formed as a private company with a capital of £500,000 in 1920.
William Wotherspoon Ltd, a Paisley starch manufacturer, was acquired in 1923. William Mackean Ltd, another Paisley starch manufacturer, was also acquired.
In 1924 John Armour Brown died with an estate valued at £231,654.
Brown & Polson's blancmange was being advertised by 1933.
Share capital was increased to £600,000 in 1935.
Corn Products Co of the United States, which had a factory at Trafford Park, Manchester, acquired Brown & Polson in 1935.
In 1946 the head office was relocated to Wellington House, 125-130 the Strand, London.
A strike regarding pay affected all three Paisley starch factories in 1948. A total of 1,000 workers came out.
Brown & Polson sold 200,000 tons of starch a year by 1952.
In 1953 the company redeveloped its factory at Trafford Park to create the largest glucose manufacturing site in Europe.
The William Mackean factory in Paisley was closed in 1954.
George Clark & Son, sugar processor of Millwall, was acquired in 1956.
The Wotherspoon factory at Maxwellton, Paisley was closed in 1957. 40 staff were relocated to the Brown & Polson factory, but 170 jobs were lost.
Corn Products Co merged with Bestfoods of America in 1959.
A massive explosion at the Paisley animal feeding-stuff drying plant killed five men in 1962. 900 workers were employed at the factory, and fatalities would have been much higher if the incident had occurred during the day shift.
Brown & Polson employed over 500 people in 1962. In 1963 the head office was relocated to Claygate, Surrey.
A £750,000 extension of the Paisley site was completed in 1964.
Brown & Polson acquired Frank Cooper, an Oxford marmalade manufacturer in 1964 for £866,250 in cash.
Brown & Polson sold its Millwall sugar business to Tate & Lyle in 1964.
Knorr stock cubes and soups were manufactured at Paisley from the mid 1960s.
From 1965 until 1975, Brown & Polson had the licence to manufacture Gerber baby food for the British market. It held 13 percent of the British baby food market in 1969.
Brown & Polson produced at least one third of the United Kingdom's glucose in 1971.
Brown & Polson was renamed CPC (United Kingdom) Ltd in 1971.
3,200 people were employed in 1973.
Brown & Polson introduced an instant custard powder in 1978. The launch was supported by a £1 million television advertising campaign.
Brown & Polson blancmange mix was discontinued in Britain in the 1990s.
The Paisley factory employed 450 people in 1992, mostly in the manufacture of Knorr stock cubes and Hellmann's mayonnaise.
345 Paisley workers lost their jobs when Knorr production was relocated to moderner plants in France and Italy in 1993.
Unilever acquired Corn Products Co (by now known as Bestfoods) in 2000.
The Paisley factory was closed in 2002. 66 jobs were lost as mayonnaise production was relocated to the Netherlands.
Unilever sold Brown & Polson to Premier Foods in 2003.
Brown & Polson corn flour is still available in Britain. In 2011 the brand was valued by its owner at £2.75 million.
Brown & Polson is the market leading custard powder brand in India, where it is owned by Hindustan Lever, a Unilever affiliate.